This Week in Sports Betting, A-Z
by Nicholas Tolomeo - 2/3/2012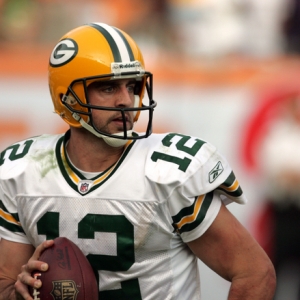 A – Aaron Rodgers. On his weekly radio show Aaron Rodgers blasted his NFC Pro Bowl teammates for their efforts during the Pro Bowl by saying some of the guys on the NFC side embarrassed themselves. Harsh words for a meaningless scrimmage. I wonder what Rodgers said about his Green Bay teammates after their effort in that one playoff game they had?
B – Bridgestone Halftime Show. The Super Bowl halftime show takes a turn for the bizarre this year with Madonna and her ripped biceps performing. If you're like most NFL fans and can't remember any of her songs, you can spice up the halftime show by wagering on a number of props including whether or not she will wear fishnet stockings, an NFL jersey or shirt or a hat.
C – Chick Fil-A. In possibly the greatest sports story ever told, four-star linebacker Cassanova McKinzy picked Auburn over Clemson because there was a Chick fil-A on the campus of Auburn while the one at Clemson is 15 minutes away. In related news, the only way for Super Bowl Sunday to get better is to move it to Saturday so Chick fil-As would be open.
D- Dallas fans. Of the hundreds of fans that were shut out of their seats at Jerry's World last season for Super Bowl XLV, 246 have opted to attend this year's Super Bowl on the NFL's dime stemming from lawsuits. Other fans have the option to pick a future Super Bowl. So what would entice someone who paid to see the Packers play the Steelers want to see the Giants play the Patriots?
E – ESPN. FYI, while the whole world is watching the Super Bowl, the worldwide leader in sports, ESPN, will be airing reruns of the 2010 and 2011 World's Strongest Man Competition…in HD!
F – Fumble. BenJarvus Green-Ellis has gone his entire career without a fumble. More importantly, he has gone his entire NFL career without anybody knowing he hasn't fumbled. Now that everyone knows, his streak of 577 consecutive touches without a fumble is doomed to end in the Super Bowl after Al Michaels reminds everybody that Green-Ellis never fumbles.
G – Gisele Bundchen. In one of the more depressing Super Bowl props, the 'over/under' on television appearances by Gisele Bundchen during the Super Bowl is ½.
H – Halftime. The Patriots simulated the Super Bowl halftime break by taking a 31-minute break during practice on Wednesday and listening to Madonna, we think.
I – Irsay, Jim. Thanks to Twitter, Rob Lowe and Peyton Manning's neck, everybody knows who Jim Irsay is now. You can even wager on whether or not his name is said on TV during the game, the total is 1 with the over paying even money on Bovada.
J – Jaguars. Maurice Jones-Drew finally found his way to the Super Bowl and he didn't even have to demand a trade away from Jacksonville. MJD was part of the media circus at Super Bowl XLVI, working for OCNN (Ochocinco News Network). Not sure why Ochocinco couldn't cover the game, he'll already be on the sidelines and in street clothes.
K – Kelly Clarkson. I wonder if Kelly Clarkson knows how much money will be riding on her during the Super Bowl. You can wager on how long it will take her to sing the "National Anthem" (over/under 1:34), what she will wear (Patriots jersey +1500) and if her bare belly (aka beer belly) will show (+300 for 'yes').
L – Lucas Oil Stadium. Indianapolis has expanded the capacity of Lucas Oil Stadium to 68,000 for the Super Bowl. That still pales in comparison to the 103,000 jammed into Cowboys Stadium last year for Super Bowl XLV, but at least all the seats in Lucas Oil Stadium are likely to be deemed safe for fans.
M – Media Day. Proving once and for all that Americans will watch anything, over 7,000 people paid $25 and up to watch thousands of media members attempt to interview dozens of football players. It can only be a matter of time until this tradition spreads to the regular season and fans are plunking down money to sit in on coaches Tuesday afternoon pressers.

N – New Jersey Nets. The New Jersey Nets lead the NBA in something, penny ticket sales on Stubhub. The Nets have accounted for 40 of Stubhub's 41 sales of 1 cent tickets. If you are a football fan, cheer for the Nets to somehow reach the Super Bowl some day because tickets will probably be a penny.
O – Osi Umenyiora. While fans were paying upwards of $300 dollars to get into Lucas Oil Stadium for Media Day, New York Giants defensive end Osi Umenyiora was paying $20,000 to get out of it. Umenyiora was fined 20K by the league for missing the media session, which he somehow claims to have forgotten about.
P – Peyton Manning. Peyton Manning was finally cleared to resume his NFL career on Thursday, mere days before the Super Bowl. This would have been huge news if his team was in the Super Bowl. Instead his team was actually the worst in the NFL.
Q – Quinn, Noelle. In news slightly less important than the Super Bowl, the Washington Mystics recently traded away Marissa Coleman to the Los Angeles Sparks in return for Noelle Quinn. This is noteworthy for two reasons, first I didn't know the WNBA was still around and second I never knew trades were allowed in that league. Do women basketball players really make enough money to have to accept a trade that sends them across the country? It's like working at a Steak 'n Shake in Algonquin, Illinois, and being transferred to the one in Rancho Cucamonga, California.
R – Referee. NFL referee John Parry will lead a seven-man crew of game officials for Super Bowl XLVI. So after you lose a bunch of money on ridiculous prop bets, you know who to direct your angst towards…yourself.
S – "Star Spangled Banner". The singer who famously botched the "National Anthem" at Super Bowl XLV has left a lasting legacy on gambling on the Super Bowl. This season for the first time you can now wager on if Kelly Clarkson will forget or omit at least one word from the official US "National Anthem". The yes answer pays +250.

T – The other sports. Apparently there are other sports being played on Super Bowl Sunday. So if you want to start gambling away all your money before the coin toss go right ahead. Or you can mix it up with some cross-sport props on Bovada. If you can stomach some hockey early in the day you can wager on what there will be more of, Henrik Lundqvist saves or New York Giants total points. There are other props involving Rajon Rondo, LeBron James, Chris Bosh, some hockey player named Marian Gaborik, Michigan's Tim Hardaway Jr. and Michigan State's Draymond Green
U – Uh Oh. Someone at the NFL just realized that Super Bowl 50 is upon us, aka Super Bowl L. And now there is a report that the NFL is worried that L might be misconstrued as Loser. So I guess they will either put the worst two teams in Super Bowl L or change it to Super Bowl XXXXX, not like any Americans actually know the real roman numerals.
V – Victor Cruz. It wouldn't be Super Bowl Sunday without salsa, and that is likely why the New York Giants receiver famous for his salsa dance has the best odds of all non-quarterbacks to win Super Bowl MVP. Cruz is listed at 8/1 behind Tom Brady (7/5) and Eli Manning (9/4)
W – Worst. The New York Giants are attempting to become the worst Super Bowl Champions ever. They entered the playoffs at 9-7 and a win on Sunday would make them 12-7, which would be the most losses ever for a Super Bowl champion. If the Giants win, the 1999-2000 Baltimore Ravens, including Trent Dilfer, will likely pop a bottle of champagne.
X – XFL 2? Deadspin obtained documentation of framework for a potential new US professional football league involved forming executives of the NFL, XFL and USFL. Lets just home Vince McMahon and Donald Trump are the former XFL and USFL executives. The league is tentatively named Spring Professional Football League and could debut as early as 2013….and fold by 2014.
Y – Yeah, we've moved on from that. Someone spiked Bill Belichick's Super Bowl punch bowl with a turd this week when they asked him if Spygate has tarnished the Patriots Super Bowl wins. The disheveled yet stoic Belichick simply responded, "Yeah, we've moved on from that." Apparently not, because New England has not won a Super Bowl since Belichick stopped recording opponents.
Z – Zamboni DUI. Already with three DUIs under his belt from 1999-2002, a 34-year old man from Apple Valley, California, got his fourth one in style. He was arrested at work while Driving a Zamboni While Intoxicated, the old DAZWI. The man apparently reaked of alcohol, and parents who had just watched their kids play pee wee hockey noticed the Zamboni weaving erratically around the ice and even smacking into the boards. The 10-minute job of clearing the ice turned into a 25 minute job, and, eventually, some party pooper called the cops.