This Week in Sports Betting, A-Z
by Nicholas Tolomeo - 5/10/2012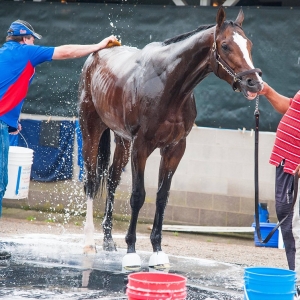 A– AFC Champions. Untimely deaths have haunted the 1994 AFC Champion San Diego Chargers team. Car accidents, plane crashes, lightning strikes, drug overdoses, cardiac arrest and now suicide have claimed the lives of eight players from the Chargers team who won the 1994 AFC Championship Game at Pittsburgh. That number pales in comparison to the amount of Steelers fans who likely drove their car off the Fort Duquesne Bridge after that fateful game when Neil O'Donnell's fourth down pass from the San Diego three-yard line was batted down by Dennis Gibson to seal San Diego's 17-13 win.
B – Bodemeister. Bodemeister led the 2012 Kentucky Derby from start to near finish. He choked down the stretch and was edged by I'll Have Another. If Bodemeister races in the Preakness Stakes, they should look into changing his name to LeBronmeister.
C – Call Me Maybe. Mets utility player Justin Turner can play multiple positions and now he has proven he can also play good music. Turner is using Carly Rae Jepsen's smash hit "Call Me Maybe" as his at-bat music. This has likely corresponded with a spike in attendance at Citi Field.
D – Dr. Phil. On a recent episode of "Dr. Phil" Terrell Owens admitted that he had blown most of the $80 million he had amassed in his career. Dr. Phil also trotted out three of TO's baby's mommas who say Owens is not paying child-support payments. To his credit, Owens admitted to fathering the kids, because if he didn't, this wouldn't be "Dr. Phil," it would be "Maury".
E – Entourage. The highlight of Saturday's Floyd Mayweather-Miguel Cotto fight was Mayweather's entrance to the ring. His entourage included Lil Wayne, 50 Cent, Justin Bieber and WWE legend Triple H. Unfortunately, Mayweather never got the chance to give Cotto the pedigree during the fight.
F – Flyers. Hockey season is over for the Flyers after losing four straight games to the Devils in the second round of the NHL playoffs, but Philly fans can still get their hockey fix by heading over to Nodding Head Brewery in Center City to drink the newest beer "Crosby Tears." The beer named after the whiny and often-concussed Penguins captain Sidney Crosby, is an ale that is wine-like. And if you drink enough of them you'll even experience concussion-like memory loss.
G – Groin Shot. On Tuesday Brandon Inge hit a walk-off grand slam to help the Oakland Athletics pull off a miraculous win. A night earlier his home run was even more impressive. Inge's home run ball on Monday tagged some guy right in the groin and then the ball somehow careened off his junk and hit a chick right in the face.
H – Hamilton Home runs. Josh Hamilton hit four home runs on Tuesday against Baltimore, tying him for the major league record for most home runs in the game. His performance also broke the record for most home runs by a former homeless crack addict, which he previously held with two in a game.
I – I'll Have Another. Kentucky Derby upset winner I'll Have Another wreaked havoc on Lucky's Sportsbook in Las Vegas. The sportsbook opened the horse up at 200:1 on the futures market and some people took advantage of it at that number and even more people did at the closing line at 12/1.
J – Junior Seau. Former NFL linebacker Junior Seau committed suicide on May 2 with a gunshot to the chest at his home in California.
K – King Albert. On May 6 Albert Pujols hit his first home run of the season. Just as Angels management was looking for the receipt on that expensive purchase, Pujols came through with the winning margin in a 4-3 win over the Blue Jays. According to some sketchy baseball math, Pujols is somehow still on pace to hit 50 home runs this year.
L – Leyland, Jim. Cole Hamels tried saying he was "old school" when he plunked rookie Bryce Harper on purpose. Detroit Tigers Manager Jim Leyland, who is slightly more "old school" than Hamels, said they should suspend the Phillies pitcher for 15 games.
M – Motorcycle for sale. The totaled motorcycle of disgraced former Arkansas football Coach Bobby Petrino is up for auction online. The current bid as of Wednesday night as $4,600, which was staggering considering the actual cash value of the bike was estimated at $16,000 and repairs were estimated at $18,841. I'm not even sure how that is possible. The bike is being sold on behalf of the insurance company. It was the same bike Petrino crashed while riding with a female employee, which ultimately led to him being fired.
N – Nuggets Fan. Denver Nuggets notorious stalker Savannah McMillan-Christmas wandered onto the court during a recent Nuggets/Lakers Playoff game in Denver. She apparently wanted to hit on Ty Lawson. Apparently Christmas, a 20-year-old, has a history of doing this. She had been arrested for stalking former Nugget Kenyon Martin. No word on how many Nuggets Christmas smoked before engaging in these antics.
O – Orioles. Baltimore designated hitter Chris Davis (and we use the term "hitter" very loosely), went 0-for-8 with five strikeouts during the Boston Marathon (aka Sunday's 17-inning Baltimore/Boston game). Davis was actually called on to pitch in extra innings and he went out and proved that he was only the second worst hitter in the game. Davis struck out Boston cleanup hitter Adrian Gonzalez, who also finished the day 0-for-8.
P – Pirates. The Pirates are the only Major League Baseball team without 100 runs scored this year. "The Slumber Company" has 83 runs through 29 games, a historically awful average. Some called Josh Hamilton hitting four home runs in a game "historic," the Pirate players call hitting four home runs "a season".
Q- Questioning. Many people in baseball have questioned the toughness of Philadelphia Phillies softie pitcher Cole Hamels. Hamels tried proving he was not as soft as all those ill-advised pictures of himself floating around the Internet would indicate. So he threw at Bryce Harper, plunking the 19-year-old on the back in a case of statutory baseball violence. All Harper did was advance to third base and then steal home right in front of Hamels. Sooo good job Cole.
R – Rob Gronkowski. Fox has a new dating show planned called "The Choice" not to be confused with "The Voice." With a cast featuring F-list celebrities and some athletes, I doubt anyone will confuse the two. The list of athletes includes Rob Gronkowski, Ndamukong Suh, Jeremy Bloom and the home broke Warren Sapp.
S – Spreads. Cantor Sports Book has released NFL point spreads for every game through week 16 to help hold degenerates over until September. Cantor operates sportsbooks at Hard Rock, Tropicana, Cosmopolitan and the Palazzo, among other places. The early word is that Tampa Bay, Philadelphia, Kansas City and Indianapolis are overvalued.
T – Tyrannosaurus Rex. A 23-year-old Nebraska man just one-upped Metta World Peace. The Nebraska guy legally changed his name to Tyrannosaurs Rex, which is way more ridiculous than Ron Artest changing his name to Metta World Peace.
U – Unruly hockey players. Anaheim Ducks player Ryan Getzlaf had some words with some Finnish hockey fans while in Sweden for the World Hockey Championships, which are apparently different than the Stanley Cup Finals. Getzlaf, Corey Perry and a couple other drunken Canadian hockey players got into with the Finnish fans, according to MTV3, the official broadcaster of the tournament (that's another story for another day). At one point Getzlaf did the most Canadian thing ever when he waved his fist at the fans and said "you do not want this" while exclaiming that he was "the captain of the Anaheim Ducks" and threatening to "knock everyone out in three minutes."
V – Venable, Will. San Diego Padres third baseman Will Venable hit the ultimate beer pong shot during a game against the Rockies Tuesday night at Petco Park. Venable's shot, aka a foul ball, landed in directly in a fan's beer. Knowing the rule of beer pong, the fan proceeded to chug the beer as the crowd went nuts, with some chanting U! S! A!.
W – Wood, Kerry. On May 6 1998, Kerry Wood struck out 20 Houston Astros in the most thrilling game in Wrigley Field history. On May 8 2012, Kerry Wood gave up two runs on two hits and two walks in one inning to blow a game. Upon removal from said game Wood tossed his glove and hat into the crowd and then went on postgame tirade, storming out of a press conference. In case anyone needed to be reminded, wood does not age well.
X – XLVII. The post NFL Draft Super Bowl XLVII odds are out on Bovada and it looks like the
oddsmakers are not fans of what the Browns did. Cleveland at 200/1 still has the worst odds
behind the Colts and Jaguars, who are both 150/1. Green Bay (13/2), New England (8/1) and San
Francisco (10/1) are the favorites.
Y – Yu. Someone on the Texas Rangers damn near shit their pants in the dugout during a recent game, clearing one side of the dugout as panicked players ran for cover. The ruckus was caught on camera and a microphone picked up someone screaming "YU!" likely fingering the Asian pitcher Yu Darvish as the person who dealt it.
Z – Zambrano, Carlos. Apparently Carlos Zambrano is still in the majors, and not only that, but he remembered how to pitch again. Big Z tossed a complete game three-hitter shutout on Monday to earn his first win of the season. Zambrano struck out nine while only walking one. In full disclosure, he was facing the Astros.