This Week in Sports Betting, A-Z
by Nicholas Tolomeo - 6/28/2012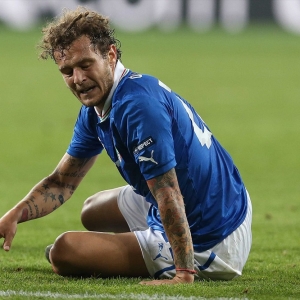 A – Alessandro Diamanti. As Italian soccer player Alessandro Diamanti lined up to take a potential game-winning penalty kick against England in the Euro quarterfinals, an English fan behind the net completely exposed himself. Here in the states, crazy fans don Speedos at Duke games to distract free throw shooters. Over in Europe the Englishman literally went "balls out" and stood there helplessly as Diamanti buried the penalty kick and sent Italy to the semifinals while England went home.
B – Bounty? After blowing a save in a recent game, a livid Jonathan Papelbon offered $5,000 to any teammate who could hit a game-winning home run against Tampa Bay Rays reliever Jake McGee. Veteran Jim Thome, who may be hurting for cash for all we know, stepped up and drilled a bomb to give the Phillies a 7-6 win and make Papelbon a winner and $5,000 lighter in the wallet. This sounds like a bounty, but apparently it is okay.
C – Chris Berman. Chris Berman and Trent Dilfer will call the San Diego/Oakland game as part of ESPN's season-opening "Monday Night Football" doubleheader on Sept. 10. The game starts around 10 p.m. EST, so thankfully most of the East Coast will be in bed by the time Berman and Dilfer start talking over an NFL game.
E – ESPN. Somehow Mike Tyson ended up on live television, and during his appearance on ESPN's "Pardon the Interruption" Tyson claimed that years ago upon a visit to his recently divorced wife's house he found nobody home, but on his way out he saw his ex-wife, Robin Givens, pull into the driveway with Brad Pitt. At this point there just are not words.
F – Fab Five. Not only did LeBron James finally get his ring, but so did the Fab Five. With 39-year old Juwan Howard apparently listed on the Miami Heat roster, the Fab Five can now claim to have won an NBA Championship. Howard celebrated the title by doing his trade mark cabbage patch dance at the Heat victory rally.
G – Grab ass. An overzealous female fan ran onto the field during the 2012 College World Series to grab the butt of Arizona Wildcat center fielder Joey Rickard.
H – Hockey. There are a number of cities vying for the chance to land a professional team that is in financial ruin. The candidates are Seattle, Kansas City, Toronto, Quebec and something called Markham. What could this league be, you ask? MLS? WNBA? FML? PMS? Major League Eating & International Federation of Competitive Eating? None of the above. The league is the NHL. The Phoenix Coyotes could end up in freaking Markham and I am not entirely sure what country that is in.
I – iPads. In a strategy that has disaster written all over it, the Miami Dolphins are giving their players iPads loaded with plays rather than thick binders. The Dolphins have also said they will fine players $10,000 if they access unauthorized Web sites, and they're not just talking about porn. Apparently a visit to Twitter or YouTube will cost a player as much as a visit to Twawtter and YouPorn.
J – Jordan Staal. The Pittsburgh Penguins traded Jordan Staal during the NHL Draft on Friday, June 22, 2012, which just happened to be Staal's wedding day. This is beyond bizarre. Leave it to a hockey player to save a few bucks and get married on a Friday.
K – Kevin Youkilis. President Barack Obama did not help his re-election cause in Massachusetts when he took the stage for a fundraiser in Boston and thanked the Red Sox for Kevin Youkilis. Obama was immediately booed.
L – Lions. The Detroit Lions have taken an early lead in NFL offseason arrests this summer. Cornerback Aaron Berry was picked up for a DUI this week near Harrisburg. He was in town for a charity softball game hosted by former college teammate LeSean McCoy, so at least the DUI was for a good cause. Berry joins teammates Mikel LeShoure (two marijuana possession charges) and Nick Fairley (DUI and marijuana possession) on the Lions offseason Police Blotter list.
M – Mitch Daniels. When discussing convicted child rapist Jerry Sandusky on the local news complete with on-air Jerry Sandusky text, a Fox News affiliate in Indiana showed video and images of Mitch Daniels, the Governor of Indiana, instead. That is probably the worst person on the face of the earth to be confused for.
N – NBC SportsTalk. Ladanian Tomlinson tells NBC's "SportsTalk" he would rather retire and make it to the Hall of Fame than retire with a Super Bowl ring. I'm sure a lot of players think that, but who admits it? Let's hope LT gets neither honor.
O – Only Four? College football officially has a four-team seeded playoff, although there should be an asterisk next to "playoff". The NHL and NBA invite 16 of their 30 teams to their respective postseason. The NFL invites 12 of 32 and MLB invites 10 of 30, so now college football is inviting four out of 120 teams and people are creaming themselves. This is about the point where Jim Mora would start yelling, "Playoffs?!"
P – Paulina Gretzky. The Great One, as many guys now call her, is apparently dating L.A. Kings center Jarret Stoll. Paulina Gretzky, the daughter of the other Great One, has been spotted around town with Stoll. During my daily examination of all of her Twitpics, I noticed many of the pictures featured Paulina and Stoll. Paulina's Instagram and Twitter accounts have taken a turn for the awesome and appear more and more like a soft core porn site every day.
Q – Quinn, Brady. Tim Tebow took a few minutes to toss some darts at former teammate Brady Quinn. Without naming Quinn, Tebow began talking about a teammate at Denver who played the same position as him and went to the University of Notre Dame. Tebow said how his former teammate would always brag about Notre Dame and Tebow would counter, "Your whole team had one guy who ran under a 5.0 40, our kicker ran under 5.0."
R – Raul Mondesi Jr. Proving once again the apple does not fall from the tree, Raul Mondesi Jr. nullified his game-tying home run in the bottom of the 10th inning when he forgot to step on home plate. Playing for the Milwaukee Brewers rookie league affiliate, Mondesi Jr. appeared to tie the game up 2-2 with his two-run bomb but a player realized that Mondesi Jr. missed home plate and he was quickly tagged out.
S – Stray Bullet. The Tampa Bay Rays have the worst attendance in Major League Baseball. The latest news to come out of Tropicana Field will not help those numbers. While watching a recent game, a Rays fan was struck with a stray bullet in the leg. Nobody has any idea where the bullet came from but speculation centers around potential celebratory gunfire from outside of the stadium.
T – Twitter. The NBA has fined Amare Stoudemire $50,000 for calling a Knicks fan a "fag" on Twitter.

U – Upside down. Cincinnati Reds reliever Aroldis Chapman can throw a fastball 103 miles per hour. His somersaults are a lot slower. After striking out the side in the Reds' 4-3 win over the Brewers, Chapman busted out what is believed to be the first double-somersault in non-tee ball baseball history as everyone, including his teammates, watched in amazement.
V – Ventura, Robin. White Sox Manager Robin Ventura spelled his newly acquired player's name wrong on a lineup card. He somehow spelled A.J. Pierzynski correctly but spelled Kevin Youkilis, "Youklis".
W – Woooo. Ric Flair's wife went all, umm, Ric Flair on him last week. According to Charlotte police, Jacqueline Bains Beems, or as we like to call her Mrs. Flair, went HAM on her husband around 9:40 p.m. on Monday night. Not sure exactly what she did to him but I would like to envision a few chest slaps, a figure four and a power bomb through a flaming kitchen table.
X – "X-Factor". Bovada has given us a reason to watch a reality television show. There are odds available on the winning judge of the show, with Simon Cowell the favorite at +175 ahead of Britney Spears and L.A. Reid who are both at +225, and longshot Demi Lovato is at +450.
Y – Youkilis, Kevin. The morning after the Boston Red Sox traded away fan favorite Kevin Youkilis to the Chicago White Sox, the team sent out an e-mail inviting fans to come out to Fenway Park July 16-19 to welcome Youkilis back when the White Sox visit.

Z – Zeller, Tyler. North Carolina center/forward Tyler Zeller is one of the most intriguing players in the draft. Seth Davis of Sports Illustrated recently Tweeted Zeller that according to scouts he may be selected in the Top 7 despite having all the makings for an all-time bust.