This Week in Sports Betting, A-Z
by Nicholas Tolomeo - 3/31/2012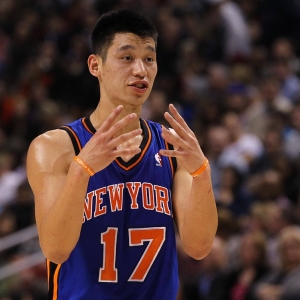 A – Asian Apology. Jeremy Lin, the subject of the now infamous "Chink in the Armor" headline, reached out to unemployed former ESPN editor Anthony Federico, who came up with the headline that got him canned. Lin and Federico had lunch and discussed Christian values and racial slurs.
B – Baseball. Rumors were swirling around on the internet on Tuesday that the Major League Baseball regular season had begun. Nobody could confirm this but there were reports that the Seattle Mariners defeated the Oakland Athletics, 3-1, in 11 innings somewhere in Asia while 99.9 percent of Americans slept.
C – Couch Surfing. After being released by Charlotte and picked up by San Antonio, Boris Diaw found himself homeless. Therefore he pulled a "Jeremy Lin" and crashed on Tony Parker's couch. You have to feel bad for Tony Parker's couch. Earlier this season Amare Stoudemire famously pointed out Ronny Turiaf and Diaw as the two smelliest players in the league. Stoudemire said the players he least likes to post up against because of body odor are Turiaf and Diaw, "1A and 1B," Stoudemire said when ranking them.
D – Draft Bust. A former No. 1 overall pick in the MLB draft in 2004, Matt Bush is making his case as not only the worst baseball player to be picked with the top pick, but he's also making a case for worst human to be picked with the top pick. Last week an intoxicated Bush, got behind the wheel and hit a 72-year old man on a motorcycle. Bush fled the scene. He was eventually picked up and thrown in the can. The Rays, his latest employer, immediately cut him. The motorcyclist remains in a medically-induced coma.
E – ESPN. ESPN host Dana Jacobson, most famous for having her weight fluctuate by 50 pounds per episode of First Take and for getting blitzed on Grey Goose and hurling insults at Christianity on stage at an ESPN gathering, has left the "Worldwide Leader in Sports". This may be the beginning of the end for ESPN, or it might not be.
F – Fez. Derek Jeter is well past his prime, apparently. His girlfriend of four years, Minka Kelly, has moved on and is apparently now seeing Wilmer Valderrama, aka Fez from "That 70s Show."
G – Gay Slur. The MLS is really cracking down. Houston Dynamo midfielder Colin Clark has been suspended for three games for directing a gay slur at a ball boy during a recent game at Seattle. Imagine if he would used a gay slur on a player. MLS Commissioner (who knew they had one) Don Garber told Clark to attend diversity and sensitivity training.
H – He's Ready. Pittsburgh Pirates starting pitcher James McDonald capped off his Spring Training with an impressive performance. In 3 2/3 innings he allowed seven hits, seven walks and 10 earned runs. He somehow struck somebody out. Overall in the spring, McDonald finished with a 9.16 ERA to solidify his spot as a Pirates starter. Old McDonald had an arm, E-R, E-R, A.
I – International Volleyball Federation. The 2012 Olympics have not started yet and we already have our first party poopers. The International Volleyball Federation will allow female beach volleyball players to wear shorts and tops with sleeves instead of bikinis to accommodate cultural beliefs and inevitable lower ratings. Let's hope the USA, Brazil and all of Europe do not follow those guidelines.
J – Jerk. In a game of rapid-fire word association on a recent episode of "Sportscenter," the name Bill Belichick came up to New York Jets cornerback Darrelle Revis, who instantly replied "jerk." That was funny enough, but he said it while sitting next to New England Patriots tight end Rob Gronkowski who topped Revis by describing Tim Tebow as "starting quarterback for the Jets." Gronkowski then burst into laughter. It made for quite the awkward yet awesome AFC East moment.
K – Kidney Dialysis. March Madness broke out at a Kentucky dialysis center when a Kentucky and Louisville fan with bad kidneys crossed paths. The Louisville fan began to run his mouth to the Kentucky fan, someone gave someone the finger and before anyone knew it, fisticuffs broke out and police had to be called. Let's hope the basketball game on Saturday is as entertaining.
L–Lackey, John. The Red Sox pitcher and wordsmith known as John Lackey is still upset about people making a big deal of Boston players eating chicken and drinking beer after games. Lackey said the fuss was "retarded." Lackey will miss the 2012 season after Tommy John Surgery but he will remain in the media spotlight with nuggets of wisdom like that.
M – Meadow Soprano. Jamie-Lynn Sigler, aka Meadow Soprano, is dating Cutter Dykstra, yes that Dykstra. Cutter is the son of Lenny Dykstra, arguably the most dysfunctional former professional athlete of all time.
N –Network. If moving Opening Day from 1 p.m. in the United States to 6 a.m. in Japan was not bad enough, Major League Baseball found a way to botch things even more. The first regular season game of the season was not even available live on MLB Network on Tuesday. It was aired on tape delay at 9 a.m. And since the game went to 11 innings, by the time the tape delay started, the real game was still actually going on live! The 2012 MLB Opening Day game will go down as the last significant sports event to be aired on tape delay since the Olympics were in Nagano (unless of course you count the Super Bowl halftime show, which has like a 30 second delay now).
O – Offering his services. A 47-year old Jose Canseco was so excited to see Magic Johnson buy the Los Angeles Dodgers that he took to Twitter to offer his services for free. The tweet read, "@MagicJohnson congrats on buying dodgers need a 1b or pinch hitter of (sic) the bench? Will play for free. Will donate salary charity." Former juiceheads coming out of the woodwork to play for the Dodgers, this is probably just what Magic was hoping for when he plunked down $2 billion to buy the team.
P – Pitt. On the brink of elimination, Pitt found a way to win Game 2 of the CBI best-of-three championship series against Washington State to force the all-import deciding Game 3 on Friday night in Pittsburgh. The only thing missing was Joe Buck exclaiming, "We will see you, on Friday night!"
Q- Quarterback transfers. The Wisconsin football team is becoming the Washington Redskins of the NCAA. The Badgers continue to build through free agency. A year after riding North Carolina State quarterback transfer Russell Wilson to the Rose Bowl, Wisconsin has landed another free agent quarterback in Maryland transfer Danny O'Brien, who somehow has two years of eligibility remaining and will not have to sit out a year.
R – Rodman. Dennis Rodman owes $860,000 in child and spousal support. He is facing a 20-day jail stint. He is broke. He once cashed out his NBA pension for pennies on the dollar to pay back taxes. Rodman is now 50 years old. Police were called to his Newport Beach home 80 times. For his 40th birthday Rodman arrived by helicopter, which landed on the beach (illegally of course). He has a 47-foot speedboat named Sexual Chocolate. His cars included a Humvee with a painting of a naked woman on it and an F-350 pickup truck that everyone knew was his because he had a self-portrait on the hood.
S – Sharing rides. The logistics issues with the best-of-three CBI championship series are pretty ridiculous. The tournament drew the worst possible scenario with Washington State having to play Pitt for three games. First Pitt flies across the country for a game it doesn't want to play. Then to save money, the teams (who are apparently engaged in a do-or-die best-of-three series) have to share a charter flight back to Pittsburgh. Then on Wednesday, Pitt wins, forcing Game 3. So Washington State players are left to roam the streets of Pittsburgh until Friday. How on earth does the NCAA need only one game to decide a National Champion but needs three games to decide a CBI Champion?

T – Twins pitcher. Minnesota Twins pitcher Carl Pavano is being extorted by a former high school teammate who wants a navy Range Rover with tan leather seats. The extortion artist is Christian Bedard (probably no relation to Pirates pitcher Erik Bedard). Christian Bedard has been in touch with Pavano's sister through Facebook, saying he will reveal an alleged relationship he had with Pavano in high school. According to the Facebook messages Pavano can make it all go away with an apology and a navy Ranger Rover with tan leather interior. Bedard says he has a $1.2 million book deal in the works but he will kill it for a $70,000 Range Rover. Hmmmmm.
U – UK. Kim Kardashian's quest to land in the bedroom of every high-paid professional athlete has apparently led her to England, where she is looking to buy David Bechkam's mansion. The famous 22-acre property is on the market for $28 million with Beckham and Posh Spice living in Los Angeles nowadays. The mansion comes with a helipad, swimming pools, recording studios (Kim has recorded at least one video I am aware of) and a petting zoo that may or may not feature her sister, Khloe.
V – Victor Cruz. New York Giants wide receiver Victor Cruz appears to be a dark horse to potentially land on the cover of Madden 2013. On Bovada he is listed with odds of 10/1 to land on the cover. The favorite is Cam Newton at 2/3, just ahead of Calvin Johnson (7/2), Aaron Rodgers (11/2) and Rob Gronkowski (7/1).
W – Wildcats over Wizards. Former Maryland Head Coach Gary Williams, and anybody else who has ever watched a basketball game, believes the Kentucky Wildcats could beat the Washington Wizards this season. Williams made his comments on ESPN 980. Charles Barkley added to that saying he thinks Kentucky would beat the Bobcats and Raptors too. Toronto is north of the border but well south of .500 at 17-35. The Wizards (11-38) and Bobcats (7-41) were fighting for control of the NBA Southeast basement while Kentucky prepares for the Final Four with a roster full of future NBA players. Since most of Kentucky's players are likely getting paid, you would hope they could beat another professional team.
X – XXX. The timing couldn't be better for former Tiger Woods mistresses Devon James, Holly Sampson and Joslyn James to unveil their porno "3 Mistresses: Notorious Tales of the World's Greatest Golfer." The film will hit the streets April 3 as to coincide with the 2012 Masters.
Y – Yawn. The NFL has decided to use replay to review all turnovers. If Tim Tebow wins the starting quarterback job this season, New York Jets games may take seven or eight hours to complete.
Z – Za's. There was free "Zas" for everyone in Toronto last week when the Raptors scored 100 points. (Zas is an obnoxious way to say pizza by the way). The only thing better than free pizza is the circumstances about it. With Toronto down 117-98, Toronto's Ed Davis hit a last-second basket and the crowd at the Air Canada Centre, fully aware of the pizza promotion, went nuts. The reaction from Orlando Coach Stan Van Gundy was priceless. "The whole place went nuts like they won the championship. Everybody is on their feet, standing ovation," Van Gundy went on. "That was the loudest the crowd was all night. I thought he had an 18-point play and tied the game."