This Week in Sports Betting, A-Z
by Nicholas Tolomeo - 8/22/2012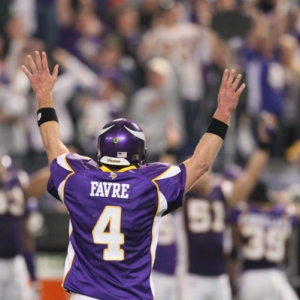 A – Annual Party School Rankings. The Princeton Review annual college rankings come out this week and, once again, West Virginia University ranks as the No. 1 party school in the country. The combination of WVU being named the No. 1 party school to go along with a No. 11 ranking in the USA Today Coaches' Poll is a lethal combination for student livers in Morgantown.
B – Brett Favre. Brett Favre began his high school coaching career with a bang, as his team, the Oak Grove Warriors, ran up the score on the Sumrall Bobcats, 64-6, in Hattiesburg, Mississippi, last week. Favre is an assistant coach with the team. Apparently nobody told ESPN about this game or else I'm sure they would have aired it and Rachel Nichols would have been on the sideline.
C – Chris Perez. Cleveland Indians long-haired all-star relief pitcher Chris Perez got into a decent shouting match with an Oakland fan on the road that was thankfully recorded. When the Oakland fan mentioned that the A's were ahead of the Indians in the standings and that Perez had blown four saves, the Indians pitcher said, "I don't give a fuck. I don't give a fuck. What's my salary?!" Perez also yelled at the fan to "get your dick out of your mouth," to which the fan responded, "get a haircut."
D – Dallas/Oakland. In one of the worst preseason games of all-time, the Dallas Cowboys held off the Oakland Raiders, 3-0. The game was aired on the NFL Network and somehow drew 5.4 million viewers. To put this into context, it beat Game 6 of this year's Stanley Cup Finals, which drew 4.9 million viewers.
E – Evelyn Lozada. The almost Mrs. Ochocinco has filed for divorce from Chad Johnson after Johnson reportedly head-butted her during an argument over a receipt for condoms found in Johnson's car. Johnson was quickly released by the Miami Dolphins in the coolest way possible, as it aired on HBO's "Hard Knocks". The only way this story could get more HBO-esque is if Johnson was using the condoms on Lauren Tannehill.
F – Fireball. Roger Clemens will make his glorious return to baseball in the most American way possible when the 50-year-old takes the mound for independent league juggernaut, the Sugar Land Skeeters. Clemens' debut just so happens to be on "Human Fireball Night". For just $37.50 you can get a ticket to see the Rocket pitch, a two-hour all-you-can-gorge buffet and then watch as the Human Fireball torches himself and runs the bases after the game. With this one night in Texas, baseball has reclaimed its title as America's Pastime.
G – Gus Johnson. The Gus Johnson affect is a rule that states whatever game the over-the-top, over-caffeinated scream machine calls, ends up being a good game. That rule will be put to the test in Fox's first primetime college football telecast of the season. Johnson will be in the booth to call Hawaii/USC Saturday night on Sept. 1. The Trojans are listed as 39.5-point favorites, according to college football odds. If this game somehow stays competitive, be prepared for Johnson to enter DEFCON 5 territory and reach octaves no male has reached before.
H – Helium. For the past seven decades, Nebraska's first touchdown of the game was followed by the release of about 5,000 helium balloons into the air above Memorial Stadium. Some thought this practice might end because the balloon release killed god only knows how many birds. Well, the practice is slowing down, but not because of people giving a shit about the birds. There is apparently a helium shortage on this planet, so Nebraska will only release a few balloons per game until they are out of helium. The school is apparently looking for ways to preserve the tradition. Uhm, how about blowing them up yourselves?
I – International Incident. Rick Sutcliffe, the former MLB pitcher who barged his way into an press booth one time all boozed up to rant on live air, has called for Melky Cabrera to be deported from the United States. I have nothing else to add.
J – Jake Locker. Given the options of Jake Locker and Matt Hasselbeck, the Tennessee Titans picked their poison and named Locker the starting quarterback for Week 1. Locker went 4-of-11 for 21 yards with an interception in his latest preseason game, which somehow won him the job over Hasselbeck, who was equally as miserable going 9-of-14 for 74 yards and two interceptions. The announcement means the Houston Texans have mathematically clinched the AFC South.
K – Kimmel, Jimmy. Jimmy Kimmel is the odds-on favorite to host the 2013 Oscars, according to Bovada, who has listed the late-night funny man at 2/1. Jerry Seinfeld (3/1), Ricky Gervais (4/1), Billy Crystal (5/1) and Neil Patrick Harris (5/1) are other contenders while Eddie Murphy is a dark-horse at 10/1.
L – Lochte, Ryan. I'm sure there are millions of dollars in endorsement deals awaiting swimmer Ryan Lochte, but in the meantime the 11-time Olympic medalist will settle for a cameo on CW's reprisal of "90210".
M – Matt Barkley. Oddsmakers have set Matt Barkley's "over/under" on passing touchdowns in 2012 at 39.5. Oddly enough (no pun intended), USC is a 39.5-point favorite against Hawaii in Week 1. There are no odds listed on Barkley going over his season touchdown total against Hawaii, but it certainly is a possibility.
N – New York Jets. To the surprise of absolutely no one in the world, the offensive love triangle of Mark Sanchez, Tim Tebow and Tony Sparano has resulted in exactly zero touchdowns through two preseason games.
O – Odds. PaddyPower has listed NFL futures odds on a team potentially going 16-0 and a team going 0-16. The odds of seeing a repeat of the 2007 New England Patriots (16-0) are 30/1 while the odds of seeing a repeat of the 2008 Detroit Lions (0-16) are 50/1. Did anyone at PaddyPower look at the Cleveland Browns depth chart before making these odds? You can also wager on both happening, which is 200/1.
P – Prostitute. French soccer players Karim Benzema and Frank Ribery will face trial on charges of soliciting a prostitute who was underage at the time. Karim pulled the feat in 2008 while Ribery had the decency to wait until 2009. The players do not deny relations with the hooker, but they deny knowing she was underage. The prostitute, Zahia Dehar, is now of age and ridiculously hot, but unfortunately she is now a fashion mogul and no longer turning tricks.
Q – Queer. Joe Gibbs used the word "queer" during an ESPN radio interview. Talking about his love for tight ends (the position we think and hope), Gibbs told a puzzled Ryen Russillo, "They always said I was queer for tight ends."
R – Repo Man. In baseball there are rain delays, lightning delays, power outage delays, etc. and now you can add repo man delays. A minor league baseball game was delayed while repo men attempted to collect bats, gloves and anything else not nailed down to make up for the Worcester Tornadoes' unpaid cleaning bills. A $5,500 debt piled up and the repo men showed and tried swiping second base, literally.
S – Sandusky Sequel. Jerry Sandusky is writing a book from jail, the sequel to his 2001 autobiography inappropriately enough named "Touched." The new book will allegedly claim his innocence. The name will probably be something like, "Didn't Touch."
T – Testosterone. A dream scenario has presented itself this baseball season for all those in the anti-Bud Selig camp. Melky Cabrera, the San Francisco Giant slugger whose career year was being fueled by performance-enhancing drugs, has been suspended for 50 games. He is eligible to come back for San Francisco's fifth playoff game if they can make it that far. Cabrera was the 2012 MLB All-Star Game MVP. How sweet would it be if Cabrera goes on to win the NL batting title, which he has a very good chance at, comes back in time for the NLCS and then leads the Giants to the World Series, where they will have home-field advantage because of Cabrera's juiced-up performance at the mid-summer classic.
U – Unwatchable. The Raiders and Cowboys had to be thankful their nationally-televised preseason game came during Shark Week, so hardly anyone likely watched the 3-0 shit fest of a game. Thankfully, the Raiders put the game out of its misery when, instead of sending out Sebastian Janikowski to tie the game with a field goal with 49 seconds left, they sent out Eddy Carmona, who shanked the kick, thereby preventing overtime and putting the game out of its misery. Still, the game was more watchable than hockey (see D).
V – Virgin. Tim Tebow turned 25 last week, which is amazing because that is a quarter century without sex.
W – Weis, Charlie. Kansas football coach Charlie Weis says he will fist fight anyone leaving games at halftime. So the Kansas home opener is likely to feature a 20,000 on 1 handicap match between fans and an overweight coach. If Weis tries fist fighting anyone, he might end up with more staples in his body besides the one in his stomach.
X- XLVII Futures. The biggest moves in the NFL Super Bowl XLVII futures market this offseason have been the Denver Broncos, 75-1 to 12-1, Oakland Raiders 40-1 to 60-1, Kansas City Chiefs 50-1 to 60-1 and the Houston Texans 15-1 to 18-1.
Y – Yankee DUI. Michael Pineda was picked up for a DUI in Tampa around 2:35 a.m. Monday morning. Pineda was in Tampa rehabbing an injured shoulder, and now he might end up in the other kind of rehab.
Z – Zydrunas Ilgauskas. The former Miami Heat center, Zydrunas Ilgauskas, has listed his Miami Beach home for $8.3 million. The five-bedroom, six-bathroom, 5,000-plus square foot house has extremely high ceilings in case you are 7-foot-3 like Big Z. If he is able to sell the home, it will more than quadruple his salary from this year considering he only made $1.4 million with the Heat.