This Week in Sports Betting, A-Z
by Nicholas Tolomeo - 8/9/2012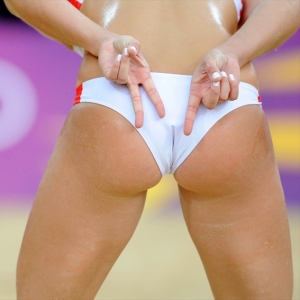 A – Americans. When is it okay to cheer against the USA in the Olympics? During women's beach volleyball. For all the success that Misty May-Treanor, Kerri Walsh Jennings, Jennifer Kessy and April Ross have achieved, they leave plenty to be desired in the looks department. The same cannot be said for Czech beauties Markéta Sluková and Kristýna Kolocová, Spain's Elsa Baquerizo and Italy's Marta Menegatti. The bombshells were unfortunately eliminated by one of the American teams during the Olympics, but hopefully you were able to DVR their matches.
B – Ball Tap. In the waning seconds of the France/Spain Olympic quarterfinal men's basketball game, rather than going for an intentional foul, French player Nic Batum gave Spain's Juan Carlos Navarro a vicious intentional ball tap. To Batum's credit, he owned up to the penis punch after the game saying, "I wanted to give him a good reason to flop."
C – Casper Smart. Apparently some guy named Casper Smart is dating Jennifer Lopez. On Bovada you can wager on if the couple will break up in 2012 (+150) or stay together (-200).
D – Diving. Olympic diver Stephan Feck somehow landed directly on his back during the men's 3-meter springboard competition. Feck finished 29th out of 29 competitors when he registered a perfect 0.0 score for landing smack dab on his back. Upon the painful landing, Feck likely said something that sounded like his last name.
E – ESPN. With Danica Patrick in the middle of a three-wide situation during a NASCAR Nationwide race this past weekened, ESPN announcer Marty Reid dropped this gem on us, "And now she's looking to be the meat in a three-wide sandwich."
F – Fan Advisor Network. Even when they are winning, the Pittsburgh Pirates still want to prove they have no idea what the hell is going on. The Pirates, in the midst of a winning season for the first time since Barry Bonds weighed 150 pounds, agreed to launch a Fan Advisor Network, which basically allows fans to pay money to submit their opinions to the team. This instantly became a giant joke on Twitter, and Pirates fans submitted fake suggestions asking for free beer, a left-handed power bat, more bobblehead promotions, fewer apples in the vending machines and for the team to get rid of this abomination of an idea.
G – Girlfriend. Michael Phelps has a new girlfriend. The 18-time gold medalist who has been linked with Vegas cocktail waitress Caz Pal, Miss California 2010 Nicole Johnson and "Mary Jane," is now apparently dating Los Angeles-based model Megan Rossee. From the looks of Rossee, it appears Phelps may retire from swimming but not from breaststroking.
H – Hill, Jemele. Just to prove that looks have NOTHING to do with it, ESPN has tabbed the boyish-looking Jemele Hill to work as sideline reporter during college football games this fall.
I – Ivan Ukhov. Russian high jumper Ivan Ukhov showed up to a meet in 2008 hammered drunk. He attempted to high jump but just dove underneath the bar. It was pretty awful and incredible at the same time. This year at the Olympics, the now-famous drunken high jumper, somehow won a gold medal. And for all we know he may have been drunk again. Ukhov somehow lost his vest, so he was forced to wear a loose-fitting t-shirt that greatly hindered his ability to jump but apparently not as much as a stomach full of booze.
J – Jeff Francoeur. During a recent game in Chicago, Kansas City Royals outfielder Jeff Francoeur went to chase down a foul ball down the right field line. He never got to the ball, but he did reach in the stands and literally scooped a handful of popcorn from a fan's bucket.
K – Kaylyn Kyle. If you're a guy who caught themselves transfixed by the USA/Canada women's soccer semifinal match, you saw a great soccer game and you were introduced to Canadian bombshell Kaylyn Kyle, a striking striker for those crazy Canadians. There are plenty of pictures of her online and she has a Twitter account, so hurry up and get Googling and YouTubing.
L – Live Boob. NBC may never show another Olympic event live again. In women's water polo, aka "wardrobe malfunction waiting to happen," NBC viewers were treated to yet another bare breast during a match between USA and Australia. It was at least the third registered bare breast during NBC Olympic coverage.
M – Marijuana. Nick Delpopolo became the first Olympic athlete to test positive for a banned substance at the 2012 Olympics, and he became the first ever Olympian to offer up the "inadvertent consumption of marijuana baked food" excuse. Delpopolo tested positive for marijuana and he claims it was due to an "inadvertent consumption of food" that had been baked with marijuana. So I'm guessing he like tripped and fell face first into a fresh batch of weed brownies or one of his friends pulled the ultimate dick move on him, secretly feeding him weed-laced food before he left for the Olympics. Fortunately, the pot did not help, as Delpopolo finished seventh in the 73-kilogram (appropriately named) Judo event. Therefore, he didn't have to forfeit any medal, although he deserves a gold medal in creativity for his awesome excuse.
N – Neck. German weightlifter Matthias Steiner dropped a 432-pound barbell directly on his neck during the Olympic 195+ kilogram competition. Steiner somehow did not lose his head in the must-see incident. Steiner took first place at the 2008 Olympics and had a gold medal draped around his neck, this year he had a 432 pound barbell draped around his neck.
O – Olympic women's basketball. With everyone saying how dominant the US men's Olympic basketball team is in these 2012 London Games, how about the women? Heading into the semifinals the US women were listed at 1/33 to win the gold medal! And you thought women's basketball was terrible in this country?
P – Phil Mushnick. Some old cranky columnist Phil Mushnick wondered out loud in a recent column why female gymnast are "almost all tiny" and why they have "virtually no breasts." These both seem to be valid questions. Let's hope we get some answers.
Q – Quinonez, Alex. Ecuadorian sprinter Alex Quinonez is faster than you. But when it comes to the men's 200-meter sprint at the Olympics, he is a 200/1 longshot to win the eight-person race, which also happens to feature Usain Bolt (1/7) and Yohan Blake (4/1). The Jamaican duo are the only real contenders to win the race, with everyone else having odds of 66/1 or worse.
R – Randy Hanson. Randy Hanson, the former Oakland Raider assistant who was allegedly on a business end of a sucker punch from former Raider Head Coach Tom Cable that broke Hanson's jaw, was on the delivery end of a blow this time. Hanson, now an assistant with Cal Poly, was arrested after wielding a beer bottle in a bar fight. He has been suspended indefinitely. You can take the Raider coach out of Oakland….
S – Sidney Crosby. A Sidney Crosby O-Pee-Chee hockey card was examined lately and lo and behold, look who is in the background? Wheel of Fortune host Pat Sajack! So at least there is one person on the card who people turn on NBC to watch.
T – Track and Field. It is clear who is the most watched Olympian is and what the most watched event is. Two-third of the United Kingdom watched Usain Bolt race the 100-meter dash, which equates to roughly 20 million viewers. Back home somehow eight percent of Jamaicans did NOT watch Bolt race. They were probably bobsled fans/racers.
U – USC song girls. The USC song girls made their annual road trip to Lake Tahoe this summer to frolic on the beach and in the water and to have it filmed soft-core porn style. It's probably the best tradition in college athletics.
V – Value. There is some great value out there to be had in the NFL futures market. However, instead of betting Super Bowl odds at Bovada for the Jaguars (200/1), Colts and Browns (both 150/1) you might as well light a dollar bill on fire.
W – Willa Ford. Willa Ford of 'I Wanna Be Bad' fame is getting a divorce from former hockey player Mike Modano. The only professional athlete who can marry a one-hit wonder and not be the most famous person in the couple is an NHL player.

X – Xiang, Liu. One of the most famous Chinese Olympians flamed out of the 2012 games so hard this year when she hit the first hurdle and ate shit so hard during a preliminary heat of the 110-meter hurdles. She withdrew from the games immediately after her awful tumble. It's amazing how a Chinese Olympian can go on to become so popular considering she looks like the rest of the Chinese Olympians.
Y– Youth. The Dwight Howard Youth Basketball Camp this summer in Orlando will not include Dwight Howard, contrary to the name. Howard has decided to no-show the camp. The $199 entry fee camp will now feature some guy named Andrew Nicholson and Dwight Howard autographs. What a guy!
Z – Zero. That is how many games the Houston Astros won between July 17 and July 28. From July 17 to Aug. 8 that win total jumps all the way from zero to two. A new nickname has been born, the "DisAstros".
Doc's Sports is offering $60 worth of member's picks absolutely free – no obligation, no sales people – you don't even have to enter credit card information. You can use this $60 credit any way you please for any handicapper and any sport on Doc's Sports Advisory Board list of expert sports handicappers. Click here for more details and take advantage of this free $60 picks credit today.