This Week in Sports Betting, A-Z
by Nicholas Tolomeo - 10/10/2012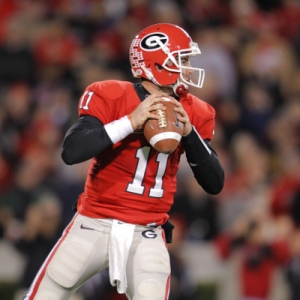 A – Aaron Murray. Georgia quarterback Aaron Murray returned to his apartment after an embarrassing 35-7 loss at South Carolina to find it had been egged and rolled with toilet paper. Murray was a horrendous 11-for-31 for 109 yards with an interception in the blowout loss. Of course, Murray shares the place with linebacker Christian Robinson, so perhaps the dairy and toiletry products were meant for him.
B – Bol Bol. Manute Bol has 10 children, and one of them is a 6-foot-5 seventh grader. Highlights of the younger Bol recently surfaced, and the kid can play basketball. However, even more impressive is his name is actually Bol Bol.
C – Cincinnati. Game 3 of the National League Divisional Series was delayed when a fan ran on the field waving around a Mitt Romney-Paul Ryan political sign. The fan jumped on the field in right field and made it to left center before being tackled. This is the kind of thing that could likely determine votes in a major swing state like Ohio and the future of our country.
D – Deron Williams. Somehow Deron Williams, the big fish in the NBA free-agent market, opted to go to the New Jersey Nets this summer instead of the Dallas Mavericks. Williams has now recently said that the absence of Dallas owner Mark Cuban from a meeting this summer had a major influence over his decision. Where was Cuban during the meeting with Williams? In Los Angeles filming an episode of the reality show "Shark Tank."
E – eBay. Dontrelle Willis, the former 2003 NL Rookie of the Year, has listed his 2007 Dodge Charger on eBay. The limited edition slime green-colored car features 20-inch chrome wheels and only 7,500 miles. With just over one day left on the auction, the price was only at $15,600 with a "Buy It Now" price available at $34,987, which kind of looks like his ERA in Detroit.
F – Fires. Touchdown-underdog West Virginia upset undefeated Texas on the road in Austin, and West Virginia students did what they do best: burn shit. Mountaineer fans in Morgantown's famed Sunnyside neighborhood set 35 intentional street fires Saturday night into Sunday morning. Twenty four of the fires were to furniture, mostly couches, and 11 were dumpster fires. A couple fans kicked things into high gear when they broke down a light pole and tossed it in the fire. If Geno Smith wins the Heisman, the fans who tossed a light pole into a street fire deserve the Heisman for being fucking crazy.
G – Guns. Reggie Bush's girlfriend Lilit Avagyan is pregnant. On a local morning show, Bush broke the good news and hoped it was a boy because if it was a girl, Bush said he was going to go straight to the gun shop to buy some guns. So let's all hope it's a girl.
H – Hockey. There is no hockey yet, but Bovada still has 2013 Stanley Cup odds available. The New York Rangers and Pittsburgh Penguins are the favorites at 8/1, just ahead of the Vancouver Canucks (10/1). The Columbus Blue Jackets are apparently terrible; their odds are 150/1, with the next worst odds belonging to the New York Islanders at 75/1. Unfortunately for fans of real sports, it appears Bovada does not think the lockout will last all season, because wagering on "no Stanley Cup winner" is not an option.
I – Ichiro Suzuki. Ichiro Suzuki did the most Asian thing ever when he somehow performed acrobatic origami to avoid a tag at home plate in Game 2 of the ALDS against the Orioles. Instead of plowing through the catcher like any other player would do, Ichiro literally ran around him and the catcher didn't know what to do. It looked like a Chinese fire drill.
J – Jah Rastafari High. During his "Sunday Night Football" player introduction, San Diego strong safety Atari Bigby looked stoned out of his skull. He did nothing to dissuade those who may have thought he was high when he announced that he was from the University of Jah Rastafari High.
K – Knoxville. Disgraced former Tennessee basketball coach Bruce Pearl has listed his Knoxville mansion for sale at $2.425 million. The house features a giant customized in-ground pool and probably some recruiting violations.
L – Like father, like son. Joe Schiano, the son of Tampa Bay Buccaneers bully/head coach Greg Schiano, is looking at a six-week suspension for a profanity-laced tirade towards an official during a high school football game in Florida. At least he didn't dive at players' knees while they were trying to kneel on the ball.
M – Mark Sanchez. If Tim Tebow is Jesus then Mark Sanchez is the antichrist. Before playing on the 666th edition of "Monday Night Football" this week, Tebow praised glory upon God via his Twitter feed. After playing on the 666th edition of "Monday Night Football" this week, Mark Sanchez's quarterback rating was 66.6. You cannot make that up.
N – New York Jets. The hot mess that is the New York Jets is more than just the quarterback sideshow of Mark Sanchez and Tim Tebow AKA "Sanchbow". Their defense is a mess too. The Jets have five team sacks this year. To put that in perspective J.J. Watt has 8.5 and five other players have 5.5 or more.
O – Ohio State. In the nerdiest event ever, the Ohio State marching band performed a halftime show playing nothing but video game themes. All the football players in the locker room had to be incredibly confused.
P - Porsche. Belgian soccer player Jonathan Legear, of FC Terek Grozny in the Russian Premier League, did the most Russian soccer player thing ever when he barreled his Porsche into a gas station while hammered drunk. The 25-year old claims he was just slightly over the blood-alcohol limit when he caused some $300,000 worth of damage.
Q- Quarterback Question. Rex Ryan says there is "no question" Mark Sanchez is his team's quarterback, which obviously means there are plenty of questions. When is the last time you heard a coach say that about a good quarterback?
R – Rugby. You know those incredible scenes of fans catching foul balls while not spilling their beer? Well, that did not happen at a Premiership Rugby match in Ireland last week. A stray punt donked an unsuspecting double-fisting patron right in the head and the guy proceeded to drop both beers.
S – Shirts. If Desmond Howard thought his Beaver Juice slip-up on live television would go unnoticed, he was sadly mistaken. There are now t-shirts for sale around the Oregon State University campus commemorating the phrase "Beaver Juice," and the moment when Howard said he wasn't "sipping on that Beaver juice" while he was apparently talking about football.
T – Troopers. The Baltimore Orioles are not the only ones not used to this whole postseason thing. State troopers in Maryland are just as confused as how the hell to act, too. In the top of the ninth inning during Game 1 of the ALDS, a pair of Maryland state troopers asked Nick Swisher and Derek Jeter for autographs in the dugout.
U – Under the dome. Georgia State was trying to boost attendance for its struggling 0-5 football team so they did what any logical school would do, make it rain $10,000 from the dome roof. Georgia State officials invited 300 students to fight over $10,000 that was raining down from the rafters. An absolute melee ensued, as could be expected as broke college kids desperately tried to collar money so they could probably afford to go to a better school. The promotion resulted in a spike in attendance as an entire 55 extra tickets were sold compared to the prior home game.
V – Volunteers. The butt-changing scandal that broke out at a Tennessee fraternity has been immortalized on a t-shirt that is circulating around campus. The shirts feature the Tennessee mascot of a dog, but his tail is replaced with a beer bong.
W – West Virginia. In what may be one of the lopsided ticket takes in Las Vegas this college football season, the red-hot, undefeated, No. 4-ranked Mountaineers are four-point favorites at Texas Tech, a team coming off a 41-20 whipping at home by Oklahoma. The public, by estimates of as much as 98 percent, have pounded West Virginia, while sharps have hammered away on Texas Tech, trying to catch the Mountaineers in a letdown spot after a huge win at Texas and with a major showdown at home against No. 5 Kansas State next week. Remember, just going against the public blindly does not make you a sharp, it makes you a jack ass.
X – "X- Factor". Britney Spears has emerged as the favorite on the reality show "X-Factor" to be the winning judge in Season 2. Bovada has Spears pegged at +125 ahead of Demi Lovata (+250), L.A. Reid (+350) and the former favorite Simon Cowell (+400).
Y – Yankees. More people nationally and in New York give a shit more about a terrible Jets team than a Yankee team in the midst of a pennant race. The Texans/Jets "Monday Night Football" shit show drew a 10.0 national rating compared to a 3.6 rating for the Yankees/Orioles Game 2. Even in New York, Mark Sanchez somehow outdrew Derek Jeter to the ratings score of 13.8 to 11.0.
Z- Zombies. Washington State coach Mike Leach said some of his seniors have zombie-like qualities. When asked about the senior leadership on his awful 2-4 Cougars team, Leach said some seniors have been stellar while others "have had this zombie-like" state. He went on to add that "Some of them…have an empty-corpse quality."
Doc's Sports is offering $60 worth of member's picks absolutely free – no obligation, no sales people – you don't even have to enter credit card information. You can use this $60 credit any way you please for any handicapper and any sport on Doc's Sports Advisory Board list of expert sports handicappers. Click here for more details and take advantage of this free $60 picks credit today.