Weekly Sports Betting Hot/Cold List
by Nolan Sinclair - Strike Point Sports - 2/8/2012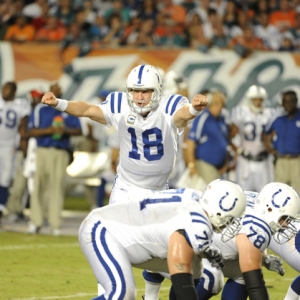 Oh my, that was some Super Bowl! Eli Manning and company foiled the Patriots yet again, just as Scooby and Shaggy do to Old Man Whithers each and every episode. I can hear Tom Brady now; "I would have won that Super Bowl if it wasn't for that Eli, and Victor Cruz too."
Yes, Wes Welker should have caught that ball. But Brady did not throw a very good pass. Yes, the Patriots could have won the game easily if they would have fallen on the Ahmad Bradshaw fumble. But if the refs call a pass interference on the Pats the G-Men have at least 7-10 more points. Yes, Brady's wideouts and tight ends had four drops. But if the officials don't call the Giants on a suspect holding penalty on third-and-one, the Giants are quite possibly up 16-3 and running away with the game. So no excuses Patriots; the better team won the game.
None of the previous items happened and the game played out in dramatic fashion just as it did in 2007. The result, the same as it was back then, the quarterback and his dogs foiled the bad guy again. Take that Bill Belichick!
THE COLD LIST:
10. Peyton Manning and Jim Irsay – They did everything they could to steal the spotlight from the Super Bowl. I know it is Peyton's city, but we all know that he is leaving town. Stop giving ESPN more and more material to hammer down our throats.
9. Atlanta Hawks – What is going on with this team? The Hawks finally got to come home following a long road trip in which they went 3-1-1 ATS. Since coming home they have failed to cover three straight home games in which they were favored.
8. Carmelo Anthony – I know I had him on this list a few weeks ago, but his play as of late has placed him firmly back on the cold list. Anthony is 12-34 over his last three games, including a 3-15 performance versus the New Jersey Nets. Even worse is Anthony has suffered a new injury, which may cause him to miss more time. What a bust.
7. NCAA home favs – This is a tricky spot for bettors, which is why they have landed on the cold list. Over the last 30 days home favs are winning games over 76 percent of the time, but they are covering the line just 48 percent of the time. This clearly shows that the public completely overvalues the home favorite on the college hardwood.
6. Nevada Sports books – Nevada was hit hard by the "safety scored round the world." Two bettors come to mind when discussing the first score of the Super Bowl. One Vegas casino lost $50,000 when a bettor placed a $1,000 bet on a safety as the first score of the game. Another lost $15,000 when a gambler wagered $200 on the two points being the first of the game. This is a great story for the man, but bad for the machine. (That said, the books still made out overall on the Super Bowl. They always do.)
5. David Beckham – Damn him and his underwear commercial. Yeah, I know, the ladies love him, but karma got a hold of him a just a tad, as he was shown the door at his child's soccer game. Yup, a straight red for arguing at a kids soccer game. Real cool, David.
4. Colorado Avalanche – The Avalanche have won just once Jan. 21, which is a span of six games. It is interesting to note that four of their last five games were 3-2 losses before they finally broke through against Chicago on Tuesday.
3. Butler – This is just not their year. The Bulldogs are just 1-4 ATS in their last five games and 3-7 ATS in their last 10. Butler is 13-12 SU and just 5-15 ATS overall on the season. It looks like Cinderella slipper has shattered into a thousand pieces.
2. Kevin Love – I really like this guy as a player, but control yourself on the floor. First he rakes across Luis Scola's arms as Scola attempts a layup and then as Scola lies on the floor Love steps on his face. The Timberwolves survived without Love versus Sacramento and we'll see if he can do so against Memphis as he is serving his two-game suspension.
1. NFL Hall of Fame – Are you serious that Bill Parcells, Tim Brown, Chris Carter, and Jerome Bettis didn't get in? And Cortez Kennedy is getting in? That has to be a misprint.
THE HOT LIST:
10. The Super Bowl – The 2012 Super Bowl was watched by more than 111 million people. This number made the Super Bowl the most watched show in US television history. Unfortunately, all of them had to listen to Chris Collinsworth the whole time.
9. M&M's and Matthew's Day Off commercials– I really liked these Super Bowl commercials. Just good, solid stuff even though Super Bowl commercials seem to get more and more overrated each year.
8. Nashville Predators – Nashville's version of a NHL team has won eight of its last 11 games. The Predators have scored at least three goals in all eight of their victories. They have also won seven of their last 10 games by at least two goals.
7. Bowling Green Basketball – The Falcons have been an absolute cash cow at the betting windows this season. Bowling Green is 14-5 ATS on the year thus far. They have covered seven of their last nine games, including three of their last four on the road.
6. The 'Over' with Ken Mauer – The 'over' is 14-4 in NBA games that Mauer officiates. Teams are combining to average 192.6 points in his contests. Even though Mauer has the best O/U record there are eight other officials that have a points per game that is higher.
5. Mario Manningham – Did he really make that catch and get his feet down? Absolutely unbelievable considering how many drops he has had over the past few seasons.
4. NBA Home Dogs – Over the last seven days NBA home dogs were13-6. That was good for better than a 68-percent winning clip. On the season home dogs are only four games over .500 ATS.
3. Underdogs in the NHL – NHL underdogs continue to be the way to go this year on the ice. They are dominating against the puck line (even though in most instances you do have to pay juice to get that 1.5 goals) and winning outright at a rate that we haven't seen in over eight years in this league.
2. Eli Manning – Peyton's little brother now has more Super Bowl titles and is on the track to the Hall of Fame. I can't say that he is better than the older brother, but man is it close.
1. Check back next week for more Hot/Cold list.

Strike Point Sports is one of the top handicappers in the country and is red hot right now. They have picked up nearly $10,000 in college basketball profit over the last nine weeks and are a near-perfect 10-1-1 with their top hoops picks. They will have a 7-Unit College Game of the Year on Saturday and want to continue a streak of six straight winning nights. Click here for more information and to sign up.