Weekly Sports Betting Hot/Cold List
by Nolan Sinclair - Strike Point Sports - 2/16/2012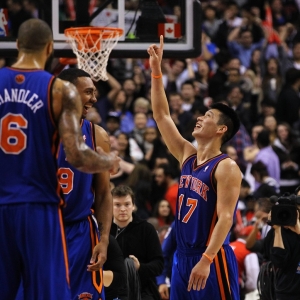 Thank goodness for Jeremy Lin.
Yes, I know that the hype may be more than deserved, but he has definitely made the NBA relevant during the downtime following the NFL season. New York could be suffering from a serious hangover following the drunken stupor of the Giants Super Bowl victory, but Lin is the perfect remedy.
We are all well aware of the suspect competition that the Knicks have defeated, but there is no questioning that Lin outplayed, and outscored, Kobe Bryant on basketball's biggest stage. Kobe tried to say that he had no idea of what Lin had accomplished over his first week of NBA play, but Jeremy soon made him aware. Lin is putting up numbers that only some of the NBA's best have done, and he has done so with a smirk that reminds of us the local kids playing at the park behind our homes.
Side Note: As this story gets typed, Lin just led the Knicks to their seventh straight win, a thrashing of visiting Sacramento. And the legend continues.
And with that, no better way to start this weeks Hot/Cold List:
THE COLD LIST
10. Charlotte Bobcats – Charlotte is 3-26 SU on the season and they have failed to cover the spread in 10 of their last 13 games. Is it possible to fire Michael Jordan?
9. NBA injuries – The shortened, but hectic season is starting to take its toll on NBA players. Key figures such as Al Horford, Derrick Rose, and Kevin Garnett are all dealing with injuries ranging from nagging to severe. One we may want to keep an eye on is Danillo Gallinari. The Nuggets are 1-5 ATS in the five games he has sat.
8. USC Basketball – Southern California has been an ATS joke lately. The Trojans are 3-8 ATS in their last 11 games and only one loss, the Washington game, has even been close. Stay away from the Mighty Trojans of USC.
7. Luis Suarez – Ole' Luis got a huge slap on the wrist for his racial slurs in the EPL. To make matters worse, when Manchester United and Liverpool matched up, he was supposed to shake Patrice Evra's hand, and he refused, pulling away like a child. Two words Mr. Suarez. Grow up.
6. Chicago Blackhawks – The Blackhawks are a mess on the ice as of late. Chicago has lost eight straight and out of their next five games, they have previously lost to three of their opponents. Out of their eight losses, they lost seven by two goals or more. Ouch!
5. Novara – This Serie A team has won one out of their last 10 matches. I know that many of us don't wager on the Italian soccer leagues, but I think it is time to take notice of this squad. This is a great one to go against.
4. The Big East – As a Big East Fan, it pains me to say this, but they are down this year. I know that Syracuse, Georgetown, Marquette, Notre Dame, and Louisville are all ranked. But they just aren't as strong as they have been over the last few years as the Big East has become to college hoops what the SEC is to college football.
3. Joe Crawford and the Home Team – Sounds like the name of a band doesn't it? Home teams are just 6-16 ATS thus far this season with Joey Crawford calling the shots. Someone call Grandma and have her make a lasagna for Crawford so he will give the home guys a break.
2. NCAA Home Favs – Over the last seven days home favorites are hitting at a measly 44 percent clip on the college hardwood. The home court advantage is a big plus in the college ranks, but not as much as the public thinks.
1. Kobe Bryant – He is on this list for one reason and one reason only. You better recognize LINSANITY!
THE HOT LIST
10. The Brady Bunch - No, not the TV version, but the family of Pats QB Tom Brady. That family has a superstar QB with three Super Bowl titles, and a daughter-in-law that is a supermodel. Now they have a daughter that is engaged to Red Sox star, Kevin Youkilis. Not sure what she looks like, but he is quite a handsome dude. (Not really.)
9. San Antonio Spurs – The Spurs are on absolute fire at the window lately. San Antonio has covered nine of their last 11 games, and most of that streak was without Manu Ginobili. Be wary, however, as now that he is back the line could be inflated a touch to high. Going against the Spurs may be the sharp play over the next week.
8. Tampa Bay Lightning – The Lightning are currently 35-19 versus the total on the season. Over their last 15 games they are 11-4 versus the total. Jump on board while the gettins good.
7. North Texas Mean Green Eagles – North Texas is 14-4 ATS on the season in college hoops. This includes their current ATS streak of 10-0-1. Now that's some cash flow. And the most impressive part is that they have been getting it done even though their starting backcourt was suspended due to academics at the start of the second semester.
6. NHL 'Unders' – In an ironic twist, the under is hitting at a 62 percent clip over the last 30 days, in overtime games. Yes, you read that right. The under is 29-18 in games that have gone to overtime in the last 30 days.
5. Manchester United –They are on a sweet run on the pitch (4-1-0). They have outscored their opponents 9-2 in their four victories, and they came back from a three-goal deficit to draw with Chelsea to salvage a point.
4. NBA Trade Rumors – With the trade deadline just a month away the Dwight Howard talk is heating up again. His final three teams are down to the Lakers, Mavs, and Nets. If the Lakers or Mavs obtain Howard, they immediately will have their Championship odds sway in their favor. If you have a feeling that he lands there, you may want to make a move on their future odds.
3. Phil Mickelson – Phil has now posted a better number than Tiger Woods in the last five Sundays that they have played together. Mickelson is now part of a historic golf group that has won at least 40 tournaments and four majors. This list includes Tiger Woods, Jack Nicklaus, Sam Snead, Walter Hagen, Ben Hogan, Byron Nelson, and Arnold Palmer.
2. Jeremy Lin – Not only has Jeremy Lin made the Knicks relevant again, but MSG stock is on the up-and-up. You have to love the fact that this guy not only makes James Dolan money by bringing fans to the Garden, but he makes Dolan's stock increase. MSG ratings have gone up 70 percent since Lin took over. Lin is a win/win for the Knicks, or should I say Lin/Lin. Ok, that was a little much.
1. Check back next week for more Hot/Cold List.
Strike Point Sports is one of the top handicappers in the country and is red hot right now. They have picked up $8,000 in college basketball profit over the last 10 weeks and are a near-perfect 11-3-1 with their top hoops picks. They will have a 7-Unit College Game of the Year on Thursday and you don't want to miss this one. Click here for more information and to sign up.