Back to the Futures: Saints Go Marching to Top of NFC
by Ricky Dimon - 10/7/2013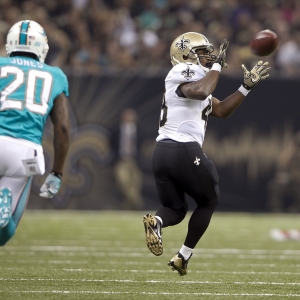 After five weeks of the NFL season, the New Orleans Saints are one of three undefeated teams and the only one outside of the AFC West (Denver, Kansas City). Thanks to Seattle's loss at Indianapolis, the Saints have the early inside track for home-field advantage throughout the conference playoffs, and they are suddenly favored to reach the Super Bowl.

Odds provided by Sportsbook.ag.

NFC Championship

New Orleans Saints (+220) – It's hard to overshadow an offense that has scored 134 points through five games and is led by a quarterback (Drew Brees) who has thrown 12 touchdowns, six in his last two outings compared with zero interceptions. But the story so far is Rob Ryan's resurgent defense, which has not given up more 18 points in any game.

Seattle Seahawks (+300) – The Seahawks had been flirting with the loss column even before Week 5. They opened with a 12-7 win over lowly Carolina and survived a reeling Houston team 23-20 in overtime (they also beat Jacksonville by "only" 28 points!). It caught up with Seattle on Sunday in its 34-28 setback against Colts.

San Francisco 49ers (+450) – San Francisco is back in the ballgame, just one game out in the NFC West, because of a two-game winning streak combined with the Seahawks' blemish. The Niners hammered Houston 34-3 on Sunday, but that was more like Matt Schaub gift-wrapping it as opposed to San Francisco actually doing anything.

Green Bay Packers (+550) – Like the 49ers, the Packers sat at 1-2 with a disgruntled quarterback after three weeks. They're still just 2-2 (they had a bye in Week 4), but Sunday's 13-point win over Detroit was at least an improvement. That being said, five Mason Crosby field goals won't get it done in the long run. Aaron Rodgers will have to find the endzone.

Heisman Trophy

Marcus Mariota (+200) – The Denver Broncos of college football have score between 55 and 66 points in all five of their games. Their closest margin of victory so far is a 39-point thrashing of California. Mariota, a sophomore, has 14 touchdowns and no interceptions to go along with 338 rushing yards and seven additional scores on the ground.

Johnny Manziel (+300) – "Johnny Football" may not be the favorite to repeat as Heisman winner, but his chances are a lot better than they were during his tumultuous offseason. While a win over Alabama would have helped, 562 total yards and five passing touchdowns did not hurt. Texas A&M has scored at least 42 points in all five of its games.

Tajh Boyd (+600) – ACC showdowns don't get any bigger than Clemson vs. Florida State on Oct. 19 (assuming the Tigers beat Boston College on Saturday). Not only does it have National Championship implications, but it also will affect a Heisman race that includes Boyd and FSU's Jameis Winston (+700).

Teddy Bridgewater (+600) – Louisville has three wins by at least 37 points, including one of the 72-0 variety. And the schedule does not even get much harder the rest of the way. Such is life in the American Athletic Conference. But Bridgewater, who has 16 touchdowns to just one interception, will get hurt in voting by the lack of quality opposition.

Stanley Cup

Chicago Blackhawks (+450) – The defending champions have reloaded with just about everyone back on board. They are off to a decent start, with three points (a win and a shootout loss) through two games. Patrick Kane has already found the net twice.

Pittsburgh Penguins (+550) – Despite playing half the number of games (two compared to four), the Penguins have infinity times more wins than the Steelers (two to zero). Marc-Andre Fleury has allowed only one goal in a pair of contests, and he boasts a .949 save percentage.
Boston Bruins (+800) – Boston made a miracle comeback in Game 7 against Toronto then won eight of its next nine games in the following two series before losing to Chicago in six games. The Bruins are also off to good start this season, with a 2-0 record thanks to 3-1 and 4-1 wins over Tampa Bay and Detroit, respectively.

Los Angeles Kings (+1000) – The 2012 Stanley Cup Champions had another productive season before also falling victim to the Blackhawks (in the Western Conference Finals). Jonathan Quick was a shadow of his 2011-12 self in 2012-13, and he was yanked on Friday after giving up four goals in a loss to Winnipeg.

The Masters

Tiger Woods (+500) – With the conclusion of the Presidents Cup (which the United States once again dominated), the golf season is virtually over. The next real big event? None other than the 2014 Masters. Tiger struggled with physical problems this year and his back acted up over the weekend, but he remains the obvious betting favorite at every tournament he enters.

Phil Mickelson (+1200) – Mickelson did almost nothing after winning his first British Open this summer. His best finish—and only Top-10—during the playoffs was a T-6 at The Barclays. Still, Lefty has become a stellar player at majors, and he always gets reenergized for Augusta, where he has triumphed three times.

Rory McIlroy (+1500) – McIlroy is down at No. 6 in the world, and he would be a lot lower than that if golf used a one-year ranking system, like tennis does, instead of two. As bad as he was in 2013, a player of his talent—and past accomplishment—can never be counted out.

Adam Scott (+1500) – Scott, on the other hand, enjoyed a breakout 2013 campaign at 33 years old (32 when he won this year's Masters). Up to No. 2 in the world behind Tiger, Scott was a force at majors—posting two more Top-10s in addition to his Augusta triumph. This kind of value on the defending champ is already an enticing play.
Read more articles by Ricky Dimon