Back to the Futures: Great Hype for Great American Race
by Ricky Dimon - 2/19/2013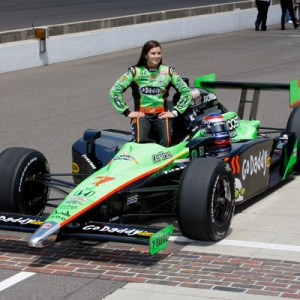 By her own admission, Danica Patrick (+1500) is a longshot to win Sunday's Daytona 500. But she has already done a world of good for the Great American Race. Patrick snagged the pole position last weekend, and the sports world is buzzing about NASCAR as a result (relatively speaking, of course).

It's time to start our engines for the racing season, the second half of the NBA season, and golf's buildup to the Masters (Odds provided by Sportsbook.ag).

Daytona 500

Tony Stewart (+800) – The 2011 Sprint Cup champion is still in search of his first Daytona 500 triumph. If he can't win it, though, he just might root for Patrick — a first-year driver with Stewart-Haas racing.

Matt Kenseth (+800) – Last year's debacle of a race (held on Monday night after rain on Sunday) was won by Kenseth, who earned his second Daytona 500 win in the last four installments. Based on recent track history, it's hard to bet against this guy.

Jimmie Johnson (+900) – Johnson is widely regarded as the best driver in the business. After all, his streak of five straight championships just ended in 2011, and he finished a solid third last year. As good as he is, Johnson has as many Daytona 500 wins (one) as Trevor bleepin' Bayne. It may be time for Johnson to bag another.

Dale Earnhardt, Jr. (+1000) – Earnhardt took a checkered flag only once last season, but consistency finally crept into his game with 10 Top-5 finishes and 20 Top-10 showings. It took his dad a lifetime to win a first Daytona 500. It didn't take Junior long, but it's been a while in between his first (2004) and what would be his second.

WGC-Accenture Match Play Championship

Tiger Woods (+1000) – Tiger has not even reached the second round of this event since 2008 when he won the thing for the third time in his career. The jury is still out, but this appears to be a different Tiger from the one we saw between 2009 and 2012. Don't overlook a first-round showdown against an in-form Charles Howell III.

Rory McIlroy (+1200) – The world No. 1 and No. 2 have never faced each other in the match-play final, so don't hold your breath for a reenactment of the Nike commercial in real life. McIlroy is not on top of his game at the moment, but he made it to the final of this tournament last year.

Luke Donald (+1500) – Donald is the best player never to win a major, but he does have a match-play championship (2011). It's hard to definitively say that someone has a great draw in a one-on-one golf tournament, but….Donald has a great draw.

Charl Schwartzel (+1500) – The 2011 Masters champion played well last week at Riviera, just barely missing putts on 17 and 18 to be left out of a playoff by a single shot. A McIlroy-Schwartzel quarterfinal collision is possible, if not altogether probable.
NBA Championship

Miami Heat (+150) – The all-star break is over, so it's time for the stretch run to the 2013 NBA Playoffs. Nobody is hotter right now than Miami, which has won seven in a row to take complete control of the Eastern Conference. I just wish there was a rule that the leading scorer of the top team in each conference at the break was required to participate in the dunk contest.

Oklahoma City Thunder (+450) – Losing two in a row — both by double-digits — to Utah and Miami was not an ideal way to end the first half. The Thunder are 2.5 games back of San Antonio, and it would be in their best interests to make up that deficit, because the Spurs are a ridiculous 22-2 at home.

Los Angeles Clippers (+700) – Lob City has won four straight (the longest positive streak in the Western Conference), all against decent competition — the Knicks, 76ers, Rockets, and Lakers. Just think if CP3 consistently shot threes like he did in the All-Star Game. Then again, just think if defense was played like it was in the All-Star Game!

San Antonio Spurs (+800) – Get your popcorn ready for a Thursday night showdown in the Alamo City between the Spurs and Clippers. It could be a west finals preview, although Kevin Durant will obviously have something to say about that. Additionally, we may find out just how good San Antonio is at home.

Lakers season outcome

Miss playoffs (-300) – The Lakers have missed the playoffs only five times in franchise history. Heading into the second half of the season, they are 3.5 games out of a playoff spot with a 25-29 record to Houston's 28-25.

Lose in first round (+220) – Will L.A. finally start playing some inspired basketball in honor of legendary owner Jerry Buss, who passed away on Monday? It will take a borderline Herculean effort just to reach the postseason, but it is not out of the question by any means.

Lose in second round (+1000) – Think about the teams the Lakers would have to beat to get to this point. If they somehow get in, a first-round date with either San Antonio, Oklahoma City, or the L.A. Clippers is a virtual certainty.
Lose in NBA Championship (+1500) – Interestingly, an NBA Championship loss is considered far more likely than an exit in the Western Conference Finals (+2500). Perhaps the thinking is if Kobe Bryant and company get hot enough to somehow reach the last stage of the conference playoffs, they will go one step further and then succumb to Miami. However, like those odds even matter…. As the season-outcome odds suggest, this team is not getting past the first round.
Read more articles by Ricky Dimon