Back to the Futures: Calm Before the Storm
by Ricky Dimon - 11/20/2013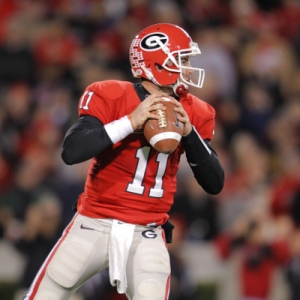 No offense to Oklahoma State, but you know it's not a huge weekend on the college football gridiron when ESPN "College GameDay" is being hosted in Stillwater. Of course, OSU vs. Baylor is a solid matchup, and Texas A&M vs. LSU is no joke, but this Saturday is nothing compared to Thanksgiving weekend. That's when a whole host of rivalry games will paint an even more accurate picture of the National Championship landscape.

Odds provided by Sportsbook.ag.

NCAA Football Games of the Year

Georgia (-5) at Georgia Tech – This year's installment of Clean Old-Fashioned Hate, set for Nov. 30, has suddenly becoming interesting. Tech has not set the world on fire, but it has at least won three of its last four games despite getting blown out at Clemson last week. Georgia has suffered all kinds of injuries, and its heartbreaker against Auburn was its third loss in its last five.

Florida State (-21) at Florida – This may be the largest FSU-UF spread in history. And why not? The undefeated Noles are on course for the National Championship Game, and Jameis Winston is favored to win the Heisman Trophy. Nine of their 10 wins have come by at least 27 points. Florida has lost five in a row and will miss a bowl game if it loses to its in-state rival.

Clemson (+5) at South Carolina – Now this is one rivalry in which both programs are still going strong. Neither team is going to win it all, but Clemson has cruised since getting crushed by Florida State, and South Carolina boasts a road win at Missouri to somewhat make up for thrilling losses to Georgia and Tennessee.

Alabama (-15.5) at Auburn – It does not getting any bigger than the Iron Bowl, at least not as it stands right now. Alabama is No. 1 in the nation (what's new?), and Auburn is still in the SEC and National Championship pictures thanks to its miracle against UGA. The Tigers have a bye to prepare for this one, while the Tide basically have a bye (vs. UT-Chattanooga on Saturday).

NFC East

Philadelphia Eagles (Even) – Break up Nick Foles! He may not be Chip Kelly's prototypical quarterback like Michael Vick, but the gunslinger has thrown a hard-to-believe 16 touchdowns compared to zero interceptions. A three-game winning streak (including—gasp!—a win at home) has the Eagles in first place, a half-game ahead of Dallas.

Dallas Cowboys (+160) – It was an awful weekend for Dallas, which saw both the Eagles and Giants win one week after it got humiliated by New Orleans. On the bright side for the Cowboys, they are a perfect 3-0 so far against the NFC East (1-0 against each of the three other teams). They are coming off a bye week heading into a tough six-game concluding stretch.

New York Giants (+350) – No division is more competitive from top to bottom, except maybe the AFC North. The Giants, who started 0-6, are right back in the thick of things. Even Washington is still in contention, although it has not exactly won four consecutive games like New York. Eli Manning and company have a huge one at home this Sunday vs. Dallas.

Washington Redskins (+6500) – Just when the Redskins were a trendy pick to make another recovery out of a 3-6 hole, like they did last year en route to the division title, things have gone south again. Last Sunday's division loss to Philly means the 'Skins have lost three of their last four to fall 2.5 games out of first place. Robert Griffin III looks like a shadow of his rookie self.

NBA Championship

Miami Heat (+240) – By current Eastern Conference standards, the Heat are an outstanding 8-3. Of course, the two-time defending champs are only worried about their own standards. For the moment, they are not good enough. Miami sits 1.5 games back of East-leading Indiana, and Dwyane Wayne—as usual—is already ailing.

Indiana Pacers (+500) – The Pacers finally lost a game, as Chicago handled them 110-94 last Saturday at the United Center. They are talking a big game, like how they should have won it all this summer, and they are backing it up. Paul George got paid and is playing at an MVP level.

Oklahoma City Thunder (+700) – Kevin Durant is leading the NBA in scoring at 29.6 points per game, more than two points better than every other player. With Russell Westbrook back in business following last season's injury, Oklahoma City is off to a solid 7-3 start.

San Antonio Spurs (+1000) – San Antonio, Chicago, and Golden State are all tied as the fourth choice at +1000 to win the title. All three are playing well. The Spurs are 9-1, the Warriors are 8-3, and the Bulls have won five in a row since losing three of their first four contests.

NCAA Championship

Kentucky (+500) – Kentucky has played only one decent opponent so far—current No. 1 Michigan State. The Wildcats mounted a furious second-half charge but lost, 78-74. Julius Randle is the absolute real deal as the leader of an incredible freshman class.

Kansas (+525) – The Jayhawks' 94-83 win over Duke is arguably the best performance of any team to date this season. Andrew Wiggins may have been outplayed by Jabari Parker, but Kansas' star frosh finished with a flurry. Wiggins is averaging 19 points per outing.

Michigan State (+525) – If experience counts for anything, the Spartans will have a leg up on much of the other competition at the top of the college basketball world. It showed against Kentucky. Tom Izzo's club has upcoming ACC tests against Virginia Tech on Friday and against UNC on Dec. 4.
Louisville (+550) – Louisville doesn't play anyone good until Kentucky on Dec. 28. Quite frankly, it doesn't play many good teams now that it is a part of something called the American Athletic Conference that is without both Pittsburgh and Syracuse.
Read more articles by Ricky Dimon