Back to the Futures: Blackhawks Up, Both in Standings and Odds
by Ricky Dimon - 2/26/2013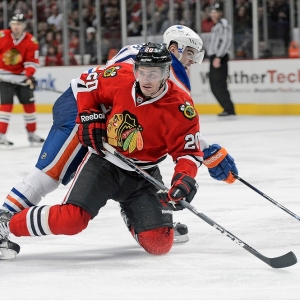 Nineteen down. Twenty-nine to go. Suddenly, an undefeated regular season in the NHL does not look so impossible since this year's slate features just 48 games instead of the normal 82. Okay, it's not really going to happen — but who is going to beat the Blackhawks, and when?

(Odds provided by Sportsbook.ag).

Stanley Cup

Chicago Blackhawks (+500) – Nineteen games. Zero losses. The Blackhawks continue to extend the NHL's record season-opening point-streak, and they have earned 35 out of a possible 38 points. Chicago is a considerable +200 favorite to win the Western Conference, and the on-fire squad is now tied with Pittsburgh as Stanley Cup favorites.

Pittsburgh Penguins (+500) – Stop me if you've heard this one before: a Penguins' superstar is dealing with concussion symptoms…. This time around it is Sidney Crosby's battery mate, Evgeni Malkin. The reigning NHL MVP was placed on IR after being injured last Friday, and there is no timetable for his return at the moment. Still, this offensive juggernaut (second in the league with 65 goals) has more than enough to fill any void.

Boston Bruins (+600) – The Bruins have fewer regulation losses than everyone other than Chicago, and they have allowed the fewest goals in the NHL. Granted, they have played a mere 15 games (no other team has played fewer than 17), but it is still an impressive start for the 2011 Stanley Cup Champions.

New York Rangers (+1000) – This isn't quite a Los Angeles Lakers situation, but a team with a loaded roster is underachieving in a major way. New York is 8-7-2 and currently riding a three-game losing streak, putting it in fourth place in the Atlantic Division and leaving it on the outside looking in on the playoff cut line. Still, you have to think guys like Henrik Lundqvist, Rick Nash, Marian Gaborik, and Brad Richards will lead a recovery.

Honda Classic

Tiger Woods (+750) – The PGA Tour moves from the West Coast to the East Coast, where many of the top players in the world will stay until the Masters. That includes Tiger, who is now set for his second leg of three tournaments in three weeks. Of course, his last effort lasted only one day — because he lost to Charles Howell III in the match play first round. The good news heading into the Honda Classic, however, is that Tiger has been far better at stroke play than match play of late.

Rory McIlroy (+1200) – By McIlroy standards, he is in the midst of a real slump. He missed the cut in Abu Dhabi then lost his match-play opener to some other Irishman named Shane Lowry. Still, this could be just the time and place for McIlroy to right the ship. He outdueled Tiger at last year's Honda Classic, firing a 12-under total to withstand Tiger's final-day 62.

Charl Schwartzel (+1200) – Is Schwartzel really deserving of the same odds as McIlroy? Maybe based on current form. The 2011 Masters champion finished second at the Joburg Open and third at the Northern Trust Open earlier this month. Schwartzel played his way into fifth place at last season's Honda Classic, so he has to like his chances. Clearly, the oddsmakers and betting public do, too!

Justin Rose (+1500) – Schwartzel tied for fifth at the 2012 event with none other than J-Rose, who is looking to bounce back from a second-round loss in match play. One of the most consistent players on tour, the sixth-ranked Englishman finished runner-up last month in Abu Dhabi.
FA Cup

Manchester City (+162) – Another Premier League miracle, like the one it enjoyed in 2012, is becoming increasingly less likely for City. The Blues, though, are cruising in FA Cup play, and they earned a spot in the quarterfinals by blowing out Leeds last week, 4-0.

Manchester United (+225) – United appears to be coasting to the Premiership title, but bracket format leaves its FA Cup situation far more tenuous. Furthermore, Wayne Rooney and company will face Chelsea in the quarterfinals if Chelsea beats Middlesbrough on Wednesday.

Everton (+400) – Everton is playing solid ball in the Premier League, good enough for sixth place in the table. Tim Howard's club has a friendly FA draw, facing Oldham this week for a chance to meet Wigan Athletic in the quarters.

Chelsea (+600) – Chelsea has endured a rather rough last few days. It lost to Man City, 2-0, in the Premier League on Sunday and drew Man U in the FA quarters (assuming Chelsea takes care of business in its next match).

American League Pennant

Detroit Tigers (+400) – Spring Training games are underway, so it is not a moment too soon to get into baseball mode even though March Madness is just about ready to dominate headlines. The Tigers have a lot more than winning just the American League on their minds after another World Series loss last fall.

Los Angeles Angels (+400) – If you load up and then underachieve, why not just load up some more? The Angels did just that and now have Josh Hamilton in the lineup to go along with Albert Pujols and Mike Trout.

Toronto Blue Jays (+800) – This isn't a misprint. And these aren't your grandfather's Blue Jays. They are ready to throw a knuckleball into the AL East standings this year (quite literally, with NL Cy Young winner R.A. Dickey now on the mound) thanks to an offseason spending spree.
New York Yankees (+1000) – Alex Rodriguez is hurt. Mariano Rivera is coming back from being hurt. Now Curtis Granderson is hurt, expected to miss 10 weeks after getting beaned on the forearm in Spring Training. Yes, it's safe to say the Yankees are hurting.
Read more articles by Ricky Dimon