Back to the Futures: Football Winding Down, Hot Stove Heating Up
by Ricky Dimon - 12/5/2013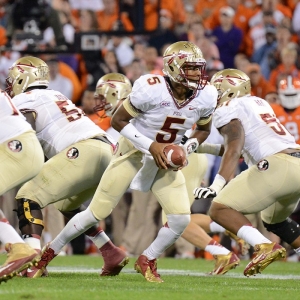 Conference championships will be decided on the college gridiron this weekend, and a number of NFL division races are either toast or virtually toast. Will Jameis Winston be allowed to burn his Heisman competition to a crisp this weekend? As for baseball, the hot stove is not waiting for next week's winter meetings.

Odds provided by Sportsbook.ag.

Heisman Trophy

Jameis Winston (-2000) – Winston is currently the best player on the best team in the nation, and the only thing standing in Florida State's way of an undefeated pre-bowl season is Duke. In other words, all that stands in Winston's way of the Heisman Trophy is the sexual assault accusation. As for his on-field exploits, the freshman has thrown for 3,490 yards and 35 scores.

Jordan Lynch (+400) – Lynch gets knocked for Northern Illinois' lack of competition, but Winston never goes up against elite teams in the ACC, and neither does Braxton Miller in the Big Ten. The Huskies obviously have to win the MAC Championship over Bowling Green on Friday in order for Lynch (22 passing TDs, 20 rushing TDs) to stay within striking distance.

Braxton Miller (+1000) – What do the top three favorites have in common? They are quarterbacks of the three undefeated teams in the Top 25. Miller has 21 passing touchdowns compared to only five interceptions to go along with eight rushing scores (all in the last five games) heading into Ohio State's Big Ten Championship vs. Michigan State.

A.J. McCarron (+2500) – If Winston wins the Heisman, it will be in part thanks to a major assist by Auburn's Chris Davis (and Alabama head coach Nick Saban). Watching the live Heisman odds during Auburn-Alabama would have been epic, as McCarron must have been back in the race if not leading when he heaved a 99-yard touchdown to Amari Cooper.

AFC North

Cincinnati Bengals (-2500) – This isn't your grandfather's AFC North. In fact, it's not even your older brother's. The Ravens are .500, the Steelers are below .500, and the "Bungals" are at the top. It's hard to see -2500 as good value, though, despite a lead of two games. Indianapolis, Baltimore, and a road date at Pittsburgh are still on the schedule.

Baltimore Ravens (+800) – Speaking of good value, this is it. The Ravens won their first game against Cincinnati, and a road win in the season-finale would ensure the tiebreaker if the two teams finish with the same record. Baltimore has won two in a row to give itself a chance, and its remaining schedule is not taxing even though it isn't a breeze.

Pittsburgh Steelers (+5000) – You can do things like stand over the sideline to try to stop your division rivals (if you're willing to incur a $100,000 fine). But there may be no other hope for Mike Tomlin and company. The Steelers are 5-7 and three games behind Cincinnati. On the bright side, Pitt has a laughable schedule left, and it gets to play the Bengals at home.

Cleveland Browns (+50000) – Are the Browns actually still mathematically alive? It appears that way. But it won't be that way for long. They need tons of help even if they win out, and the latter feat looks borderline impossible given that visits to New England and Pittsburgh and a home date with Chicago still loom.

AL Pennant

Detroit Tigers (+350) – Well, the Tigers sure aren't being shy about anything so far this offseason. They rid themselves of Prince Fielder's contract, and in a more perplexing move they shipped away Doug Fister. The good news is that Detroit still boasts an awesome staff.

Boston Red Sox (+550) – The defending World Series Champions obviously have the right guy at manager in the form of John Farrell. Jacoby Ellsbury is now with the enemy, but that should not hurt as much as the contract he received from New York suggests.

Los Angeles Angels (+550) – What the heck is up with this franchise? It keeps bringing in more and more big-name players and keeps missing the playoffs. The Angels just added another one last month by trading with St. Louis for 2011 World Series hero David Freese.

New York Yankees (+600) – Ellsbury is nice, but does he really satisfy the Yankees biggest needs? And they have a lot of them, with Mariano Rivera retiring and Derek Jeter aging. It also remains to be seen if the Bronx Bombers are willing to spend even more on Robinson Cano.

Northwestern Mutual World Challenge

Tiger Woods (+400) – You may know this as the Chevron World Challenge, which it was in both 2010 and 2011, years that delivered epic finishes (one with Tiger runner-up and one with Tiger winning). Anyway, Tiger is the host of this event, and he has won it five times in 14 years.

Rory McIlroy (+700) – McIlroy actually won a golf tournament last weekend. A two-shot reversal on the 72nd hole drove him past Adam Scott for a one-stroke victory at the Australian Open. It was the Northern Irishman's first victory of 2013.

Graeme McDowell (+1000) – McDowell is an absolute force on this Sherwood Country Club course in Thousand Oaks, Calif. He finished runner-up in 2009, beat Tiger by a shot in 2010, and he won it again last year by three strokes over Keegan Bradley.
Matt Kuchar (+1200) – Kuchar does not win a whole lot, but he knows how to win at some of the biggest non-major events. He won The Players Championship in 2012 and the match-play title this season. The guy also seems to be in contention every single week.
Read more articles by Ricky Dimon