Back to the Futures: LeBron Still Favored for Finals MVP
by Ricky Dimon - 6/13/2013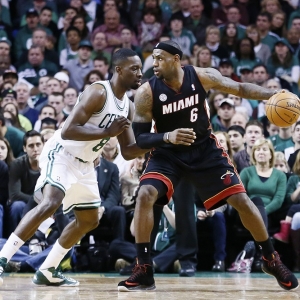 The general population seems to be anticipating a bounce-back performance from the Miami Heat in Game 3 of the NBA Finals on Thursday night. After all, the Heat were +2 underdogs in Game 3 on Tuesday, they lost by 36 points, and now they are giving points (the spread is -1) two days later. The thinking has to be that 1) LeBron James often takes matters into his own hands following losses, and 2) Miami has not dropped back-to-back contests since Jan. 8 and 10.

(All odds provided by Sportsbook.ag).

NBA Finals MVP

LeBron James (+110) – LeBron posted a triple-double in the series opener and had an incredible block on Tiago Splitter in his team's Game 2 victory. In Tuesday's humiliation, though, he made only 7-of-21 shots for 15 points and he did not go to the free-throw line a single time. LeBron has attempted a mere six freebies in three games.

Tim Duncan (+300) – Duncan scored only 21 combined points in the last two contests, but he has 39 boards so far this series and has hauled in double-digit rebounds in all three. The 37-year-old may not have to be the best player on his team to win MVP. If he's in the discussion, he might snag it simply because he is Tim Duncan.

Field (+300) – The non-field players are James, Duncan, Tony Parker, Dwyane Wade, Manu Ginobili, Chris Bosh, and Mario Chalmers. That means the field includes — don't laugh — Danny Green, Gary Neal, and Kawhi Leonard. It also includes Tracy McGrady…. Okay, you can laugh all you want at that one!
Tony Parker (+300) – Parker was averaging 17 points and 5.5 assists through the first two games, but his MVP chances took a blow in Game 3. San Antonio's star point guard scored just six points and suffered a hamstring strain. An MRI revealed nothing more than the mildest of strains, so Parker is hopeful to play on Thursday.
American League East


Boston Red Sox (+160) – According to the standings, the AL East is the second most competitive division in baseball (behind the NL West) from the top team to the fourth. According to the odds, it is the most competitive. Boston (41-26) was the longshot when the season began, but 67 games in they have flipped the script and are favored to win it.

New York Yankees (+200) – The Bronx Bombers have lost two in a row to fall behind by three games in the division, looking up at heated-rival Boston. They have dropped three of five since winning four straight earlier this month. On the bright side, New York has five games against the two L.A. ballclubs starting on Friday.

Baltimore Orioles (+350) – Baltimore missed out on the AL East title by just two games last season, and it is playing like there's unfinished business with which to deal. The Orioles (37-29) are lurking 2.5 games out of first, and they have scored 324 runs — second most in the American League behind Boston.

Tampa Bay Rays (+350) – If you had told the Rays they would be 6.5 games ahead of Toronto 65 games into the year, they would have been ecstatic. However, the Blue Jays are terrible. But even though Tampa Bay is one spot out of last and three places out of first, games-wise it is still closer to the top of the division (five games).

FIFA Confederations Cup

Brazil (+137) – Held the year before every World Cup in the same host nation, the Confederations Cup basically serves as way for that country to find out just how ready it is to welcome the world to its front door. Brazil, though, should have designs of winning at the same time. It is the two-time defending champion of this event (2005 and 2009).

Spain (+162) – The favorite in Group B (on the opposite side from Brazil), Spain is a close second choice to win the tournament. Ranked No. 1 in FIFA, the Spaniards finished third at the 2009 Confederations Cup and they, of course, captured the 2010 World Cup.

Italy (+700) – Italy is the second favorite (+275 behind Brazil at -162) to come out of Group A. An intriguing opener on Sunday pits the Italians against Mexico. Italy is +115 to win, and the "over/under" is set at 2.5 goals (over is +130, under is -175).

Uruguay (+1000) – In a group with Spain, Nigeria, and Tahiti (yes, Tahiti), Uruguay is obviously the second choice to win the foursome at +275. It is a +400 underdog against Spain on Sunday. Star player Diego Forlan may be doing a bit of a rope-a-dope, as he said earlier this week that Spain is the favorite to win it all.

Super Bowl

San Francisco 49ers (+600) – Brandon Carswell going down with a knee injury in practice is far from a big deal for the 49ers, but you have to start wondering if the defending NFC Champions are cursed. Carswell's recent signing was due in part to the Achilles' injury of Michael Crabtree this spring. Crabtree could miss the entire season.

Denver Broncos (+700) – Willis McGahee was released by the Broncos on Thursday. He is injury-prone, and the Broncos are looking to go younger at that position with Ronnie Hillman and rookie Montee Ball. However, it's not like any running back is the key piece when Peyton Manning is under center.

New England Patriots (+700) – Rarely can you become a team's third-string quarterback and have it be considered an upgrade. But that's exactly the case for Tim Tebow in New England. After all, he is no longer punt protector and league laughingstock. The over/under on Tebow touchdowns in the upcoming season is 3.5 (all bets action only if he is on the Week 1 active roster).

Seattle Seahawks (+800) – How good is the Seahawks-49ers rivalry going to be in 2013…and quite possibly well into 2014? Well, let's just say that it's only June, and things are already getting spicy. Seattle is one of the NFL's most notorious violators of the substance-abuse policy, and San Fran head coach Jim Harbaugh has made sure to let everyone know that he has his eye on the perpetrators.
Read more articles by Ricky Dimon