Back to the Futures: Jameis May Become Famous
by Ricky Dimon - 10/25/2013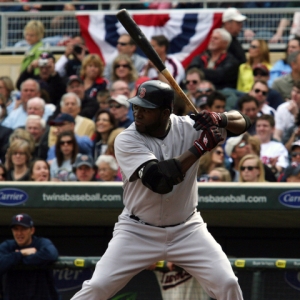 Enticing individual prop bets abound as the baseball season heads for home and the college football campaign heats up down the stretch. On the diamond, a grizzled veteran is getting it done for Boston. On the gridiron, a talented upstart is inspiring FSU.

Odds provided by Sportsbook.ag.

World Series MVP

David Ortiz (+200) – Through two games, Ortiz is 4-for-6 with two home runs, five RBI, and three runs scored. Needless to say, he has to be in the lineup when the series shifts to St. Louis. Ortiz's dramatics this entire postseason won't hurt his MVP chances if the Red Sox win (they are slight -105 underdogs).

Mike Napoli (+300) – The problem for Napoli (and/or for Ortiz) is that one will have to sit at the National League ballpark while the other plays first base. Napoli has just one hit through two games, but he has driven in three runs.

Carlos Beltran (+600) – If the Cardinals win (they are slight -115 favorites), Beltran may snag MVP honors as the sentimental favorite—not unlike Mariano Rivera at the All-Star Game, when Mo seemingly could have allowed seven runs in one inning and still been MVP. Beltran returned from a rib injury one day earlier to go 2-for-4 with an RBI in Game 2.

Michael Wacha (+700) – Wacha is 4-0 with a 1.00 E.R.A. in four starts during the playoffs. He went six innings on Thursday while allowing two runs on just three hits to pick up the victory after St. Louis took the lead in the seventh. Wacha will start again unless one team sweeps the next three games, and he may even have a chance to win a clincher in Game 6.

Heisman Trophy

Marcus Mariota (-110) – Mariota's stats are other-worldly: 19 passing touchdowns without an interception, 2,051 passing yards, nine rushing touchdowns, and 493 rushing yards. He has scored through the air and on the ground in every game, and Oregon has scored 55 points in six of seven contests. The question is if he will be treated as a product of the system in which he plays.

Jameis Winston (-110) – Mariota vs. Winston could come down to which team goes undefeated and plays for the BCS National Championship. Florida State is keeping pace after crushing Clemson, a game in which the freshman phenom threw for 444 yards and three touchdowns while also rushing for a score. Winston has 23 total touchdowns and just three picks.

A.J. McCarron (+1200) – There's Mariota and Winston, and then there's everyone else. Alabama has to go undefeated, of course, for McCarron to have any chance. His stats are solid (14 passing TDs, three INTs), but his three interceptions already match last season's total.

Johnny Manziel (+1800) – Maziel would have had to set the world on fire in order to overcome off-the-field negativity perceived by the voters in order to have a shot at repeating. Texas A&M's star has 24 total touchdowns, but he has been picked off seven times and two losses are likely two too many.

NBA MVP

LeBron James (+125) – The two-time reigning MVP (four in total) is a heavy favorite and almost even with the rest of the field to make it three straight. LeBron's field-goal percentage has improved each of the last seven seasons, and his three-point percentage has improved each of the last three. Who's to disagree when he says he has gotten better?

Kevin Durant (+400) – Durant is three-time NBA scoring champion, and he should have a good chance of regaining the title from Carmelo Anthony because Oklahoma City sidekick Russell Westbrook could miss the first six weeks of the season. One-man show, perhaps?

Derrick Rose (+600) – The Bulls went 45-37 last season. One year earlier, with Rose, they went 50-16. If the discrepancy is a similar one in 2013-14 with their point guard back on board, voters will take note. The preseason has been encouraging: Chicago is 7-0, and Rose is averaging 21.7 points per game to go along with 4.5 assists.

Chris Paul (+1200) – Paul's scoring may not be on par with the rest of the gang, but he dished out 9.7 assists per game last season and he has averaged more than two steals per outing six straight years. Doc Rivers at the helm as head coach should only help CP3—not to mention the entire Clippers squad.

Champions League top scorer

Cristiano Ronaldo (-175) – Ronaldo tops the chart with seven goals through three matches. He led Real Madrid (3-0-0, first place in Group B), with both goals in a 2-1 win over Juventus on Wednesday. Ronaldo has scored multiple goals in five of Real's last seven games (La Liga competition included).

Zlatan Ibrahimovic (+350) – Ibrahimovic found the net four times on Wednesday in Paris Saint-Germain's 5-0 rout of Anderlecht. He is second behind Ronaldo with six goals and will have opportunities for plenty more with PSG 3-0-0 through three games and dominating Group C.
Lionel Messi (+350) – Messi's four tallies leave him three south of Ronaldo, which may seem like a lot in soccer. Messi, though, has been known to score in bunches. Barcelona drew with AC Milan 1-1 on Tuesday after the magician notched the game-tying goal.

Robert Lewandowski (+2000) – Lewandowski, who paced Borussia Dortmund to a runner-up Champions League finish in 2012-13, is tied for third with three goals. He struck the game-winner during the 82nd minute in a huge 2-1 victory over Arsenal on Tuesday.
Read more articles by Ricky Dimon