Back to the Futures: Patriots, 49ers Favored for Next Super Bowl
by Ricky Dimon - 2/5/2013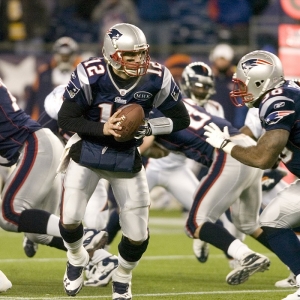 Nobody expected the Baltimore Ravens to win the Super Bowl. Not at the beginning of the season, not when Ray Lewis suffered a torn triceps in Week 6, not when they lost by 30 to Houston in Week 7, not when they faced fourth-and-29 against San Diego, not when they dropped four of their last five heading into the playoffs, not when they trailed Denver by seven with 40 seconds remaining and no timeouts, and not when they had to pay a visit to New England for the AFC Championship. Even going into the Super Bowl they were still discounted as +3.5 underdogs.

Get up to $1000 in sign-up bonus!
at Mybookie
CLICK HERE

And nobody expects them to win it next year, either (odds provided by Sportsbook.ag unless otherwise indicated).

Super Bowl XLVIII

New England Patriots (+600) – When was the last time the Patriots weren't the Super Bowl favorite after one season and heading into the next? They still have all the pieces in place for a championship, but Tom Brady isn't getting any younger and Rob Gronkowski isn't getting any smarter (see: video of him wrestling in Las Vegas last weekend despite a broken arm).

San Francisco 49ers (+700) – San Francisco, on the other hand, is young and — presumably — only getting better. Jim Harbaugh will have Colin Kaepernick under center for an entire season instead of a half-season. If Justin Smith can stay healthy and allow Aldon Smith to produce, this team is set on both sides of the ball.

Denver Broncos (+800) – Peyton Manning won NFL Comeback Player of the Year and finished second in NFL MVP voting. Perhaps he is one season away from both MVP and a second Lombardi Trophy. The latter could have come this year, but a defensive implosion against Baltimore doomed the Super Bowl favorites and propelled the Ravens to the title.

Green Bay Packers (+1000) – With Aaron Rodgers at the helm, Green Bay is always going to be in the mix. Rodgers won't have Donald Driver at his disposal next season, but it shouldn't matter. The question mark remains defense, not offense.

AT&T Pebble Beach Pro-Am (odds provided by Bovada Sportsbook)

Phil Mickelson (+700) – Lefty abused the field last week in Phoenix. Despite getting robbed of a 59, barely missing an ace on the famed 16th hole, and falling just short of the PGA Tour scoring record, he still had more than enough to win. Speaking of winning, Mickelson is four times a champion at the Pebble Beach Pro-Am — including last year when he crushed Tiger Woods head-to-head in the final round.

Dustin Johnson (+800) – Johnson is a two-time champion of this event, and he was in position to win the 2010 U.S. Open at Pebble before a final-round meltdown. This course suits the big hitter's game perfectly, so it would be a shock if he doesn't contend this week. The only fear is that DJ has spent more time with Paulina Gretzky than with his golf game of late, but who can blame him for that?

Brandt Snedeker (+1200) – The 2012 FedEx Champion is picking up where he left off. In four starts this season, Snedeker has finishes of second (last week in Phoenix), tied for second, and third. The guy is on fire, and it's only a matter of time before he is back in the winner's circle.

Lee Westwood (+1600) – Westwood is arguably the best player never to win a major, right up there with fellow former world No. 1 Luke Donald. The Englishman was nowhere near on top of his game in 2012, but he is coming off a fifth-place showing in Dubai last weekend.

NBA MVP

Kevin Durant (-140) – Durant currently has OKC with the second-best record in the NBA, behind only San Antonio and well ahead of everyone else. He leads the league in scoring at 29.4 points per game while shooting a career-best (by far) 51.6 percent from the floor.

LeBron James (+120) – The Heat are playing like they have no interest in playing their best basketball until playoff time in April. That may work out fine for them, just as it did last year, but it won't help LeBron's chances of winning a fourth MVP (his second in a row).

Carmelo Anthony (+1000) – The Knicks have won five straight and are within a half-game of Miami in the Eastern Conference. Right now it's a two-man race for MVP, but that could change if New York stays this hot and surpasses the Heat. Carmelo is second in scoring at 28.4 points per game.

Chris Paul (+2000) – It would be somewhat fair to say that it's still a three-man race for MVP, but four is now just about out of the question. CP3 has missed eight games with a knee injury, and the Clippers have lost seven of their last nine, including three in succession.

Champions League

FC Barcelona (+200) – Champions League resumes next week. With 16 teams remaining, the one that has Lionel Messi is usually going to be the favorite. That's the case this time, as Barca leads the way. However, it does not have the easiest of draws with AC Milan up first in knockout play.

Real Madrid (+450) – Real suffered a 1-0 loss to Granada on Saturday on none other than an own-goal by Cristiano Ronaldo. More importantly in terms of its Champions League chances, Real has a rough draw. It has to face Manchester United at the beginning of knockout stages in the round of 16.

FC Bayern Munich (+650) – Bayern Munich lost a heartbreaker at home to Chelsea in last year's Champions League final, so the team will be looking to make amends in 2013. It's all or nothing for Bayern, which faces Arsenal for a place in the quarterfinals.

Borussia Dortmund (+750) – The second-place team in the German Bundesliga (behind only Bayern Munich) made Champions League headlines in December by eliminating Manchester City from group play. Dortmund has won five in a row overall as it prepares for two legs against Shakhtar Donetsk.

Read more articles by Ricky Dimon