Back to the Futures: World Series Rematch in the Cards?
by Ricky Dimon - 10/18/2013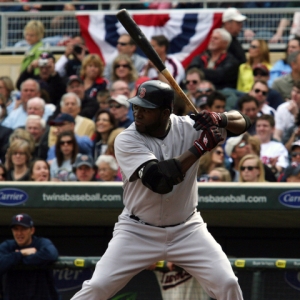 With the baseball season rounding third and heading for home as the NFL and college football campaigns near the midway point, enticing future plays abound. Boston is the new World Series favorite, while the Chiefs are rising up the ranks of the best in pro football. Also, four familiar names are up on top of the 2014 World Cup futures board. Let's take a look.

World Series(odds by Bovada Sportsbook)

Boston Red Sox (+120) – The Sox were probably a Torii Hunter rob of David Ortiz's Game 2 grand slam from being out of this thing. Now they have a 3-2 lead over Detroit in the ALCS heading back to Boston. What a difference a year makes for a team that is managed well and plays smart baseball.

St. Louis Cardinals (+175) – Boston and St. Louis are one win away apiece from setting up a rematch of the 2006 World Series, which the BoSox swept, 4-0. With the kind of pitching the Cards have displayed in these playoffs, they aren't getting swept by anyone this time around.

Detroit Tigers (+500) – The Tigers are not in great shape, needing two road wins just to get into the Fall Classic. However, they have Max Scherzer for Game 6, and they would be favored in a Game 7 matchup between Justin Verlander and John Lackey.

Los Angeles Dodgers (+550) – Like the Tigers, the Dodgers need two road wins to punch a ticket to the World Series. Clayton Kershaw is set for Game 6, but a Game 7 showdown between Hyun-Jin Ryu and Adam Wainwright would not be in their favor.

AFC Championship(odds by Sportsbook.ag)

Denver Broncos (-140) – As for the immediate future, Peyton Manning returns on Sunday to the stadium that he built (although Colts' owner Jim Irsay may claim otherwise at the moment). In the long run, the Broncos are still favored to win both the conference title and the Super Bowl. They are 6-0 and outscoring opponents by 105 points through six games.

New England Patriots (+400) – The bad news for the Patriots is that there's the Broncos and then there's everyone else in the AFC. But the good news is that you can also say there's the Broncos, then the Patriots, and then everyone else. Despite myriad injuries on the team, Tom Brady is still getting the job done—especially in clutch moments—to the tune of a 5-1 record.

Kansas City Chiefs (+900) – Record-wise, however, it's Denver and Kansas City on top of everyone. The schedule has not been difficult, and it gets even easier over the next three games. We'll find out a lot more about the undefeated, Andy Reid-led Chiefs when they visit division rival Denver in Week 11.

Cincinnati Bengals (+1300) – Yes, the "Bungals" are the fourth favorites to represent their conference in the Super Bowl. Part of it is their division, in which no other team is above .500, and the Steelers are a horrendous 1-4, giving Marvin Lewis' squad an inside track to at least one home playoff game. Cincinnati has won two in a row, and only three teams on its remaining schedule currently have a winning record.

NCAA Games of the Year(odds by Sportsbook.ag)

Oregon (-11) at Stanford – Recent results have hiked up the spread on this Nov. 7 Pac-12 tilt to double-digits. Stanford was upset at Utah last weekend, while Oregon continued to roll, pasting host Washington by three touchdowns. The Ducks have outscored opponents by a ridiculous margin of 341-83 through six contests.

LSU (+8) at Alabama – LSU's only SEC blemish has been a heartbreaker at Georgia when the Bulldogs still had most of their players intact. Alabama has had one minor scare against Johnny Manziel and Texas A&M. A few more wins each, and another blockbuster showdown between the Tigers and Tide will be set for Nov. 9 in Tuscaloosa.

Ohio State (-4.5) at Michigan – It could be bigger matchup at the Big House. For example, Michigan would still be undefeated if Brady Hoke didn't settle for field goals or if Brendan Gibbons had made said field goals. Still, the Nov. 30 installment of one of the sport's greatest rivalries may have national implications for the Buckeyes and conference implications for the Wolverines.
Texas (+14) at Baylor – Despite saving Mack Brown's job by surprising Oklahoma in the Red River Rivalry, the 'Horns are still getting two touchdowns for their Dec. 7 trip to Baylor. Perhaps that is due to the all-important entire bodies of work. Baylor is 5-0 without too much trouble at all; Texas is extremely fortunate to be a more modest 4-2.

World Cup(odds by Bovada Sportsbook)

Brazil (+300) – There were some dramatic scenes earlier this week in World Cup qualifying; namely Panama's heartbreaking ouster and Mexico's backdoor escape. As for the big guns, Brazil's odds have continued to improve since the host nation dominated Spain in this summer's Confederations Cup final.

Argentina (+500) – The Argentines are looking for their first World Cup since 1986, and they have not even advanced past the quarterfinals since finishing runner-up in 1990. However, with Lionel Messi leading the way, they may not need the "Hand of God" to help them out this time.

Germany (+500) – Nobody is more consistent than the Germans, who have reached the semifinals six times in the last eight World Cups. A whole host of national team members are in fine form right now with Bayern Munich.

Spain (+600) – Spain may not be in top form at the moment, and its 2014 roster will likely be an aging one at the World Cup, but it will be loaded in the experience department. The Spaniards won it all in 2010, and they are the reigning champs of seemingly every tournament other than the Confederations Cup.
Read more articles by Ricky Dimon