Case of the Mondays: It Could be Worse…Just Ask the Jets
by Ricky Dimon - 8/26/2013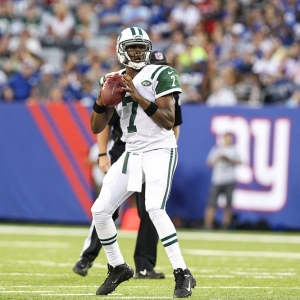 The Royals have dropped out of contention. They Braves are losing bodies left and right. Tiger Woods lost another important golf tournament. Maria Sharapova is out of the U.S. Open. Looking at the draw, Roger Federer might as well be out of the U.S. Open. But, hey, I've got good news…. You aren't the New York Jets!

(All odds provided by Sportsbook.ag unless otherwise indicated)

New York Jets. Um, what was that? Well, at least you can't say that the preseason isn't entertaining—not when the sideshow known as the New York Jets is involved. What happened on Saturday night against the Giants, you simply can't make up. Rookie quarterback Geno Smith threw three interceptions and took a sack for a safety before his game came to a merciful end after three quarters. Enter Mark Sanchez, who found himself playing with the backups and promptly suffered a shoulder injury on his second series. Even after all of that, the night still had some more left up its sleeve as head coach Rex Ryan delivered an utterly bizarre press conference—mainly stemming from questions over his decision to insert Sanchez. Fasten your seatbelts for the regular season, folks. The Jets are +1500 to win the AFC East. New England is a -400 favorite to win the division.

Kansas City Royals. The Royals did well to stay in AL Central contention past the all-star break and in the wild-card discussion for even longer, but the run may have come to its end. Kansas City has lost 10 of its last 13 games, and it had dropped seven in a row before stopping the streak with a win over Washington on Sunday. The Royals are 11.5 games back in their division, trailing both Detroit and second-place Cleveland. They are seven games out of a wild-card spot, a number that is manageable except when four teams—not one—have to be overcome for said spot. The Tigers are +150 favorites to win the AL Pennant and +400 to win the World Series.

Jason Heyward. Everything was plodding along nicely for the Braves; maybe even too well. They won 14 consecutive games from July 26 through Aug. 9 and led the laugher that is the NL East by 500,000 games. Atlanta still leads the division by 400,000, but there may be trouble in paradise. Heyward took a 90 mph Jon Neise fastball to the face during last Wednesday's win over the Mets and suffered a broken draw. He is expected to be sidelined for 4-6 weeks. Furthermore, starting pitcher Brandon Beachy is paying a visit this week to the one and only Dr. James Andrews—the same good doctor who performed Tommy John surgery on Beachy last year. The Braves, meanwhile, are 7-7 since their 14-game surge after recently losing three of four against St. Louis. They are +325 to win the NL Pennant and +700 to win the World Series.

Tiger Woods. Someone forgot to tell Tiger that The Barclays wasn't a major. He played it like one, flirting with contention during the back nine on Sunday before finishing tied for second (behind Adam Scott, who is—of course—caddied by Steve Williams to add a little bit of insult to injury). Speaking of injury, Tiger has a well-documented bad back that went into spasms throughout the second half of Sunday's round and may force him out of this week's Deutsche Bank Championship. On the bright side, Tiger is still No. 1 in the FedEx Cup standings—ahead of Scott, Phil Mickelson, and Matt Kuchar. He can take at least one week off and still have a good chance of controlling his own destiny at next month's Tour Championship in Atlanta. Tiger is a +650 favorite at Bovada Sportsbook to win the Deutsche Bank Championship.

Maria Sharapova. The U.S. Open is just getting underway on Monday, and it has already been a bad one for a few players. For example, Ryan Harrison has to play Rafael Nadal in the first round. Roger Federer would have to play Nadal if they both reach the quarterfinals. For Sharapova, the U.S. Open isn't even happening…period. It has been a tumultuous month, to say the least, for the Russian. She withdrew from Montreal, lost her opening match in Cincinnati, fired coach Jimmy Connors after one match, wanted to change her name to "Sugarpova" until it became too much of hassle, then she withdrew from the season's final Grand Slam with a shoulder injury. Serena Williams is a heavy title favorite at -150, ahead of second choice Victoria Azarenka (+275).

Roger Federer. Is landing in Nadal's quarter of the draw bad? It's not good. Federer is 10-21 lifetime against the Spaniard. He has lost three in a row—all this season, winning only one set in the process. Federer is 0-5 in their last five meetings at major tournaments. By comparison, the Swiss' record against the other three players whom he could have drawn as the top seed in his quarter is much different: 14-0 vs. David Ferrer, 16-13 against Novak Djokovic, and 9-11 against Andy Murray. Looking at Federer's bad luck another way: since Wimbledon, Nadal is 10-0, Djokovic is 5-2, Murray is 3-2, and Ferrer is 1-2. Nadal and Djokovic are co-favorites at +175 to win the U.S. Open. Murray is +300 and Federer is +800.

Read more articles by Ricky Dimon