Case of the Mondays: Big-market teams feeling 'Melo'
by Ricky Dimon - 5/13/2013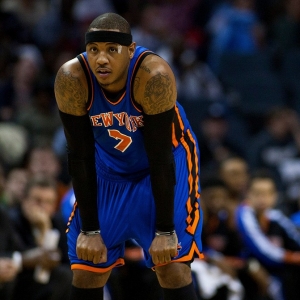 Aside from the Los Angeles Kings, who are no stranger to winning having lifted the Stanley Cup in 2012, these are dark days for the greater Los Angeles and New York areas. The Anaheim Ducks are out, while the Angels and Dodgers are playing themselves out before their seasons even really start. On the other side of the nation, the Brooklyn Nets are done, and the Knicks—the Eastern Conference's No. 2 seed and arguably biggest threat to Miami prior to the NBA Finals—are two games from done trailing Indiana 2-1 in their series. If it's not yet panic time, it's close.

(All odds provided by Sportsbook.ag)
Carmelo Anthony. After fumbling away home-court advantage to Indiana with a Game 1 loss, New York has to win at least once on the road in order to reach the conference finals. Carmelo and company did not come close to getting it done on Saturday when the Pacers cruised to an 82-71 victory. Trailing by nine after three quarters, the Knicks were well within striking distance but needed to make a significant comeback. Instead, 'Melo went 0-for-3 from the floor and 2-for-4 from the charity stripe for a total of two points in the fourth quarter. He finished with 21 points on 6-for-16 shooting in the first of nine playoff games this season in which he has not led the contest in scoring. The Knicks are +5 road underdogs in Game 4 on Tuesday and they are +210 to win the series.

Anaheim Ducks. The Ducks won the Pacific Division with room to spare. They snagged the No. 2 seed in the Western Conference. They finished with the third best record in the entire NHL, well clear of everyone in the league other than powerhouse Chicago and Pittsburgh. All of that was basically for nothing, though, because Anaheim was eliminated from the playoffs on Sunday when it lost Game 7 — at home — of its first-round series against Detroit. This has to be a tough one to accept, and not just because the Ducks were favored. All four of their losses came by one goal, including three in overtime. For the series, they outscored the Red Wings 21-18. Just brutal. The Wings are +1500 to win the Stanley Cup; Chicago and Pittsburgh are the favorites at +250.

Los Angeles Dodgers. What Matt Kemp did earlier this month — basically taking off his entire uniform and giving it to a young Dodgers fan terminally ill with cancer — is more important than anything he or his team can do on the field. But it has to be said that what they have done on the field has been a bitter disappointment. High-spending L.A. is 15-21 and in sole possession of last place in the NL West. Kemp's crew lost eight games in a row before finally getting wins over lowly Miami on Saturday and Sunday. Perhaps due in part to offseason shoulder surgery, Kemp has just one home run in 36 games and 137 at-bats this year. The Dodgers have plunged to +500 for a division title and +2000 for the world championship.

Titus Young. The former Detroit Lions' wide receiver had one of those weeks most often reserved for stars like Lindsay Lohan, Britney Spears, and Justin Bieber. Athletes are not supposed to spiral out of control this fast. But Young managed to do it last week. He was arrested twice in the same day on May 5, first for a suspected DUI and again for trying to take his car from a tow yard. On Sunday, he was booked for allegedly breaking into a home in San Clemente, Calif. A second-round draft pick in 2011, Young was released by Detroit on Feb. 4 of this year. The Rams claimed him off waivers only to release him — shocker of shocks! — 10 days later. Only Arizona is a longer longshot than Detroit and St. Louis to win the upcoming season's NFC Championship. The Lions are +3000 and the Rams are +4000.

Normandy Invasion. Normandy Invasion was thought to be one of the top contenders at the Kentucky Derby, and he was just that. Trainer Chad Brown saw his horse lead briefly down the stretch before finishing fourth. As such, it was no surprise when the early line made Normandy Invasion the second favorite behind Orb at this weekend's Preakness Stakes. Orb's top challenger, however, was pulled out on Sunday when his handlers said they wanted to rest him for the summer series. Translation: "we can't beat Orb." Orb is +140 to win the Preakness ahead of Departing at +350. As for the whole Triple Crown, Orb is +240 to accomplish the feat for the first time since Affirmed in 1978.

Sergio Garcia. Sergio went toe-to-toe with Tiger Woods in their war of words behind the mic, but the Spaniard could not do it on the golf course with the pressure mounting at The Players Championship. The first incident came Saturday when Sergio was hitting his second shot on the second hole and was distracted by the crowd reacting to Tiger prematurely pulling a wood out of his bag. The second incident, for which Sergio had no excuse, started at the famed par-3 17th on Sunday. El Nino — tied with Tiger at the time -- twice went into the water on the island hole, carded a quadruple bogey, then teed off into the water on 18. While Tiger captured his second Players title, Sergio plummeted all the way down to a tie for eighth place. Tiger is a considerable favorite to win next month's U.S. Open at +400, well ahead of Rory McIlroy at +1500. Sergio is +5000. Tiger is -200 to win zero majors in 2013, +180 to win one, +1100 to win two, and +4000 to win each of the next three.
Read more articles by Ricky Dimon