Doc's Sports Fourth Down and Inches
by Max Powers - 12/3/2013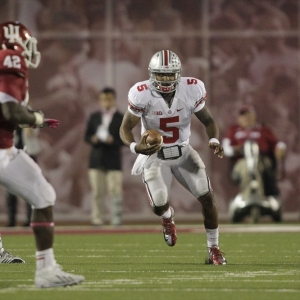 For the most part, the 2013 college football regular season finished up last Saturday. And while many teams are awaiting their bowl destination, there is still work left to do for a number of teams this weekend. This week's card may be smaller than usual, but it features some great action across the country. The two games that everybody will be watching this Saturday are the SEC Championship in Atlanta at 4 p.m. and the Big Ten Championship in Indianapolis starting at 8:17 p.m.

Many people still believe that the one-loss team that wins the SEC Championship should and will trump Ohio State for the second spot in the BCS standings, but I am not one of them. I feel that if the Buckeyes get past Michigan State in the Big Ten title game that they will have earned a spot in the BCS Championship Game. They will not need style points to get the nod, just the straight-up win. That being said, this will be no small task against one of the best defenses in the country. Ohio State will need to play much better than they did last week against Michigan, but I also feel that this team will be up to the challenge. The Spartans have not faced a dual-threat quarterback like Braxton Miller all season long, so I have no problem laying the points on Ohio State in this game.

As for the SEC Championship, it features two surprise teams: East Division champ Missouri along with Auburn out of the West. For the second straight game, Auburn won in dramatic fashion, which has to make you think that these Tigers are caught up in one of those dream seasons that only come along every couple decades. They will face a Missouri offense that struggled to put points on the board against a terrible Texas A&M defense its last time out. These Tigers were also very fortunate to come away with a win in last Saturday's game. They should play better this Saturday, but the home-field edge definitely goes to Auburn with this game being played in the Georgia Dome. Missouri opened as a two-point favorite on Sunday night, but all the early action was on Auburn, which is now favored by two points. I do like a selection in this game, and it will most likely be part of this week's selection package when Doc's Sports releases it on Thursday night.
Recapping last week's Thanksgiving Holiday performance, while it was not easy, we pulled out a winning 5-3 record and cashed in on our top play in both college and the NFL. Things got off to a great start on Thursday in the NFL when Pittsburgh scored late to cover the 2.5-point spread. The main story in this game was when Steelers' coach Mike Tomlin came extremely close to interfering with the Ravens' Jacoby Jones on a kickoff return. My thoughts were that he should have been penalized for his actions, and the refs should have awarded a touchdown to the Ravens. There was no call, and along with this win we also posted an easy victory with the Texas Longhorns to make it a very happy Thanksgiving Day. It will be interesting to see what the NFL does with Tomlin and the Steelers over this situation, but I believe it should be more than just a fine.
The rest of our six selections included three picks that we had no chance of winning, one pick that we had in the bag all game long, and our two top selections that went down to the wire. We thankfully squeaked out a win in those top plays, which made for a very productive week.
Our top play on Saturday was Missouri (-4) over Texas A&M. As mentioned above, Missouri did not play its best ball in this game. The Tigers came out tight, and you could tell that the pressure of winning the SEC East was starting to get to them. An injury to quarterback Johnny Manziel kept the Aggies' high-powered offense in check, and a late-fourth-quarter Missouri touchdown on a 57-yard run by Henry Josey gave us just what we needed for the cover. The Tigers' defense tightened their screws in the closing minutes, and the offense was able to run out the clock to seal the win and a spot in Saturday's SEC title game.
As for our top NFL play, we went with Denver over Kansas City. The Chiefs played much better this week, and the home crowd had reasons to cheer after they jumped out to a 21-7 lead early in the game. Denver finally got going late in the second quarter to cut the deficit to seven at the half. Peyton Manning returned to form in the second half as the Broncos built a comfortable 35-21 lead, but as it seems to happen in every NFL game this year, the team that is down big decides to make a run to keep things close to the final gun. That was the case again with Kansas City cutting the lead to seven with just under four minutes left in the fourth quarter. The Chiefs got into the Red Zone on one final drive before Denver's defense finally tightened up and made a play on fourth down to seal this win. A Kansas City score would have sent the game to overtime, making it difficult to cover, so luck played a role again in our other top play.

The final tally for last week was five wins against three losses for a net gain of seven units ($100 bettors made $620). We will gladly take a performance like that any day of the week. As for our season numbers, they are still some of the best in the business at +83 units ($100 bettors made +$5,960). We are also 13-4 this season for +49 units on college football top plays ($100 bettors earned +$4,650).
Looking ahead to this week's selections, we will only release a couple of games in both college football and the NFL, but I do really like one matchup this week. So much so, that I have already made a substantial wager on this college football game myself. Look for this pick to be a 6-unit play.
In closing, I do want to mention that our college basketball selection service has gotten off to a great start this year going 18-4 to open this season at +37 units ($100 bettors made $3,550). This Sunday, Dec. 8, will feature our 'Nonconference Game of the Year', which is a 7-unit selection. We have nailed this pick four years in a row, and I am confident that this game will find the winner's circle as well. We are currently offering many different college basketball packages that include this game, so please give us a call for details @ 800-356-9182.
This is the last week of the college football regular season, so this will be the final edition of Fourth Down and Inches for the year. Doc's Sports would like to thank all our loyal readers, and be sure to join us again next September. So far it has been a good ride, but as I first mentioned, there is more work left to do.
Sincerely,
Max Powers