Doc's Sports Fourth Down and Inches
by Max Powers - 9/10/2013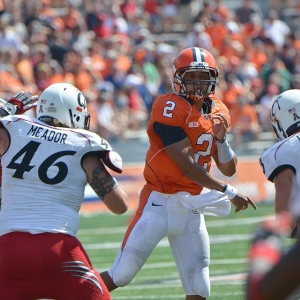 The college football season is just two weeks old, and we are off to one of our best starts in recent memory. After opening things up with an amazing 6-0 run, we followed it up with a 4-2 record this last weekend that netted our $100 bettors an overall profit of $810.
Our top play of the week was Georgia over South Carolina by a score of 41-30 as a 4.5-point home favorite. This was clearly one of the best games so far with a number of twists and turns that kept things tight for most of the day. I expected Georgia to get off to a quick start in order to put the Clemson loss behind them, and that is exactly what happened after jumping out to a 17-3 lead. South Carolina wasted little time closing that gap, and the game remained tooth and nails through the end of the third quarter.
Looking at the way that Dawgs quarterback Aaron Murray played down the stretch of this contest, I hope he can finally start to shake the criticism of not being able to win big games. He caught heat for the loss to Clemson despite the fact he still threw for 320 yards. Without him in this game, Georgia most likely would have gotten blown out behind a defense that has not impressed me at all.
One of these SEC powers had to lose this game, but I was impressed with South Carolina on both sides of the ball. The Gamecocks' offensive line may be the best in the country as Georgia was unable to create any pressure on quarterback Connor Shaw even with numerous called blitzes. Both teams have played brutal schedules to open the season, but things will get a little easier over the next few weeks. South Carolina is at home against Vanderbilt, while Georgia has a bye week before hosting a pesky North Texas team. The Bulldogs are clearly in the driver's seat for a spot in the SEC title game in Atlanta and should be a sure thing if they get by Florida later on this season in the World's Largest Outdoor Cocktail Party.
Looking as the rest of the SEC East, how many people would have guessed that after just two weeks that Missouri and Tennessee would be the only two undefeated teams in the division.
Florida, Georgia, South Carolina, Kentucky, and Vanderbilt have all suffered a loss, but do not look for either of these two undefeated teams to contend for the division title as that honor still belongs to the Gamecocks, Bulldogs and Gators.
Turning to Doc's home conference, the Big Ten had a strong performance last weekend highlighted by Michigan's impressive win over Notre Dame and a big upset that we called: Illinois over Cincinnati. The only team in the conference that did not win was Indiana after falling to Navy as a 7.5-point home favorite.

I am still kicking myself for not staying on Michigan as I lacked the confidence in their defense and believed that Notre Dame would control the line of scrimmage. I opted for a play on the under since the Fighting Irish and the under have proven to be a cash cow over the last couple of years. That was not meant to be in last Saturday's contest as that game easily went over the 50-point line. Just as a matter of record, if you had been playing the under on Notre Dame as well as Michigan State over the last couple of seasons, you would have hit on close to 70 percent of your bets. Unfortunately, this game was one that happened to fall into the 30 percent range.

That being said, I think everybody that is a fan of the Big Ten was happy to see the Wolverines come away with the straight up victory since Notre Dame decided to back out of this classic rivalry after next season.

The big loser this week as a result of the Big Ten's fortunes was the Louisville Cardinals. A Cincinnati win would have improved the new American Athletic Conference's overall ranking. Even if Louisville can run the table from here on, it may still not be enough to earn a ticket to Pasadena for the final BCS title game. Although it does help that they have a marquee player in quarterback Teddy Bridgewater as that will attract a number of eyes to the Cardinals games on national TV.
Previewing this week's slate of games in the Big Ten, there are a couple of huge matchups against the Pac-12 that I just cannot wait to see. The first is Nebraska at home against UCLA followed by Wisconsin on the road against Arizona State (my alma mater). The Cornhuskers will be out for revenge this year after the Bruins and first-year coach Jim Mora derailed their season a year ago in Pasadena. Nebraska struggled to get by Wyoming as a heavy favorite in its season opener, but it looked much better in a lopsided win over Southern Miss this past Saturday. Quarterback Taylor Martinez is always a question mark in big games along with the less-than-reliable black shirt defense.

Wisconsin has already pitched two shutouts against creampuffs in its first two outings this season, but do not expect that streak to continue on Saturday night in Tempe. The Sun Devils have just one game under their belts with a shutout of their own against Sacramento State, but the Badgers biggest concern in this game could be how well they hold up in the desert heat.

I must admit that I was really surprised that the opening line for this game was this high with Arizona State favored by 5.5-points at home, but most times betting unranked favorites against a team this is ranked is a winning proposition. As it stands now, we will most likely have picks on both the Nebraska and Wisconsin game as part of this week's selections.
The marquee game on this week's schedule is the much-anticipated rematch between No. 1 Alabama and No. 6 Texas A&M. Last season's upset by the Aggies made Johnny Manziel a household name. So was there ever any doubt that he would be playing in this game?

This was the Crimson Tide's only loss since 2011, but I just do not believe that Texas A&M is the same team it was last year, especially along the offensive line. You can mark this one down: I believe Coach Saban will have his team more than ready for this showdown, and we will be all over Alabama to extract its revenge.
Moving on to the play-for-pay league, this proved to be our downfall for the week with a 1-3 record on our top four picks. We were lucky to get the one win that we did with a play on San Francisco.

Both the handicappers and the betting public (90 percent) were all over Houston on Monday Night, but an early turnover gave San Diego the confidence to keep this game close. In typical fashion, the Chargers went on to lose the game straight up, but they still covered as home underdogs. It turned out to be a huge night for the books after taking it on the chin by handicappers in the preseason.

Those three NFL losses evened our overall record for the week at 5-5, so we did get juiced out of a profit for the weekend. The plan from here is to turn things around this week and get back to our winning ways like we did in the preseason. Part of that plan is the release of Doc's 7-Unit Non-Conference Game of the Year in College Football. We have had this game circled since the start of the season, and everything leading up to the game has worked out perfectly. We are 2-0 this season on top plays in college football (Washington over Boise State and Georgia over South Carolina).
This will be a perfect follow up to our NFL Preseason Game of the Year as San Diego paid off big that time around with a 24-7 rout over Arizona as a four-point road underdog.
We have numerous packages that you can purchase, and you can sign up for this game starting at just $30. The Non-Conference College Game of the Year will find the winner's circle, and we want you aboard for the ride.
Best of Luck, and let's have a great week!

Max