Doc's Sports Fourth Down and Inches
by Max Powers - 11/5/2013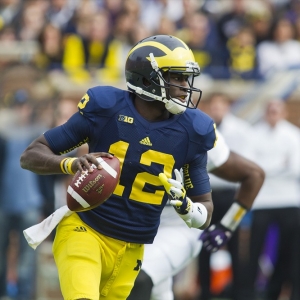 The 2013 college football season just wrapped up Week 10, and the top teams in the nation continue to dominate with lopsided wins. Florida State moved back into the No. 2 spot of the most recent BCS rankings over Oregon after crushing Miami, but many feel it's still the Ducks' spot to lose since they have a much more difficult schedule down the stretch. If Oregon wins out, it's doubtful it would be denied a shot in the national title game as one of the top two teams in the country.

I personally believe that both Oregon and Florida State have played a tougher schedule than Alabama, but the SEC still has the stigma as being the best conference in the land even though this season that would be a much harder point to argue. Florida and Georgia are not even ranked, and No. 12 South Carolina is overrated.

The first big test for the Ducks will be this Thursday night with a trip to Palo Alto to take on the No. 5 Stanford Cardinal. Oregon comes in as a 10-point favorite, and that is exactly where I thought the line would fall. Stanford has lost nine of the last 11 meetings, so it will be extremely interesting to see how Coach David Shaw decides to call the plays. He will need to control the tempo in this game to have any shot reversing this losing trend with a second straight win over the Ducks. I have gone on record all season long as saying that he has been too conservative with his play calling against inferior opponents, but I do not see that being the case on Thursday night. Employing an aggressive gameplan that takes some chances along the way is probably the only chance the Cardinal have to keep Oregon's explosive offense off the field. That being said, I do not believe Stanford has the personnel to actually pull this off against a Ducks' defense that is vastly underrated.
Moving on to last week's selections, we came away with a 4-4 record but dropped our top play in both college and the NFL. In fact, both of those picks were blowouts that went against us starting with Michigan State's beatdown of Michigan and ending with Philadelphia's record-setting performance in a lopsided rout of Oakland. When you fail to win either of your top plays, it is hard to show a profit for the weekend. We ended up losing $480 on the week with the minus two units and the juice on all the picks. Every handicapper is going to have losing weekends throughout the season, but the key is to keep things in check and avoid a four-figure loss.
I remain confident that we will get hot again, and I truly believe it will start this Saturday with our Big Ten Game of the Year! All season long we were going with Nov. 2 as the date for the release of our biggest pick of the year and even alluded to this at length in last week's article. It was not until last Tuesday night that we decided to pull back on the selection and lower it to a 6-unit top play of the day. I did not like the way the line movement was going and frankly did not want to go out with an 8-unit selection against Michigan State's defense. I still loved Michigan to cover in that game so much so that I made a large personal wager on it myself. Ultimately, it did not warrant the title of Big Ten Game of the Year, which carries some tremendous weight at Doc's Sports. The Wolverines played well enough to cover this spread, but the battle of field position eventually caught up with them in the second half. Michigan State added a few late touchdowns to make the final deficit 29-6.

The Spartans are a vastly underrated team and more than worthy of a spot in the Top 10. I am pushing for them to win out and set up a classic matchup against Ohio State in the Big Ten Championship Game in early December. As far as Michigan goes, it came into this showdown with a flawed offensive gameplan that should have quickly abandoned the run and turned to throwing quick passes, especially through the use of fade routes. The main thing you need to attack Michigan State's defense is a mobile quarterback much like the Buckeyes' Braxton Miller, which we will hopefully get to see firsthand in the conference title game.
We cannot change the past, so it is time to turn the page and move on to this week's games. When the college lines for Week 11 first came out this past Sunday night, my eyes lit up when I saw the line on one of this Saturday's Big Ten games! This means that the 8-unit Big Ten Game of the Year is a go. The line for this matchup is five points off the mark, and I am confident that we will take full advantage of the situation by grabbing the victory in this game. This selection will be the cherry on top of what has been a great year in college football. A win in this game would give us a highly profitable 9-3 record on our top plays this season. I like this week's Big Ten card so much that we will probably release around two or three selections from the conference as part of this week's college football package.

We offer a number of different packages that you can sign up for that include the 8-unit Big Ten Game of the Year, so please give us a call at (800) 356-9182 or you can also try our Las Vegas office at (866) 238-6696.
Stepping off the gridiron, I do want to mention that the NBA and NHL seasons are in full gear, and the start of a new college basketball season tips off this Friday. We are already up over $3,600 in the NHL for our $100 bettors, and you can still get every selection we make the entire season for just $595.
When it comes to college hoops, we have been nailing it for the past two years. Doc's has made $18, 810 for our $100 bettors during this run, and you can sign on for every selection we make this season right through the Final Four next April for just $950. Better yet, give our sports office a call at (800) 356-9182 and ask about our early bird special that includes a special price and two bonus handicappers! It is going to be a great season, and I would love to have you aboard for the ride.
Going back to this Thursday night in college football, there is another huge matchup on the slate that pits Oklahoma on the road against Baylor. The Bears enter this Big 12 showdown a perfect 7-0 but are still only ranked No. 6 in the country behind a Stanford team that already has one loss. A weak schedule has not helped their cause, but that is about to change, starting with this game against the No. 10 Sooners.
This will be Baylor's first of three straight contests against a ranked opponent, and it will close out the regular season on Dec. 7 at home against Texas, which should be back in the rankings by then. The Bears have been listed as 14-point home favorites against Oklahoma, which presents a golden opportunity to make a statement with a big win. It also presents a great opportunity to go against Baylor as that is just too many points to lay against a Bob Stoops'-coached team that is bound to be ready to play.
The season is winding down, and so are the big plays, so be sure you jump on board with our 8-unit Big Ten Game of the Year this Saturday!
Best of Luck,
Max