English Premier League Picks: Southampton vs. Tottenham Hotspur
by Nicholas Tolomeo with Strike Point Sports - 12/26/2013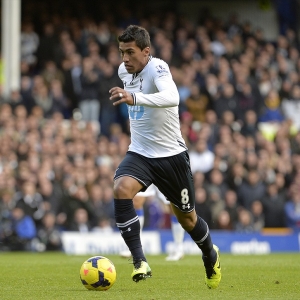 During this soccer season, Doc's Sports Service has teamed up with Strike Point Sports and Raphael Esparza, two of the top soccer handicappers, to provide weekly free soccer picks for English Premier League, MLS and Champions League matches. Check back each week for a new free pick. This week, Strike Point Sports has a free play on a total in the Tottenham vs. Stoke City match.
The Premier League will be entering its second half of its busy holiday fixture list this weekend as Tottenham Hotspur play host to Stoke City on Sunday; this will be each squad's third league match in just over a week. Tottenham have grabbed four points out of a possible six in the previous two matches, while Stoke has accumulated three. The Potters are trailing the Spurs by 10 points on the table, despite only sitting two positions below them, while remaining five clear of the relegation zone.
Tottenham vs. Stoke City Betting Story Lines

The AVB era is now officially behind Tottenham following their sacking of the high-profile manager after the 0-5 drubbing against Liverpool. The Spurs agreed to an 18-month contract with Tim Sherwood after he led the squad to a 3-2 win against Southampton last weekend. Despite a disappointing Boxing Day draw against West Brom, Sherwood seems to have added life to the offensively anemic team.
Sherwood, who captained the Blackburn Rovers' Premiership title winning side in 1995, has thrown AVB's high back four tactical approach to the wayside in favor of a much more attack-oriented 4-4-2. He has brought Emanuel Adebayor back from exile to play up front with Roberto Soldado and has started more attack-oriented midfielders. While a disappointing draw on Thursday could hang over the Spurs' heads, the squad will likely get a boost as Paulinho returns to the midfield after serving his one-match ban against West Brom.
Stoke City will come to White Hart Lane on Sunday licking their wounds after blowing a 1-0 lead to Newcastle, which eventually ended in a 1-5 blowout loss, on Thursday. The Potters are sitting quite comfortably in the middle of the table and will be out to prove against a leaky Tottenham defense, that the 1-5 defeat was a fluke.
Tottenham vs. Stoke Betting Odds and Trends

The Tottenham Hotspur find themselves big favorites as the home sideis listed -1 at -125, with Stoke priced at +110 for +1. In three-way wagering, Tottenham (-207) is the favorite ahead of Stoke (+784) and the draw option (+340). The total of 2.5 has the "over" priced at -102 and the "under" at -113.
Under Tim Sherwood, the Spurs have gone 1-1-1 in all competitions. They are a fundamentally different team under his management and are still looking to settle in under the 4-4-2 he has employed. After succumbing to a draw against West Brom at home, the Spurs will be destined to improve their dreadful home record of 3-3-3.
Stoke has gone 2-2-2 in their previous six matches, three of which were away where they had a record of 0-2-1. The squad is an abysmal 1-6-2 on the road this year, scoring only eight goals in their nine matches away from Britannia Stadium.
In the last five fixtures at White Hart Lane between the two, Tottenham has gone 2-2-1, while total goals have averaged 2.33/match.
Take Tottenham (-207) over Stoke (9 a.m., Sunday, Dec. 29)
Spurs earned a vital win and three very important points at Southampton this past weekend. However, it will be for nothing if Tottenham can't improve on a lackluster performance midweek against West Brom. Times are pressured-filled for the North London club after sacking manager AVB and looking for a change to their campaign. You'd have to like their chances at White Hart Lane to build off last Sunday's away victory and get another three points that will be crucial in turning around their poor form of late. With added pressure of being at home and fans expecting some good, Spurs come through with a win, 2-1.