NCAA Football Odds - The Week 12 Line Movement Report
by CarbonSports - 11/15/2013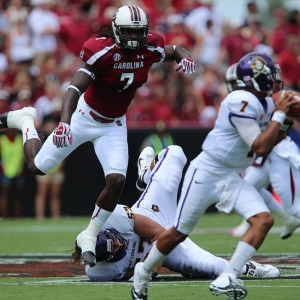 With nearly three months of information at their disposal, the oddsmakers seem to be hitting the nail on the head in NCAA football betting on a much better clip. That's why line movement in Week 12 can be described as minimal at best. Still, there are three big games on the board that feature some intriguing shifts in the spread. Most of the major games this weekend are holding steady or shifting slightly. These ones have some curious elements influencing their betting lines, so let's take a deeper look and see what the market's fidgeting can tell us.
Texas Tech Red Raiders at No. 5 Baylor Bears -27.0
This line opened at -26.5, and enough action came barreling in on Baylor to edge the line up a notch to an even -27.0. That seems to be the consensus sweet spot as the line hasn't budged, and Texas Tech has even received enough backing to keep this line exactly where it is. There's not going to be a good time or a bad time to take this line.
The question is which side you should camp out on. Baylor is the fifth-ranked team in the BCS and overcame their biggest challenge of the season with a 41-12 home win over Oklahoma last weekend. There is a fear that Baylor is in store for a letdown performance against the betting line after a big win against the Sooners. The fact that Oklahoma State, TCU and Texas loom in the distance also suggests that Baylor may be distracted in this matchup, even though there's almost no reason to suspect them losing this game outright.
Fueling Baylor's onslaught this year is the little-known truth that to get noticed by the BCS system, they had to out run the other high-scoring teams like Oregon. Experts, panelists and computer systems don't like having two high-scoring teams from weakened conferences. There's only room for one. The Bears don't need a big win here after watching Oregon burn down in a heap of flames. There is now no question that Baylor's offense is the best in the country as their 61.0 points per game is well justified and has encountered very few bumps along the way. Maintaining their surreal averages on offense won't make them a stronger choice than FSU, and the Bears know they need a miracle to surpass Jameis Winston and company.
Even still, the offense is only part of the equation. Baylor's defense is the real reason they've been such a dominant force in the sportsbook. You don't go 7-1 ATS on the merits of a high-scoring offense alone, especially in a conference as talented overall as the Big 12. Baylor's defense has averaged the sixth-best scoring average in the nation with 15.4 points per game. That's a point differential of +45.6 points, which obviously leads the country. By comparison, Oregon's point differential is now +33.8 points per game.
Texas Tech is a betting darling for the simple reason that their relentless offense always seems to find a way to bust down the backdoor of a game. However, they have averaged just 37.8 points per game this season and are not nearly as refined on defense as they have been in years past. In their past three games, their scoring average has taken a hit with just 30.0 points scored per matchup.
Most gamblers have noticed wholeheartedly that Baylor's backbone is their defense. The staggering consistency of this team's balance has been a burning light that has attracted sharps like mosquitos to an electrified execution chamber. However, there are enough gamblers out there that believe Texas Tech has some interesting, late-game potential here, especially with Baylor no longer needing to "out gun" Oregon on the national scoreboard. That's why this line will stay exactly where it is even though it should logically be higher than what it is right now.
Lines Manager Michael Stewart:
"We opened Baylor -27 and our first bet was from one of our bigger players, forcing us to go immediately to -27.5. That was on Sunday evening, but during the week we still saw money show on the favorite and we eventually went to 27.5 -115. We didn't want to go to 28 just yet, instead we're going to force bettors to lay an extra 5 cents juice if they want to take Baylor in this game. So far 80% of the early money is on the favorite, which is understandable because each and every week, Baylor lines get bet up by the public so sharper players are definitely waiting to take the points in this game; they know there's a good chance they'll get a better number of +27.5 -105."
Florida Gators at No. 10 South Carolina Gamecocks -13.5
This game features one of the biggest line moves in Week 12. The opening line of -11.0 was bulldozed by gamblers who jumped all over South Carolina, forcing a market adjustment of -2.5 points virtually overnight. Sure, we've seen bigger spread jumps in the past, but very few if any have involved home favorites that are 4-5 ATS.
The Gamecocks recent play has been a big reason. They've rampaged the SEC lately with a huge upset victory over then-undefeated Missouri two weeks ago, and they picked up another win last weekend to push them to 3-1 SU and ATS over their past four games. Steve Spurrier's teams have usually ended up starting slow, and the expectations piled on his squad this season were amplified because of Jadeveon Clowney. People naturally assumed that Clowney would anchor a world-beating defense, which he's capable of doing, but not with this complimentary roster. Hampered by bloated lines due to Clowney's mere presence, the Gamecocks stumbled out to a 1-5 ATS record to start the year.
Now they seem to be playing much better, and the odds have become more balanced, but that's not the only reason this line bumped up to -13.5 for the home favorites. The Gators are also 0-4 SU and 1-3 ATS in their last four games, stuck in a tailspin they seem destined to continue for the remainder of the year. There is well-placed faith in South Carolina, with nearly two-thirds of bettors on their side of the line. That has as much to do with their recent play as it does with Florida's horrifying record in the last month.
Lines Manager Michael Stewart:
"We opened South Carolina a 2 touchdown favorite, -14 points vs a struggling Florida Gator team. While we saw some initial action on the favorite, nothing big enough to move our number. But on Thursday morning, we booked sharp action on the dog and moved off the key number of 14 and went straight to South Carolina -13. Since going to 13, we're starting to see money show on the favorite. Basically, sharp money is on the dog in this game while the public is laying the points on South Carolina. "
Georgia Bulldogs at No. 9 Auburn Tigers -4.0
This is the first time that Georgia has been an underdog all season, and at 1-7-1 ATS it's easy to see why the oddsmakers decided to make the market correct. A legion of unlucky and untimely injuries to major offensive stars irrevocably damaged their BCS hopes, but gamblers have failed to notice Georgia's performance in single-digit-spread games. If you eliminate Georgia's matchups that featured large spreads, the Bulldogs offer a -0.83 point differential average in matchups with spreads of a touchdown or less. Translation: this is still a very talented football team that never gets chased out of the building.
Still, there's good reason that Auburn is posting as a home favorite this coming weekend. The Tigers are a blistering 6-0 SU and ATS since losing to LSU in what has ended up being a fate-deciding game. Early concerns that the Tigers were streaky ended when the went to Texas A&M and beat up "Johnny Football" in a 45-41 victory as +12.5 dogs. This team has not only been exceeding expectations, they've been shattering them.
An opening line of -3.5 quickly moved away from Auburn to the current line of -4.0 because the betting public is sternly convinced that these Tigers are a real threat. Georgia is still pulling enough smart money despite only garnering one-third of the total action to keep this line where it is. Remember, there was a reason that Georgia was a reasonable championship contender at the onset of the season. Enough of those high-caliber pieces are back in place, such as running-back Todd Gurley, to give Georgia some attractive value for a handful of sharps.
Still, the consensus leans firmly in favor of the Auburn Tigers. That's what happens when you have an 8-2 ATS record and your opponent has covered just once despite high expectations and plenty of weaponry on offense. Georgia is a tempting play as an underdog here, especially with the chance to completely destroy Auburn's BCS hopes, but the majority of the NCAAF betting public seems to prefer Auburn's dream spread record compared to Georgia's nightmare season.
Lines Manager Michael Stewart:
"We opened Auburn -3, and it didn't take long for us to go -3.5 as all the initial money was on Auburn. No question, we expected Auburn money because our bettors have been backing them nearly every week. But we also believe Georgia is a very live dog in this game and we didn't want to open more than a field goal. Regardless of what we think about either team, our bettors are making our line decisions for us because over 80% of the action is on Auburn. We went from 3.5 to 4, eventually to -4.5 before taking sharp action on the dog and going back to Auburn -4."
Get free picks from any of Doc's Sports Advisory Board of expert handicappers – and with no obligation or credit card. You can use these free picks for any sport, and you will never deal with a salesman. Click here for your free Doc's Sports picks.