Thank God It's Friday: Agony of Defeat Not Limited to March Madness
by Ricky Dimon - 4/12/2013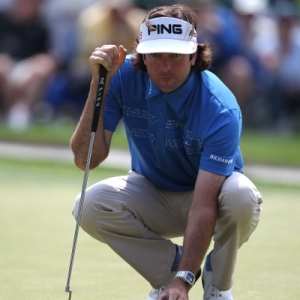 March Madness may be over, but this is still a championship time of year. Both the NBA and NHL are rapidly approaching their respective playoffs, and even some of the sometimes-forgotten sports like soccer and golf are delivering the goods right now. Will Lionel Messi take home another Champions League trophy to Barcelona? Will Tiger Woods don another green jacket? Will the Lakers simply make the playoffs? These are just a few of the questions that are soon to be answered.

(All odds provided by Sportsbook.ag).

Bubba Watson. The defending Masters champion said going into the tournament he merely wanted to make the cut so that he would not have to sit around for two days waiting to put the green jacket on this year's winner. Watson will have to fire a solid round on Friday just to accomplish that relatively benign feat after recording a three-over 75 on Thursday. His opening-round doldrums did not exactly come out of nowhere based on his lackluster current form, but a ninth, 18th, and 14th in his previous three tournaments were somewhat encouraging signs. Watson is now +15000 to repeat as champion while Tiger Woods is a +350 favorite ahead of Thursday co-leader Dustin Johnson (+1000).

Toronto Blue Jays. Fellow AL East foes Boston and New York have been known to buy themselves a championship or two, and now it's the Blue Jays who are attempting to do just that. To say things have not gotten off to a good start would be an understatement, with newcomers' shortcomings being a significant part of the problem for 3-6 Toronto. Reigning NL Cy Young Award winner R.A. Dickey is 0-2 with a 8.44 E.R.A., Mark Buehrle sports a 10.24 E.R.A. through two starts, and Josh Johnson (who owns the only win among the three) is giving up 11.05 runs per nine. The Jays are still +175 favorites to win the division and they are +1600 to win the World Series. Friday's line pits visiting Toronto (with J.A. Happ starting against Kansas City's Luis Mendoza) as a +110 underdog against the Royals.

New Jersey Devils. It's never a good thing when, after 40 games, your goalie's age is equal to your number of points in the standings. At this rate, Martin Brodeur's age will be greater than New Jersey's point total when the calendar hits May 6. The Devils were in great shape for the playoffs just two weeks ago, but they have lost eight consecutive games (they have four points via overtime and shootout losses during that span, taking their total to 40). Suddenly, Brodeur and company are in 10th place in the Eastern Conference and four points out of a postseason spot. They are -150 home favorites against Ottawa on Friday night and they are +2000 to reach the Stanley Cup Finals. The Penguins, meanwhile, are +300 to win the Stanley Cup.

Chicago Bulls. The Bulls outlasted a red-hot New York squad on Thursday night, but that will be too little too late in their efforts to snag the No. 4 seed and home-court advantage in the Eastern Conference first round. Chicago had lost two in a row and four of its previous seven before its upset victory. Now the team is a half game ahead of Atlanta for the No. 5 seed, which may actually be a bad thing because it would put them on the same side of the bracket as Miami. Whichever team goes in as the No. 6 seed would not face the Heat until the conference finals. With the Derrick Rose situation only getting murkier and a return seemingly no closer to becoming a reality, the Bulls may not be in great shape no matter what. They are +2500 to win the Eastern Conference, while Miami is an overwhelming -600 favorite.
Jermaine O'Neal. If that wasn't the dumbest play in NBA history, it was only because the game wasn't terribly important. Phoenix is the worst team in the Western Conference, and Houston was already a virtual lock for the playoffs, although they are in a relatively important battle with Golden State for the No. 6 seed out west. But what could O'Neal have possibly been thinking? With the score tied at 98 on Tuesday night, James Harden attempted a game-winning three, and after it bounced off the rim and was on its way down, O'Neal decided to reach through the net and deflect it away. Goaltending. Game over. Suns lose. While Phoenix is three games away from hitting the golf course, Houston is +4000 to win the Western Conference and +10000 to win the NBA Championship.

Malaga CF. Soccer has been no stranger to last-minute triumph and heartbreak of late, including at the 2010 World Cup and in both the Premier League and the Champions League last season. Most recently, Malaga was on the losing end of a borderline miracle. After a 0-0 home tie in the first leg of its Champions League quarterfinal against Borussia Dortmund, visiting Malaga led 2-1 heading into stoppage time of the second leg on Tuesday. Needing only a tie because it would advance on away goals, Malaga allowed two in the final minutes to watch Dortmund steal its spot in the semifinals. FC Barcelona is a +175 favorite to win the title ahead of Real Madrid at +250 and 2012 runner-up Bayern Munich at +275. Dortmund is the longshot at +650.
Read more articles by Ricky Dimon