Thank God It's Friday: Reds Feeling Blue
by Ricky Dimon - 10/4/2013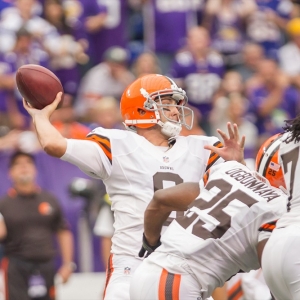 It was an unceremonious end for the Cincinnati Reds, who are currently making tee times at local golf courses. It was an unceremonious start for Patrick Roy, who accomplished the rare feat of notching a game misconduct and hefty fine in a contest that his team—the Colorado Avalanche—dominated from start to finish. Who else is in dire need of the weekend? Let's take a look.

All odds provided by Sportsbook.ag unless otherwise indicated.

Cincinnati Reds. On Sept. 23, the Reds were tied with Pittsburg for the top wild-card spot in the National League and just two games back of St. Louis in the NL Central. Fast forward just a little more than one week, and they are sitting at home with a six-game losing streak to be carried over into next season. Cincinnati dropped its last five of the regular season—including thee to the Pirates—then fell to the Pirates again in Tuesday's wild-card game. On Friday morning it was announced that manager Dusty Baker will not return in 2014. The Cardinals are +140 to win the NL Pennant and +350 to win the World Series.

Brian Hoyer. It looks like the Brian Hoyer experiment in Cleveland won't last long—not because of his own doing. After taking over under center for Brandon Weeden in Week 3, Hoyer threw for 321 yards and his third touchdown pass was the game-winner with 51 seconds left. Last Sunday, the former Michigan State standout went for 269 yards, two scores, and no interceptions in another Browns victory. They won again on Thursday night vs. Buffalo, but Hoyer left in the first quarter with a torn ACL that will keep him out for the season.

Utah Utes. In the words of LeBron James, "not one, not two, not three, not four, not five…." Utah stopped at six—in this case, interceptions—in Thursday night's 34-27 home loss to UCLA. Still, the Utes were tied in the fourth quarter and down by only seven and driving late in the game after recovering an onside kick. They had first-and-10 at the Bruins' 23 with enough time remaining, but this night was only going to end one way. On fourth-and-10, sophomore signal-caller Travis Wilson threw his sixth pick. UCLA improved to 4-0 and is the eighth choice at +2200 to win the BCS National Championship.

Lob City. Lobs are great, but winning is better. That's what new head coach Doc Rivers said of the Los Angeles Clippers' 2011-13 brand of basketball, known as "Lob City." Rivers' comments stemmed from Blake Griffin's announcement this week that Lob City is no more. The former No. 1 overall pick in the NBA Draft said the team is forming a new identity under the direction of its new voice and that Rivers is installing a defensive-minded mentality. Clippers supporters may agree with Rivers' statement that winning is better, but this does not sound like a positive development for the common, highlight-loving NBA fan. The once-moribund franchise is +400 to win the Western Conference and +800 to win the NBA Championship.

Dale Earnhardt Jr. Earnhardt Jr. was on the pole for last weekend's Chase race at Dover International Speedway, and he had a lightning-fast car to boot. However, the No. 88 car surrendered his lead early with a pit-road blunder, and he could not regain it from eventual winner Jimmie Johnson. Earnhardt Jr. still finished second, but second is not going to cut it these days. He has zero wins for the 2013 season and stands in 10th place in the Sprint Cup standings, a borderline insurmountable 57 points behind Matt Kenseth (and 49 back of Johnson, who lurks in second). Johnson is a slight +120 favorite ahead of Kenseth (+125) to capture the title. Earnhardt Jr. is +6000.

Patrick Roy. Roy is on pace to be fined $820,000 this season, and for his NHL head-coaching career he is on pace to be fined $10,000 times however many games he ends up coaching. The first-year head man of the Colorado Avalanche went on a shouting, glass-pounding tirade at the Anaheim Ducks bench late in his team's 6-1 win on Wednesday night and was docked 10 grand for his efforts. Roy was enraged about a collision between Anaheim's Ben Lovejoy and Colorado's Nathan MacKinnon. The Avs are +2500 to win the Central Division.

Fabio Fognini. It was all right there for Fognini to hand Rafael Nadal the world No. 2's first hard-court loss of the season on Friday in Beijing. The Italian, who has won two titles in the past three months, was dominating Nadal 6-2, 3-0 and had game points for 4-0 advantage in the second set before it all fell apart. The Spaniard stormed back for a 2-6, 6-4, 6-1 quarterfinal victory and improved to 25-0 on the hard stuff this year. He is one round away from a final showdown against Novak Djokovic, after which Nadal would be assured of becoming No. 1 in the world regardless of the outcome. Nadal is -450 to beat Tomas Berdych in Saturday's semifinals, and he is the second choice at +180 behind Djokovic (+160) to win the Australian Open in January (odds provided by Bovada Sportsbook).
Read more articles by Ricky Dimon