Thank God It's Friday: Feeling Blue in the Green Room
by Ricky Dimon - 4/26/2013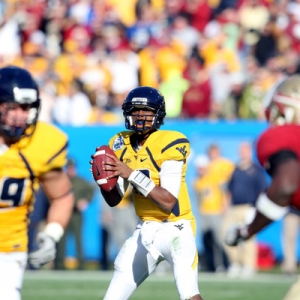 Geno Smith did not have a great Thursday, but he was not alone. Smith was bypassed throughout the entire first round of the 2013 NFL Draft, as was Manti Te'o and every single running back in the class (including Eddie Lacy and Giovani Bernard). It was long day for those fellas, but it was a long week for many other teams and athletes in various sports, namely the NBA. The Lakers can start making tee times, and the Hawks, Bucks, and Celtics can do likewise.

(All odds provided by Sportsbook.ag)

Geno Smith. Smith just made Aaron Rodgers' wait in the green room seem as short as a trip through the drive-thru at a local McDonalds (wait, not necessarily a good analogy!). And that's hard to do, because saying Rodgers' wait at the 2005 NFL Draft was an extended one would be a gross understatement. Smith, however, slipped all the way through the first round on Thursday night and will have to bide his time for almost 24 more hours until primetime on Friday. At least the former West Virginia signal-caller did not have to watch a wave of other quarterbacks fly off the board at his expense, although E.J. Manuel (the only QB taken on Thursday) did go No. 16 to Buffalo in a surprising move. The Bills are +5000 to win the AFC in 2013. Denver (which took Sylvester Williams 28th overall) is a +600 favorite along with New England to win the Super Bowl.

Jason Heyward. The vaunted trio of Braves outfielders is down to two, at least temporarily. Heyward underwent an appendectomy on Monday in Colorado and was placed on the 15-day disabled list. The Upton brothers, though, wasted no time picking up the slack on Tuesday after Atlanta's first game at Sports Authority Field at Mile High was snowed out. B.J. and Justin became the first pair of brothers (second ever) since 1938 to hit back-to-back homers as the Braves swept the ensuing double-header. It's rough for Heyward that he is missing out on the fun, but he was already doing that even when he was in the lineup. He is hitting .121 with just two dingers and five RBI for 15-6 Atlanta. The Braves are +350 favorites to win the National League and the second favorites (+800) behind Detroit to win the World Series.

David Lee. Speaking of missing out on the fun, Lee suffered a torn right hip flexor in Golden State's series-opening loss at Denver on Sunday and was sidelined from his team's convincing bounce-back performance in Game 2 on Tuesday. He will be out for all remaining games this season, too. Lee average 18.5 points and 11.2 rebounds per contest during the regular season, so it's safe to the Warriors will be hard-pressed to overcome his absence unless Stephen Curry and Klay Thompson continue to be unconscious. Curry and Thompson combined for nine threes and 51 points in a 131-117 Game 2 victory. Golden State is a -1.5 home favorite on Friday, but Denver is a -250 favorite to win the series.
Boston Celtics. The Celtics were mostly competitive throughout the first six quarters of their first-round series against New York. An 85-78 decision in the Knicks' favor could have gone either way last Saturday, and Boston led 48-42 at halftime of Game 2. The visitors, however, scored an anemic 23 points in the entire second half — 11 in the third quarter and 12 in the fourth — as they succumbed, 87-71. Furthermore, Kevin Garnett is dealing with a hip injury, and, even though he should be good to go for Game 3, he may not be 100 percent. The Celtics are -3 home favorites on Friday but +800 underdogs in the overall series.

Minnesota Wild. A pressure-packed weekend is on tap for the Wild, but it did not have to be this way. They won on Tuesday but have still lost two of their last three games, five of their last eight, and eight of their last 12. As a result, Minnesota has watched Detroit storm past it for the No. 7 seed in the Western Conference, and it is now tied with Columbus for the eighth and final playoff spot at 53 points. The Wild are hosting Edmonton on Friday.

FC Barcelona. Who would have thought that we would not even need two legs of the Champions Cup semifinal between Barcelona and Bayern Munich? The second match was rendered wholly inconsequential, however, when Bayern routed visiting Barca 4-0 in the first leg on Tuesday. When Lionel Messi and company return to Camp Nou next Wednesday, they will have to win 4-0 just to tie and force penalty kicks. Should Barca allow one goal, it would have to win at least 6-1 (because Bayern would advance on away goals to break any aggregate tie other than 4-4). Bottom line: that's not happening. The powerhouse German club, which finished runner-up to Chelsea last year, is suddenly a -150 favorite to win the title. Its' likely final opponent is Borussia Dortmund, which extended the woes of Spanish clubs by stunning Real Madrid 4-1 one day later. Dortmund is +200 to win it all.

Matt Kenseth. In bounds or out (and the drivers are definitely saying "out"), NASCAR has been laying down the law of late. The latest victim is Kenseth, who was docked 50 points in the standings on Wednesday and had his crew chief not only suspended for six races but also fined $200,000. Don't even bother trying to understand what it was for; the NASCAR language is far too complicated. Something in his engine last weekend in Kansas weighed some amount of grams under the minimum…or something. Kenseth is +600 to win this weekend's Toyota Owners 400 (second favorite behind Kyle Busch). He is still +600 to win the 2013 Sprint Cup title (also the second favorite, this time behind Jimmie Johnson at +300).


Read more articles by Ricky Dimon