Thank God It's Friday: No. 1s Continue to Lose in College Sports
by Ricky Dimon - 3/1/2013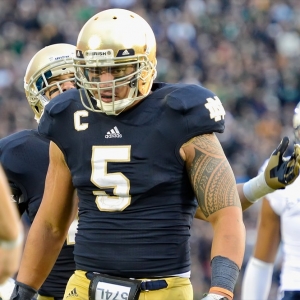 Whatever Notre Dame had in the BCS National Championship, it appears to be contagious. The top-ranked Irish, of course, got blown out by Alabama, and the trend has not stopped at the college level in 2013. Previously thought to be "Touchdown Jesus" in life form, Manti Te'o continued to go south in a hurry with a dreadful performance at the NFL Combine. On the hardwood, No. 1 teams have been losing left and right. When Indiana fell this week, it was the seventh time in this college basketball season that the top-ranked team has taken a tumble.

Even the greatest soccer player in the world, the seemingly invincible Lionel Messi, is in dire need of a weekend (all odds provided by Sportsbook.ag).

No. 1 teams. As Queen once said, "Another one bites the dust." Indiana, which had all but one first-place vote in the AP Poll, went down at Minnesota on Tuesday, 77-73. Former top teams Duke and Michigan also suffered losses this week, the former at Virginia on Thursday and the latter at Penn State on Wednesday. Enter Gonzaga, which held off BYU and is now a home win in its regular-season finale against Portland away from becoming the new No. 1 team in the nation. Indiana is still the favorite to win the NCAA Tournament at +450, and Duke is second at +600.

Anyone who had Iowa State +2.5. Talk about a rough one for both a team and its backers. The Cyclones led visiting Kansas by five points with fewer than 50 seconds remaining on Monday night. They got screwed by the refs and watched Elijah Johnson go on a Stephen Curry-esque barrage. Hell, if Iowa State had just completed the collapse (not really a fault of its own) in regulation, it still would have covered the spread. Alas, the Cyclones had to play five extra minutes, and Kansas had no problem covering thereafter. The Jayhawks are -150 to win the Big 12 Tournament and +1000 to win the National Championship.

Utah Jazz. They aren't boasting that "We are Utah Jazz" phrase quite as proudly as they were earlier in the season. The Jazz have lost three in a row, and their 31-27 record leaves them just 2.5 games ahead of ninth-place in the Western Conference (which just so happens to be the Los Angeles Lakers right now). Utah is also 0-3 against the spread in its current three-game skid. Tyrone Corbin's squad does, however, have a good chance of righting the ship on Friday night as a -9.5 home favorite vs. the Bobcats.

Doug Collins. You know it's going to be a long season when you trade your best player for a guy who spends more time on his hair and at the bowling alley than on the sport for which he makes bank. And, hell, that's putting it nicely for Andrew Bynum. Let's just tell it like it is—the guy can't even play basketball. Thanks to a current seven-game losing streak, it looks like the season will mercifully end a lot earlier than expected in Philadelphia. Collins, who went off on his team after a Tuesday loss to Orlando, witnessed a similarly poor effort in a 93-82 setback at Chicago on Thursday. The Sixers are six games back of Milwaukee for the eighth and final playoff spot in the Eastern Conference. They are +50000 longshots to win the East.

New Jersey Devils. Losing three in a row is bad, especially when two of those in succession come at the hands of the Winnipeg Jets. It's even worse when you remember that said Winnipeg Jets are the former Atlanta Thrashers. New Jersey's three-game slide has dropped the team two points below Pittsburgh in the Atlantic Division. But hey, I've got good news! No, I didn't just save a bunch of money on my car insurance by switching to Geico, but in this condensed 48-game schedule you don't play a single game outside of your conference! That means the Devils don't have to play Chicago a single time! NJ is +1000 to win the Eastern Conference and +2000 to win the Stanley Cup. The undefeated Blackhawks are +400 favorites to win it all.

Manti Te'o. You know you've got problems when a week this bad isn't even one of the worst of your year. Such is the case of Te'o, who has endured well-documented struggles both on and off the football field in 2013. After a laying an egg against Alabama in the BCS National Championship, the former Notre Dame linebacker was back in action at the NFL Combine. He bumbled his way to a 4.82 in the 40-yard dash and did not look particularly impressive in any other drills. For his efforts, Te'o will likely get docked more than a few bills come April's draft. He is +250 to be selected 27-32 in the first round, +300 to be selected 21-26 in the first round or 1-8 in the second round, and +400 to be selected 11-20 in the first round.
FC Barcelona. Messi and company were upstaged by rival Real Madrid on Tuesday, 3-1, in the second leg of the Copa Del Rey semifinals. That sends Ronaldo's club into the final while Barca goes home. On the bright side, however, Barcelona has a titanic lead in La Liga—12 points ahead of second-place Atletico Madrid with 13 games remaining and 16 points clear of Real Madrid. The next installment of El Clasico (in La Liga) will come on Saturday with Real (+188 in the game) having home-field advantage against Barcelona (+120). Barca is a whopping -50000 to win the title, while the two Madrids are both +8000.

Read more articles by Ricky Dimon