This Week in Sports Betting, A-Z
by Ricky Dimon - 6/20/2013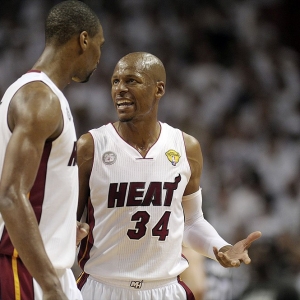 A. Ray Allen. "Jesus Shuttlesworth" brought Miami back from the dead in Game 6 of the NBA Finals on Tuesday night. Long after a boatload of Heat "fans" headed for the exits, Jesus nailed a game-tying three-pointer with five seconds left in regulation before making the — gasp! — defensive play of the game with one second remaining in overtime. In related news, Big State University announced on Wednesday that applications for enrollment are at an all-time high.

B. Mario Balotelli. Super Mario struck again on Sunday, running roughshod through Mexico's defense to score the game-winning goal with 12 minutes remaining in a group-stage match at the Confederations Cup. Balotelli scoring a big goal isn't exactly a big surprise, but the fact that he went a whole match without doing something controversial is a veritable stunner. Even when he scored, all he did was Brandi Chastain his jersey.

C. College Station. "Johnny Football" has it all. Quarterback of a major college football team. The Heisman Trophy. Smokin' hot girlfriend. Unfortunately for Manziel, he also has Twitter. That's the only reason why we know that the signal-caller — despite everything he has going for him — is eager to get outta town. Maziel said through the social media outlet that he cannot wait to leave College Station…. Neither can the other 13 SEC teams! He is a +300 favorite at Sportsbook.ag to win a second straight Heisman Trophy.

D. Divorced. Billy Ray Cyrus and Tish Cyrus are supposedly calling it quits after 19 years of marriage. They briefly separated in October of 2010, as well, before reconciling. Why is this news? Mainly due to Twitter, of course. Miley Cyrus tweeted at her dad last Thursday asking if he wanted to have a Twitter conversation since he was not responding to texts or e-mails. God bless the 21st century. Seriously, God bless it.

E. Elimination. In 11 career elimination games prior to Game 6, LeBron James was averaging 31.5 points, 10 rebounds, and 6.4 assists. He matched or bested all three of those marks on Tuesday, recording a triple-double with 32 points, 10 rebounds, and 11 assists. LeBron's teams are now 6-6 in elimination contests heading into the biggest one of all on Thursday night in Miami. The King is -250 to win NBA Finals MVP, according to Sportsbook.ag.

F. Fracas. Almost exactly one year after the infamous Manny Pacquiao vs. Timothy Bradley fight, the same three judges were back to score last week's brawl between the Diamondbacks and Dodgers. How else do you explain the suspensions that were handed down? Yasiel Puig threw haymakers at Eric Hinske and received no games while Hinske got five. Yeah, sure, that makes a lot of sense.

G. Manu Ginobili. In his team's Game 5 victory, Manu delivered 24 points and 10 assists. Two days later in a crushing Game 6 defeat, he made play after play that was only slightly more productive than a Mark Sanchez butt-fumble. San Antonio is a +6 road underdog in Game 7 on Thursday, according to BookMaker.

H. Heartbreak. That's the one word Phil Mickelson used when asked to sum up his week at the U.S. Open. It's also the only word he could have used after finishing runner-up at the event for the hard-to-believe sixth time in his career (without a single title, of course). BetOnline Sportsbook has Mickelson at +2500 to win the British Open. Tiger Woods is the favorite at +700.

I. Instant classics. The NBA Finals finally got good on Tuesday, one-upping their NHL counterparts until the Blackhawks and Bruins played yet another overtime thriller in Game 4 of the Stanley Cup Finals on Wednesday. Boston rallied from deficits to tie the score on three occasions before ultimately succumbing 6-5 in the first extra frame. Three of the first four contests needed extra time to be decided.

J. Jozy Altidore. Tiger should probably take heart from Altidore. If Tiger ever gets one more, the floodgates may open. That's exactly what has happened for Altidore, who had not scored a goal for the U.S. men's national team since Nov. 15, 2011 heading into this month. The forward finally found the back of the net against Germany on June 2, and, suddenly, he cannot fail to score even if he tried. Altidore has four goals in June, and Team USA is 4-1-1 in Concacaf World Cup qualifying after edging Honduras 1-0 on Tuesday thanks to an Altidore lefty strike.

K. Jason Kidd. On May 18, Kidd was a point guard for the New York Knicks. On June 12, Kidd was the head coach of the Brooklyn Nets. Here's betting that he will score as many points with the Nets as he did in his last 10 games with the Knicks!

L. Lob City. These trade talks are more on-again, off-again than Justin Bieber and Selena Gomez. As of Wednesday night, once-dead discussions that would send both Kevin Garnett and coach Doc Rivers from Boston to Los Angeles had been revived. If they manage to pull it off, the Clippers will be expected to pursue Paul Pierce in free agency. They are currently sixth at +1800 according to Sportsbook.ag to win the 2014 NBA title.

M. Mario Chalmers. Chalmers showed he had the clutch gene in 2008 when he sent the NCAA Championship into overtime with a last-second trey before his Kansas squad eventually stunned Memphis for the title. His Game 6 performance did not win the title for the Heat, but it arguably kept them afloat even though Chalmers was overshadowed by the late heroics of Allen and Chris Bosh. Miami's point guard scored 20 points on 7-for-11 shooting, including a 4-for-5 clip from long range.

N. Neymar. When you play soccer and are from Brazil, you know you aren't very good if it takes two names to be identified. Like Pele, Ronaldo, Ronaldinho, and many others before him, Neymar has no such problem. The 21-year-old scored the game-winner in each of Brazil's first two Confederations Cup contests, both times within the first 10 minutes of the contest. Sportsbook.ag has host Brazil as a +350 favorite to win the 2014 World Cup.

O. Owens and Ochocinco. It's not yet known if Terrell Owens, with tears in his eyes, told reporters, "that's my fellow washed-up wide receiver" when asked about his recent visit with Chad Johnson in jail. What is known is that T.O. did pay C.J. a visit and also that C.J. is no longer behind bars.

P. Patrick. The Patricks are getting it done for the Blackhawks. Patrick Kane has one goal and two assists through four games of the finals. Patrick Sharp has two goals, both of which ultimately sent games into overtime. Meanwhile, Patrice Bergeron is on fire for Boston. He tallied two goals on Wednesday and has a total of four in the series.

Q. Chad Qualls. Unless you played in 1997 or 2002, you don't want to be a part of Marlins history. No matter how small a part, Qualls is just that. He became the fourth pitcher in the franchise's life to give up a walk-off bomb to the first batter he faced in a game when Arizona's Paul Goldschmidt took him deep on Tuesday.

R. Justin Rose. Fifteen years after he thrilled the Royal Birkdale crowd as a 17-year-old with a hole-out from 50 yards away on the 72nd hole of the British Open, Rose is a U.S. Open champion. He will be back at the Open Championship next month, this time as one of the favorites at Muirfield. Rose is the third choice (+1800) at BetOnline Sportsbook to lift the Claret Jug.

S. SW19. Wimbledon, often affectionately known by its postal code in Southwest London, begins on Monday. Novak Djokovic is a +175 favorite at Bovada Sportsbook, while Serena Williams is a massive -200 favorite on the women's side.

T. Treys. Danny Green sprinted past Allen for the all-time record of three-pointers in an NBA Finals series and he did it even before the end of Game 5. Judging from Allen's reaction when Green drained No. 23 to break the record — and also judging from his response in Game 6 — the veteran was not too happy about it. In a series that has not been dominated by traditional superstars, Green vs. Allen could be an intriguing battle in Thursday's decisive Game 7. Green is +550 at Sportsbook.ag to become an improbable NBA Finals MVP.

U. Miss Utah. Connecticut's Erin Brady was crowned Miss USA on Sunday. But how can a loser from Utah make bigger news that a winner from the entire United States of America? Well…unless you have not been alive the last two or three days, you know. Miss Utah's response to a question about women earning less than men resulted in unprecedented buffoonery and completely overshadowed everything else that transpired the rest of the night.

V. Yasiel Puig Valdes. Yep, that's the dude's full name. The 22-year-old Dodgers sensation homered for the fifth time in just over two weeks in the big leagues in Sunday's 6-0 whitewash of the Yankees. Even though YPV also boasts a .474 batting average, L.A. is still a horrendous 10 games below .500. The Dodgers are +3000 at Sportsbook.ag to win the World Series.

W. Chien-Ming Wang. Wang won for the first time since June 12 of 2012 when he pitched the visiting Blue Jays past Texas on Sunday. The 33-year-old opted out of his minor-league contract with the Yankees earlier this month before winning his second start with Toronto. BetOnline Sportsbook has the Blue Jays as +600 longshots to win the AL East. The Yankees are +350.

X. Clinched. The U.S. men's soccer squad has not officially punched its ticket to Brazil, but it would now take an epic collapse of Spurs-esque proportions for the USMNT to somehow not qualify for the 2014 World Cup.

Y. Yahtzee. Call them whatever you will, Chris Davis has been belting a lot of them this season. The Orioles' designated hitter left the yard twice in Wednesday's 13-3 rout of Detroit. Davis now has 26 homers, five more than anyone else in baseball, and has a seven-homer lead in the American League. More than 70 games into the season, Davis looks like the biggest threat to Miguel Cabrera's repeat triple-crown bid. The field (which includes Davis) is a +125 favorite at Sportsbook.ag to lead the bigs in homers.

Z. Zenyatta. One of the most famous horses alive today, Zenyatta is about 40 days in foal. For those who are not familiar with horse-speak and want it in biblical terms, that means Zenyatta has been great with child for 40 days. Get your bets ready for the 2017 Kentucky Derby!
Read more articles by Ricky Dimon