This Week in Sports Betting, A-Z
by Nicholas Tolomeo - 4/4/2013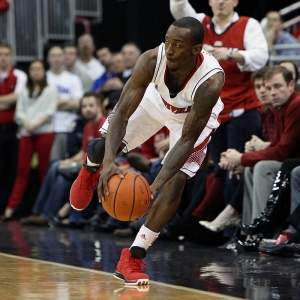 A – Atlanta. The Final Four begins Saturday, Louisville is an overwhelming favorite to win the title, and Russ Smith is an overwhelming favorite to win Most Outstanding Player. Louisville is listed at –150 on Bovada to win the championship, while Smith is a huge 4/5 favorite to win MOP ahead of teammate Peyton Siva (7/1), Michigan's Trey Burke (4/1) and Syracuse's Michael Carter-Williams (8/1).
B – Baylor. While her team was in the midst of the biggest choke job in women's sports history, Baylor coach Kim Mulkey was going berserk on the sidelines. The feisty coach with the butch haircut ranted and raved as she watched Louisville build a 19-point lead. A crucial late-game charging call sent Mulkey on a tirade as she tried to rip her jacket off to apparently prove a point. This is coming from a coach who circumvents the rules by starting a man on her team.
C – CIT. With a 77-74 win over nine-point favorite Weber State on Tuesday night, ECU won the CIT title, OMG, WTF.
D – Drama. The rivalry between our two favorite ex-ESPN blondes continues. On a recent Sirius radio show, Michelle Beadle was asked about her thoughts on Erin Andrews, and Beadle responded with a huge thumbs down while sticking her tongue out and spitting in a disapproving manner.
E – Enfield, Andy. You probably thought you made a lot of money off Florida Gulf Coast by betting them at +850 moneyline against Georgetown and +310 moneyline against San Diego State. FGCU coach Andy Enfield makes those moneyline bets look like peanuts when he parlayed his team's trip to the Sweet 16 into a new gig at USC that pays $1.5 million a year, or about $1.35 million more than he made with FGCU this season.
F – Final Four. Wichita State is in the Final Four; apparently the oddsmakers are unaware of this. The Shockers, just two games away from a National Championship, are listed at +1450 to win said National Championship on 5Dimes. Their odds trail Louisville (-142), Michigan (+325) and Syracuse (+485). On Bovada's college basketball futures, the only Wichita State players listed with odds to win the Most Outstanding Player are Cleanthony Early and Malcolm Armstead, both are listed at 30/1, behind 12 other players.
G – Gut buster. The Ballpark at Arlington will offer a Beltre Buster burger this season that features a pound of beef and 8 oz. of bacon for $26. This is ideal for fans who want to watch the game from the comfort of a ballpark toilet.
H – Hockey. The Penguins maintained a 15-game winning streak from Feb. 28 to April 2. Hockey fans saw it end on April 2 with a 4-1 loss to Buffalo. Normal sports fans will probably think the winning streak is still going on until SportsCenter tells them otherwise, probably sometime in mid-May.
I – Injury. Many consider the gruesome injury sustained by Louisville's Kevin Ware during an Elite Eight game on Sunday as the worst in sports history. After the injury, names like Joe Theismann, Willis McGahee, Shaun Livingston, Clint Malarchuk (the goalie who had his neck sliced open), Sid Vicious and Allan Ray were Google searched and debated. How long before "Most Gruesome Sports Injury" is an ESPN Top 10 Countdown?
J – Joba Chamberlain. By allowing three runs in the top of the ninth and allowing the Boston Red Sox to extend their lead to 8-2 over the New York Yankees, Joba Chamberlain basically cleared out Yankee Stadium. It appeared as only a few hundred fans remained to watch the Yankees bat in the Bottom of the ninth on Opening Day. It's good to have baseball back.
K – Kansas. Kansas backers experienced one of the worst beats in the NCAA Tournament when the one-point favorite Jayhawks underwent a complete and total meltdown in the final four minutes of regulation and then overtime against Michigan at Cowboys Stadium. Leading 70-59 with 3:57 left, Kansas somehow allowed Michigan to close the game on a 22-8 run. The highlight of the bad beat, of course, came when Trey Burke hit a three-pointer from Houston to force overtime.
L – Louisville. In the span of 48 hours, the Louisville men advanced to the Final Four, the Louisville women pulled off perhaps the biggest upset in women's basketball history by knocking off Baylor and then knocked off Tennessee to also reach the Final Four. This year's Men's and Women's Final Four is going to smell like Papa John's garlic dipping sauce.
M – Marmol, Carlos. It was only Opening Day, but Chicago Cubs closer Carlos Marmol appeared to be in mid-season form on Monday. After he watched starter Jeff Samardzija shut down the Pirates for eight innings, Marmol turned a 3-0 game into a close contest thanks to allowing one run and three straight base runners. Just like that, he was yanked from the game and the combination of James Russell and Kyuji Fujikawa shut down the Pirates. Cubs manager Dale Sveum insists that Marmol remains his team's closer, somehow.
N – Naga, na, not gonna work here anymore. Former Rutgers head basketball coach Mike Rice hurls basketballs at and gay slurs at his players during practice. A video of a Rutgers practice showed Rice whipping basketball balls at his player's heads and yelling, "you fucking fairy, you're a fucking faggot." Once the video became public, Rutgers was forced to can Rice.
O – Oakland. The Oakland Raiders traded Carson Palmer to the Arizona Cardinals for a conditional seventh-round pick, or in other words a whole lot less than they gave up to get him just two years ago, a first- and second-round pick in the middle of the 2011 season. Somewhere Al Davis is smiling at this horrific personnel decision.
P – PNC Park. The Pirates don't know how to field a winning baseball team, but they do know how to fill your gut and put you in a food coma by the fourth inning. This season PNC Park will offer Scotch Eggs, hard-boiled eggs wrapped in Italian sausage, and a Brunch Burger, a bacon cheeseburger topped with a fried egg with a glazed doughnut used as a bun. Pirates fans will be too busy dealing with cardiac arrest to realize their team is headed toward its 21st consecutive losing season.
Q – Quarterback. The Oakland Raiders have traded for Matt Flynn, which gives the former LSU quarterback more NFL teams (three) than NFL starts (two).
R – Recruit. Mississippi State attempted to woo high school linebacker recruit Michael Ferns to Starkville with a handwritten letter that on the inside simply ready, "You're a Baller." Ferns (who has already committed to Michigan) thought so much of this letter he tweeted a picture of the card in mocking fashion.
S – SportsCenter. ESPN anchor Michael Kim had dongs on his mind Monday afternoon while hosting SportsCenter. Kim said, "Get your penis, get your cracker jack. The baseball season is here."
T – Tiger Woods. Sports Illustrated proclaimed that Tiger Woods is back this week on its cover. The oddsmakers have followed suit. Woods is listed at +325 versus the entire field to win the 2013 US Masters.
U – Upset. As 23.5-point underdogs, Louisville's 81-80 win over Baylor in the Women's NCAA Tournament Sweet 16 may have been the biggest upset in sports betting history. At one time Baylor was listed on 5Dimes at –60,000 while Louisville could have been had on March 31, 2013 at 8:21 a.m. ET at +20,000. The line eventually dropped all the way to +7500 by game time, but at 75/1, the Louisville win has to be considered the biggest upset in sports history.
V – Vanishing Panthers. In the span of less than 12 hours, the University of Pittsburgh watched as its biggest football recruit ever, rising sophomore running back Rushel Shell, and biggest basketball recruit ever, rising sophomore center Steven Adams, both announced they were leaving the school. Shell is transferring and Adams has declared for the NBA Draft. Pitt is basically the opposite of Louisville this week.
W – Wolverines. By winning their Sweet 16 and Elite Eight game in Dallas, the Michigan Wolverines have now won more playoff games (two) at Cowboys Stadium than the Dallas Cowboys have (one).
X – XXIX Wrestlemania. The biggest night in sports entertainment and the biggest night in gambling on sports entertainment is nearly upon us. WrestleMania XXIX takes place this Sunday from MetLife Stadium in East Rutherford, New Jersey. Bovada and 5Dimes are some of the sportsbooks somehow offering lines on the pre-scripted event. Some of the biggest favorites include something called Fandango (-650) versus Chris Jericho, Triple H (-550) versus Brock Lesnar, John Cena (-900) versus the Rock and The Undertake (-1600) versus CM Punk. Considering the steep lines, perhaps a writer at WWE moonlights as an offshore oddsmaker.
Y – Yu Darvish. Texas Rangers pitcher Yu Darvish lost his perfect game with two outs in the ninth inning against the Houston Astros when shortstop Marwin Gonzalez, a lifetime .234 hitter, slapped a single up the middle against Darvish. The odds of Gonzalez getting that hit had to be far greater than Darvish throwing a perfect game.
Z – Jay-Z. Yankees second baseman Robinson Cano fired agent Scott Boras and replaced him with perhaps the only agent out there worse to deal with, Roc Nation, an entertainment group co-founded by Jay-Z.