This Week in Sports Betting, A-Z
by Ricky Dimon - 6/12/2013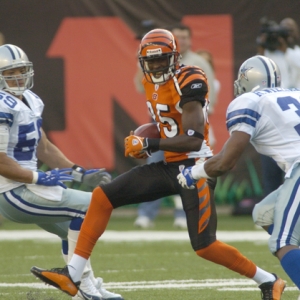 A – Amanda Bynes. The former child star is reportedly having all kinds of issues. Among them are drugs and alcohol, an eating disorder, violent mood swings, and a whole host of plastic surgeries. Amidst all of this, Bynes appears to be on the way to becoming an actress-turned singer. Word on the street is that she is being offered a hip-hop record deal. This would be like Major League Baseball rewarding the Astros for all their failures with an automatic spot in the World Series.
B – Butt-slap. Chad Johnson learned the hard way that patting a team member on the butt has to be reserved for the playing field. In other words, the court room is out of bounds. Johnson was on his way to getting off mostly unscathed on Monday when he issued a plea to his probation violation stemming from a domestic violence case. The judge, though, took offense to the former receiver's tap on the backside of his lawyer, and Johnson was promptly hit with 30 days in the slammer.
C – Maurice Cheeks. Cheeks was named the new head coach of the Detroit Pistons on Monday. In the same position with Portland 10 years ago, Cheeks once sang the "National Anthem" with a girl who had forgotten the words. However, he has never won an NBA Playoff series. Apparently Detroit thinks the former is more important. The Pistons are +15000 at Sportsbook.ag to win the 2014 Eastern Conference title.
D – Dikembe Mutombo. "How happy are folks who save hundreds of dollars switching to GEICO? Happier than Dikembe Mutombo blocking a shot." That is one of GEICO's many outstanding commercials at the moment. Speaking of Mutombo, how did LeBron not give the finger-wag after his unbelievable Game 2 rejection of Thiago Splitter? WagerWeb had Miami as a +2 road underdog in Game 3 of the NBA Finals at San Antonio on Tuesday night. Miami came within 35 points over covering that spread. Thursday's odds are not yet set, in part due to Tony Parker's potential hamstring problem.
E – Eight. Rafael Nadal captured his eighth French Open title on Sunday by taking care of fellow Spaniard David Ferrer in straight sets. No other man has ever won so many times at a single Grand Slam event (Roger Federer and Pete Sampras both have seven Wimbledon crowns). Nadal is +275 to triumph later this summer at Wimbledon according to Bovada Sportsbook, while Andy Murray is also +275. Novak Djokovic is the favorite at +185.
F – Fish. It's not like the Marlins were supposed to be good, but it's hard to believe just how bad they are. Miami is 19-45 despite having won six of its last 10 games. In fact, the team does not have a single 10-game stretch this entire season that features anything better than a 6-4 mark. The Marlins have more losses than anyone else in baseball, and they have at least seven more than losses than everyone not named the Houston Astros.
G – George Karl. Could we have coaching switcheroo between Denver and Memphis on our hands? All Karl did was win NBA Coach of the Year honors, but that was not enough for the Nuggets. As for the Grizzlies, they announced that Lionel Hollins' contract will not be renewed. Karl is already talking to Memphis according to various sources, and Denver is expected to have interest in Hollins. Sportsbook.ag has the Grizz at +900 to win the 2014 NBA Western Conference title while the Nuggets register at +1100.
H – Hospitalized. Former San Diego Chargers linebacker Shawne Merriman was hospitalized on Sunday night in Los Angeles. Rumors have swirled that it was because of a drug overdose. Merriman insists that he was simply dehydrated. Not unlike Merriman, has any franchise done less with more in recent times? The Chargers have finished better than 9-7 only once in the last five seasons. They are +5000 at BookMaker to win the Super Bowl.
I – Indiana. That awkward moment when Indiana's baseball team makes it further than Indiana's basketball team…. While the hoops Hoosiers got bounced by Syracuse in the Sweet 16, the baseball players are headed to Omaha for the College World Series with just seven other squads. Indy is coming off a Super Regional sweep of traditional powerhouse Florida State.
J – Jimmie Johnson. For JJ, two straight seasons without a Sprint Cup title is a full-fledged slump. After all, he is a five-time champion, and his five triumphs came in succession from 2006 through 2010. Johnson, though, seems to be primed and ready for a sixth trophy. He led 128 of 160 laps at Pocono on Sunday for his third race win of the year. Johnson is an overwhelming +175 favorite at Sportsbook.ag to win the championship.
K – Patrick Kane. The last time Chicago won the Stanley Cup (2010), Kane was making Justin Bieber seem like a modest party animal. Now, however, the right wing has calmed down to focus exclusively on hockey. It has paid off for the Blackhawks, who won three in a row against Detroit to prevail in seven games before ousting defending champion L.A. with a 4-3 overtime victory in Game 5 last weekend. Kane notched three goals, including the game-winner. Sportsbook.ag has Kane at +1800 to win the Conn Smythe Trophy.
L – L.A. losers. The Kings at least put up a respectable effort in their title defense, but L.A.'s baseball teams are nothing short of an embarrassment. Both big spenders, the Angels and Dodgers, are a combined 17 games under .500 (the Angels are 28-37; the Dodgers are 28-36). They are also a combined 19 games out of first place in their divisions (the Angels are 11.5 shy of Texas, the Dodgers are 7.5 back of Arizona).
M – Merion Golf Club. Let's hope Sergio Garcia learned his lesson the hard way at The Players Championship and came prepared with scuba gear to the site of this week's U.S. Open. After all, he may need it for a lot more than just golf-ball searching. Rain has pummeled Merion to the extent that it has apparently been difficult to walk around some parts of the course. Tiger Woods is a +450 favorite at BetOnline Sportsbook.

N – No no-no. Atlanta starter Julio Teheran came within four outs of a no-hitter last Wednesday at Pittsburgh. Instead, pinch hitter Brandon Inge ruined the bid, and Teheran had to settle for what was still the best outing of his major-league career: eight innings, one hit, no runs, and 11 strikeouts.
O – Original six. It's not the Chicago-Pittsburgh showdown that many expected and hoped for, but any Original Six Stanley Cup Finals is an intriguing one. Blackhawks vs. Bruins is the first Original Six finals since 1979, when the Canadiens toppled the Rangers. Sportsbook.ag has Chicago as a -145 favorite to hoist the cup.
P – Yasiel Puig. How good is Yasiel Puig? Good enough to set off the bench-clearing brawl of the season so far (see Dodgers vs. Diamondbacks on Tuesday). As for his exploits on the field, the 22-year-old is hitting .471 with four home runs and 10 RBI. Minor detail: he has played in just eight games.
Q – Quin Snyder. The Atlanta Hawks were fined for tampering in their early efforts to land both Dwight Howard and Chris Paul this offseason. You can bet David Stern won't fine them for tampering in their signing of Snyder to an assistant coaching position. Among Snyder's recent jobs are head coach of the Austin Toros and assistant coach of CSKA Moscow. At first glance of those names, it's probably safe to say the Hawks -- as mediocre as they are -- represent an upgrade.
R – Rory McIlroy. Based on their respective current forms, you have to think there is trouble in paradise when it comes to McIlroy and Caroline Wozniacki. While Wozniacki can barely win a tennis match of any kind these days, McIlroy's disappointing 2013 campaign continued with a T-57 finish at The Memorial. Some quick sleuth work on Twitter reveals that McIlroy's last tweet at Wozniacki came on May 16, while Woz last tweeted at McIlroy on June 2. Even more encouraging for the dynamic duo is that the golfer's profile picture remains of photo of the two of them. BetOnline Sportsbook has McIlroy at +2000 to win the U.S. Open.
S – Serena. Serena Williams captured her 16th Grand Slam title last Saturday by blowing out Maria Sharapova in the French Open final. Amazingly enough, it was only the American's second career triumph at Roland Garros. At times in her professional life, Serena has been disinterested either in general or in certain matches. When she cares, however, she basically does not lose. Case in point: Serena is a ridiculous 16-4 lifetime in Grand Slam finals. The elder Williams sister is a huge -160 favorite at Bovada Sportsbook to win Wimbledon.
T – Tim Tebow. There really isn't anything to say. 1) Unless you live near the Arctic Circle or the North Pole, you've heard the news. 2) The news is pretty much entirely irrelevant to what will transpire on NFL football fields in 2013.
U – U.S. Men's National Team. Team USA took care of Panama 2-0 on Tuesday night in its World Cup qualifying match. Halfway through their 10-game schedule in the final round of the CONCACAF region, the Americans boast a solid 3-1-1 record. They are currently first in the standings, two points clear of Costa Rica and Mexico.
V – Victory, margin of. San Antonio dominated Game 3 by a ridiculous 37 points, the third largest margin in the history of the NBA Finals. Odds on the Game 4 margin will likely depend on the outcome of Parker's MRI.
W – What? As in, what the hell was Danny Green doing at North Carolina? Yes, he was good on defense. But the guy could not throw the ball in the ocean on offense. Suddenly, Green is the second coming of Jesus…Shuttlesworth. He went 16-for-36 from beyond the arc against Golden State, 8-for-17 against Memphis, and so far in the NBA Finals he is an outrageous 16-for-23.
X – X-Men. If you're running around Montreal for any reason in the next few days, don't flee if you encounter some blue mutants…. It could be Jennifer Lawrence! J-Law and some less significant others are filming "X-Men: Days of Future Past." Sounds like a terrible movie but one that could still be worth watching for obvious reasons.
Y – Yadier Molina. Since serving a one-game suspension on June 5 for making contact with an umpire, Molina has hit safely in five straight contests (four of which resulted in St. Louis wins). Molina has hits in 13 of his last 14 outings, and eight of those have been multi-hit performances. The Cardinals are +850 to win the World Series, according to BetOnline Sportsbook.
Z – 2 Chainz. Allegedly robbed at gunpoint over the weekend, the rapper denied the report but did admit to being high as a kite. That claim was all but confirmed on Tuesday when 2 Chainz was arrested at LAX for possession of marijuana. In unconfirmed news that may or may not be related, Onterrio Smith and Michael Vick have approached 2 Chainz for possible sales of Whizzinators and water bottles.
Read more articles by Ricky Dimon