UFC 160 Odds and Betting Predictions
by Trevor Whenham - 5/23/2013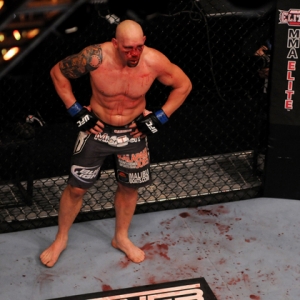 The UFC returns to MGM Grand Arena in Las Vegas for the next edition of their pay-per-view spectacle. We seem to be past the era of interesting names for events, so this event, which features the headline heavyweight championship title fight between Cain Velasquez and Antonio 'Bigfoot' Silva — their second meeting — is cleverly called "Velasquez vs. Bigfoot 2".
All in all it's not a fight card that is likely to change the course of history, but the UFC has certainly put on worse. Here's a look at how the main card breaks down (all UFC 160 odds are from Bovada) along with some predictions:
Heavyweight championship - Cain Velasquez (-750) vs. Antonio Silva (+475)
The odds would suggest that this isn't a very close, competitive fight. The odds would be correct. We aren't going to waste much time talking about it — Velasquez will win, and he'll make it look easy. The bigger question is why anyone would think that this is a fight that we need to see. The two met for the first time at UFC 146, just after Velasquez had lost his title to Junior dos Santos. The fight ended in the first round by TKO. Granted, Silva had a very nasty cut over his eye, but that only hastened what was clearly inevitable.
What's sad is that Silva is clearly the best heavyweight contender option the UFC has — yet another division where the champ is too good for the field. Alistair Overeem was supposed to be the savior, but Silva beat him. That means we are left with this — a fight that would be truly remarkable if it lasted more than three rounds before Velasquez gets the stoppage. The rest of the card had better be good, because I just don't see this one delivering.
Pick: Cain Velasquez
Heavyweight - Junior dos Santos (-450) vs. Mark Hunt (+325)
Remember earlier when I said that the heavyweight division is a total mess? This is further proof. Dos Santos is likely a win away from his third shot at Velasquez and a chance to pull off another very unlikely upset. To earn that shot he has to beat Hunt — a guy with a 9-7 career record. Granted, Hunt has looked much better lately with four straight UFC wins and three knockouts. Still, the fact that Hunt is the best there is for dos Santos to prove himself against is just plain depressing for heavyweight fans.
The script for this one should be fairly straightforward. Dos Santos has lightning-fast hands and hates being off his feet. He'll use his speed advantage to rain the abuse down on Hunt. Hunt is very tough, so he isn't likely to get knocked out. The multiple hits and the pace, though, will be too much, and he'll be increasingly worn out as the night progresses. Dos Santos winning in a unanimous decision is a sound bet.
Pick: Junior dos Santos
Light Heavyweight - Glover Teixeira (-310) vs. James Te Huna (+240)
Teixeira was set to face Ryan Bader, but an injury opened the door for Te Huna. This is a massive jump in class for the underdog. The favorite has won 18 in a row, including three in the UFC. He's incredibly versatile and very dangerous. Te Huna is 5-1 in the UFC, but none of the wins have been against anyone particularly noteworthy. He is strong enough to make it interesting for a while, but Teixeira does everything he can do and does it better. Frankly, this price is better than I was expecting.
Pick: Glover Teixeira
Lightweight - Gray Maynard (-210) vs. T.J. Grant (+170)
This was already the top fight on the main card before we learned that the winner will face Benson Henderson for the lightweight title. Maynard hasn't seen action for about a year thanks to a knee injury that forced him to pass on his planned fight against Joe Lauzon at UFC 155. He is a desperate fighter at this point. He twice failed to beat Frankie Edgar in title fights, and you rarely get three shots at winning the hardware, never mind any more than that.
Grant was an unimpressive welterweight, but he has found his spot in the lightweight ranks and has won four in a row at that level. He specializes in applying relentless pressure. That could be effective against a rusty Maynard, and it is enough to make this price attractive.
Pick: T.J. Grant
Lightweight - Donald Cerrone (-325) vs. K.J. Noons (+250)
Cerrone is a very talented fighter. He's also a head case. Every time he gets himself in position to challenge for a title, he loses a fight he should win and looks horrible doing it. Now he is forced to try to climb the ladder for a third time. He has hired a sports psychologist this time around, though, and that could be enough to get him ready. Surely it will be enough for him here in a fight against a weaker opponent that really plays to his strengths.
Pick: Donald Cerrone
Recommended Bets
For each card I bet a mythical $500 bankroll, typically on parlays. With the heavy favorites that are strong this time around, though, the parlays just aren't that attractive. Instead, I'll make a single bet:
$500 on T.J. Grant (+170). Potential profit of $850.
Read more articles by Trevor Whenham