This Week in NFL Betting by the Numbers: Baltimore Ravens
by Ricky Dimon - 1/31/2013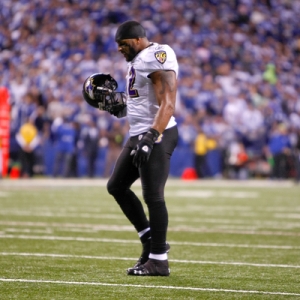 Well, this is it.

After 249 games (228 in the regular season plus his 21st playoff game on Sunday), Ray Lewis is calling it quits. Win or lose, Lewis' grand finale will come on the biggest stage in football - the Super Bowl, this one to be played in the Louisiana Superdome.

In 17 regular seasons, Lewis had 1,558 tackles, 41.5 sacks, and 31 interceptions. He was named to 13 Pro Bowls and he already has one Super Bowl ring (he was also named MVP of Baltimore's 2001 triumph over the New York Giants). Records include the most games started at inside/middle linebacker (227) and most interception return yards for an inside/middle linebacker (503).

What are some other key Baltimore-related numbers heading into Super Bowl XLVII? (all odds provided by Sportsbook.ag).

7-0 - The Ravens' all-time playoff record when Joe Flacco does not throw an interception. By contrast, they are 1-4 when he does get picked off. So far this postseason, Flacco has eight touchdowns with a goose-egg in the interception column. He completed 21-of-36 passes for 240 yards and three scores in the AFC Championship upset at New England. Ironically, a pair of former San Francisco quarterbacks leads the way ahead of Flacco in the category of most touchdowns in a single postseason without throwing an interception. Joe Montana has the record (11 in 1989) followed by Steve Young (nine in 1994). Then comes Flacco. The "over/under" for Flacco touchdown passes on Sunday is 1.5. He is -130 to go over the total and even to go under.


85.3 - Snaps per game played by the Baltimore defense this postseason, 17.4 more than its regular-season average. That accounts, in part, for why the Ravens are giving up what would otherwise appear to be an alarming 415 yards per contest in the playoffs. In actuality, they are allowing fewer yards per play (4.9) over their last three than they did during their 16-game slate (5.2). Will Baltimore be able to stop San Francisco's high-powered running attack on Sunday? The over/under for 49ers' rushing yards is 154.5.

4 - Consecutive playoff games in which the Ravens have covered the spread, dating back to last season's AFC Championship. They have been obliterating spreads this postseason; John Harbaugh's club covered by 7.5 points against Cincinnati, by 12.5 points in the thriller at Denver, and by 23 points in the upset of New England. Overall, Baltimore is 4-1 against the spread in its last four games this season. It's safe to say the team has turned it around following a three-game losing streak from Week 13 through Week 15 in which it also went 0-3 ATS. The Ravens are +3.5 underdogs against the 49ers in Super Bowl XLVII.

11 - Games out of the last 14 in which Ray Rice has failed to exceed 100 yards on the ground. In fact, Baltimore's star running back has eclipsed the century mark only five times in total this season (including in the playoff win over the Broncos). Rice amassed 68 yards on 15 carries in the Wild-Card Round, and he rushed 19 times for just 48 yards in the AFC Championship. San Francisco, meanwhile, finished fourth in the NFL in rushing defense and allowed the third fewest yards per rush at 3.7. The over/under for Rice rushing yards on Sunday is 66.5.

22.5 - Average number of yards beyond the line of scrimmage at which Torrey Smith has been targeted by Flacco in the playoffs. That's even farther down the field than his regular-season target average 18.1, which was the deepest average of any receiver in the league who was targeted at least 20 times. Smith had 855 yards and eight touchdowns during the regular season, including 127-yard, two-score performance in a win over the Patriots less than 24 hours after his 19-year-old brother was killed in a motorcycle accident. So far this postseason, Smith has 198 receiving yards and two touchdowns. Amidst all the talk of retirements, deer antler spray, Ed Reed wanting to play for Bill Belichick, etc., Smith's stellar campaign should not be overlooked. The over/under for Smith receiving yards in the Super Bowl is 67.5.

RAPID FIRE

0 - Games this season other than the divisional-round win over Denver in which Terrell Suggs has had either double-digit tackles or multiple sacks (he accomplished both against the Broncos). Which Suggs will show up on Sunday?
1 - Baltimore victories, out of one game, in the John Harbaugh vs. Jim Harbaugh series. The Ravens prevailed 16-6 at home last season.

1.5 - The over/under for field goals made by Ravens' kicker Justin Tucker.

11.5 - The over/under for Lewis tackles in Super Bowl XLVII. The over is -145 and the under is +115.

5 - Seasons as a Baltimore cheerleader for Courtney Lenz, who is not on the Super Bowl cheer roster. Every other Raven cheerleader with at least three years of experience is making the trip. Scandal!

0.5 - The known maximum of inches per day at which deer antlers can grow.
Read more articles by Ricky Dimon