Weekly Top Betting Props: 2013 NFL Free Agent Wide Receivers
by Dave Schwab - 5/28/2013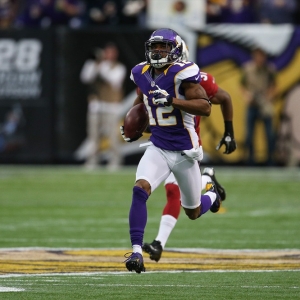 This offseason a few prominent NFL wide receivers found a new place to apply their skills via the free agent market. Bovada has already released prop bets covering expectations for their performance next season in terms of an "over/under" on total receiving yards. The following is
a closer look at each bet.
Mike Wallace could not come to terms on a new contract in Pittsburgh, so he decided to head to warmer pastures in Miami by signing a four-year contract that is potentially worth $30 million in the first two years alone. The total number of receiving yards for him this season has been set at 925.5 with the money line price set at -115 for both under this total or over it.
Wallace spent his first four seasons in the NFL with the Steelers and accumulated just over 4,000 receiving yards. Last year he caught 64 passes for 836 yards, which was quite a bit less than his previous two seasons. His best year as a pro in terms of total yards was in 2010 with 60 catches for 1,257 yards. Wallace followed that up with 1,193 yards in 2011 on 72 receptions.
While he certainly has shown the ability to easily eclipse the 1,000-yard mark, the big difference will be that Ryan Tannehill will be throwing him the ball as opposed to Ben Roethlisberger. Tannehill passed for 3,294 yards last season as a rookie while completing 58.3 percent of his passes. Looking at the Dolphins current lineup of receivers, Wallace should easily become his favorite target next season, but I would still go with the under for this prop considering that Miami still has a run-first mentality and was ranked 26th in the NFL in passing yards per game.
The next wide receiver on the list is Wes Welker, who made a huge splash in the free agent market by signing with the Denver Broncos after failing to come to terms with the Patriots. It has been well documented that Welker was Tom Brady's favorite target in New England with 1,100 or more receiving yards in five of his six seasons there.
The total number of yards for this season has been set at 1,000 with the over/under on the money line each set at -115. At first glance this prop appears to be a no-brainer for the over, especially given the fact that Welker goes from one future Hall-of-Fame quarterback to another with Peyton Manning now chucking the ball his way. The potential snafu in this wager is the fact that the Broncos can still only play with one ball. Manning threw for 4,659 yards in his first season in Denver and could easily exceed 5,000 yards this season, but he already has two primary receivers in Demaryius Thomas and Eric Decker, who combined for 2,498 yards in 2012.
My other issue with the over for this prop is the chemistry that developed between Welker and Brady over the six seasons they played together. Manning loves to spread the ball around, and it may take awhile before he starts to see Welker as his go-to guy. It is an incredible problem to have, but the net result could be slow start to his overall receiving numbers, which could easily keep Welker under 1,000 total yards on the season.
The third big free agent signing at the wide receiver position was Percy Harvin leaving Minnesota to sign with Seattle. The total number of receiving yards for the 2013 regular season has been set at 999.5 with the money line set at -115 either way. Harvin has been in the league for four seasons and has never crossed the 1,000 yard mark in receiving yards. His best effort was in 2011 when he caught 87 balls for 967 yards. His well-chronicled bout with migraine headaches and other nagging injures have cost him some significant playing time, especially last year when he only played in nine games and registered 62 receptions for 677 yards.
The Seahawks provide the opportunity for a fresh start with an exciting, young quarterback at the helm in Russell Wilson. Harvin has a good chance at becoming the No.1 receiver on this roster, which could mean a lot more balls coming his way next season. The health issues will always be a concern. However, if Harvin can play the majority of the season, he should be well in line to easily go over 1,000 yard mark. The one drawback is Seattle's overall passing game was ranked 27th in the NFL last season, but the addition of Harvin gives Wilson a golden opportunity to take a major step towards improving this rank dramatically.

Read more articles by Dave Schwab