Argentina Odds to Win 2014 World Cup with Picks and Predictions
by Strike Point Sports - 3/10/2014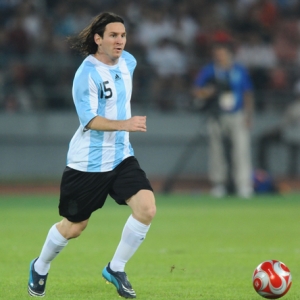 2014 Argentina Odds to Win the World Cup
Argentina are +500 to win the World Cup. They are a heavy Group F favorite at -350 and are -1900 to progress to the knockout round.
Argentina 2014 Group Play Schedule
Argentina vs. Bosnia and Herzegovina - Sunday, June 15 (6 p.m. EST in Rio de Janeiro)
Argentina vs. Iran - Saturday, June 21 (12 p.m. EST in Belo Horizonte)
Argentina vs. Nigeria - Wednesday, June 25 (12 p.m. EST in Porto Alegre)
Argentina 2014 World Cup Team Analysis
There are a handful of teams headed to Brazil spoiled for choice when it comes to skilled attacking units, but Argentina might just take the cake. Lionel Messi has arguably been the best player in the world the last four years since his country failed to live up to expectations in South Africa. The knock on Messi, if there ever is one, would be his inconsistent form for country compared to his brilliance with club side Barcelona. Fellow countrymen and fans alike want to know why the success can't translate. It seems playing for Barca, Messi has better flow and continuity with his teammates and system that doesn't change. Argentina has more recently had moveable pieces and an unpredictable cast of compatriots he suits up with in the White and Sky Blue.
Sergio Aguero and Gonzalo Higuain will likely join Messi atop the formation in attack for Argentina. What's so great about Messi is his flexibility in a formation and his ability to be deployed behind the central strikers to serve as an all-around playmaker going forward.
The midfield boasts power in numbers behind them, but what serves as Argentina's weakness is a defensive line that cracks too easily. It was their downfall in the knockout stages in 2010 when Germany tore them to shreds with their beautiful counterattacking style of play.
Argentina can and will score with any opponent they face. But when the attack becomes stagnant at some stage of the tournament, as they always do for a brief moment when the bright lights are shining, how will the defense respond when they know they are counted on to perhaps win the match?
Argentina 2014 World Cup Picks and Predictions
Group B should not present a single threat to Argentina. Neither three of the remaining quartet can score with the likes of the South American power as there isn't a style of play that would particularly worry head coach Alejando Sabella. Even looking ahead to a Round of 16 matchup with an Ecuador or Switzerland, it would be Argentina labeled as huge favorites to progress. Here's the Catch 22 of sorts: expectations always seem to rattle and derail this team on the big stage, notably recent results (see 2010 World Cup and 2011 Copa America). However with this summer's tournament on home continental soil, there might not be a better chance to come good and win the entire thing. How Argentina progresses this June and July is easily one of the most intriguing storylines of the tournament.
Strike Point Sports has established themselves as one of the top soccer handicappers with their success on the big tournament stage. From the 2006 World Cup, Euro 2008, 2010 World Cup and Euro 2012, SPS earned $100 clients over $8,200 in profit from these four major events. This summer's World Cup is going to be another moneymaking opportunity, and they are looking forward to their soccer selections and another winning tournament.
Visit Doc's Sports for coverage of the 2014 World Cup and more articles leading up to this summer's major soccer tournament.