Back to the Futures: Seminoles Favored to Repeat
by Ricky Dimon - 1/9/2014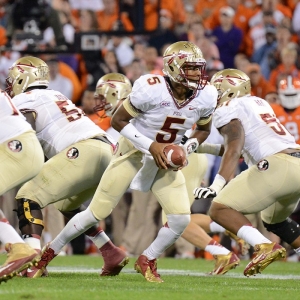 The college football season ended more than a couple of days ago, which means it's past time to start talking about next year; right? After all, the 2014-15 campaign will be bigger and better than ever with the arrival of the College Football Playoff. According to the odds, though, the more things change, the more they will stay the same.


Odds provided by Sportsbook.ag unless otherwise indicated.

2014-15 College Football FBS Championship (odds provided by Bovada Sportsbook)

Florida State (+400) – The champion Seminoles will lose their fair share of seniors and underclassmen to the NFL Draft, but Heisman Trophy winner Jameis Winston will be back for more. In the ACC, it's hard to imagine FSU losing more than one game—at most. And in the new playoff era, one loss may not be one too many.

Alabama (+650) – It was a disappointing season for Alabama. Only the final two games were losses, but the Iron Bowl sealed the deal for 2013 disappointment, and the Tide went on to get upset by Oklahoma in the Sugar Bowl. A.J. McCarron is gone, but Nick Saban never has to rebuild. He just reloads.

Oregon (+900) – The biggest coup in terms of getting a star player to stick around as opposed to bolting for the NFL came in Eugene. While the Teddy Bridgewaters and Johnny Manziels of the world left, Marcus Mariota is re-upping with the Ducks. Oregon always seems to drop a regular-season game out of nowhere, so the new playoff system should come in handy.

Ohio State (+1200) – Running back Carlos Hyde and linebacker Ryan Shazier will be playing on Sundays next season. Quarterback Braxton Miller, however, is returning to Columbus and will be one of the Heisman favorites behind Winston. Like Saban, Urban Meyer will want to bounce back from a two-game slide to end this past campaign.

Super Bowl

Denver Broncos (+250) – Beware: Denver has three losses this season, and all three have come against the other three remaining teams in the AFC playoffs. San Diego, Sunday's opponent, just upset the Broncos—in Denver—in a Thursday night Week 15 game. On the bright side, they have home-field advantage…at least until a cold-weather Super Bowl.

Seattle Seahawks (+260) – Like Denver, Seattle has shown some vulnerability at times. The Seahawks lost at San Francisco in Week 14 and suffered their first home setback of the season against Arizona on Dec. 22. Immediate good news is that Saturday's opponent, New Orleans, got humiliated 34-7 when it last ventured into Seattle for a Week 13 Monday night contest.

San Francisco 49ers (+450) – This is not your traditional wild-card team. The 49ers are positively loaded on both sides of the football. They did not exactly dominate Green Bay last weekend, but any playoff win in the Frozen Tundra over an Aaron Rodgers-led squad is something to write home about. San Fran is a road favorite at Carolina on Sunday.

New England Patriots (+750) – New England vs. Indianapolis is the only NFL quarterfinal that is not a rematch of a regular-season game. The Colts have won four in a row and have a new lease on life after coming back from 28 points down in the second half against Kansas City. However, the Patriots have home-field advantage for at least one more game.

Men's Hockey Gold Medal

Canada (+200) – Canada has won two of the last three gold medals (2002 and 2010). This year's loaded roster includes NHL stars Sidney Crosby, Rick Nash, Jonathan Toews, Patrick Sharp, and Roberto Luongo.

Russia (+200) – Russia missed the podium in each of the past two Olympics (fourth in 2006 and sixth in 2010) after capturing bronze in 2002. Alex Ovechkin is the headliner, and he will be joined by Pavel Datsyuk, Ilya Kovalchuk, and Evgeni Malkin.

Sweden (+400) – Raise your hand if you remember Sweden won gold in Turin eight years ago. The Swedes also came out on top in Lillehammer back in 1994. The squad this time around boasts Henrik Lundqvist, Daniel Alfredsson, Nicklas Bäckstrom, and the Sedin twins.

United States (+700) – Four years later, Team USA has a chance to erase the demons of a heartbreaking overtime loss to Canada in Vancouver. The Americans have finished runner-up in each of the Canadians' last two gold-medal triumphs. Patrick Kane and Zach Parise are back to lead the way.

Australian Open

Serena Williams (-150) – The world No. 1 has been dominant of late. She had a hiccup at Wimbledon last summer, but she won both the French Open and U.S. Open. Williams reasserted herself last week in Brisbane by capturing another title and beating fellow top players Maria Sharapova and Victoria Azarenka in the process.

Victoria Azarenka (+450) – If Williams has owned the women's tour recently, Azarenka has been the queen of Melbourne. The Belarusian won the Aussie Open in both 2012 and 2013. She also reached the final in each of the past two U.S. Opens. For those counting, that means she has played for the title at every one of the last four hard-court Grand Slams.

Maria Sharapova (+1000) – Sharapova has generally been playing well when healthy, but she missed all of last fall with a shoulder injury. Her last 2013 appearance came in August, when her partnership with coach Jimmy Connors lasted all of one match. The Russian fared relatively well in Brisbane with new coach Sven Groeneveld, winning three matches before losing to Williams.
Li Na (+1000) – The odds don't say it, but there's Williams, Azarenka, and Sharapova…and then there's everyone else. Still, Li cannot be discounted. She is a two-time runner-up Down Under, and among her Grand Slam results last year was a final at the Aussie and a semifinal at the U.S. Open. Li is by no means afraid of the big stage, especially not in Melbourne.
Read more articles by Ricky Dimon