Back to the Futures: Tiger Still Favored, Earnhardt Still an Underdog
by Ricky Dimon - 2/28/2014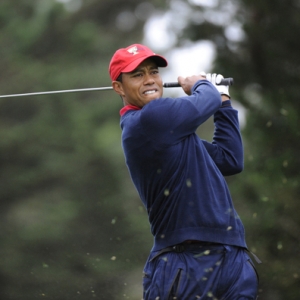 Tiger Woods' slump appears to be continuing with a slow start at the Honda Classic, but he is still a significant favorite for the upcoming Masters even though his odds to win a major this year are slipping on the whole. On the race track, Dale Earnhardt Jr. snagged a second Dayton 500 trophy last weekend, but the jury is still out on his overall 2014 prospects.

All odds provided by Sportsbook.ag

Major titles in 2014

Zero for Tiger Woods (-600) – Tiger still has not won a major since the 2008 U.S. Open. He remains the No. 1 player in the world, but his confidence has to be lacking. At 38 years old and having dealt with all kinds of injuries and off-the-course problems, Tiger simply is not the dominant performer he was in his heyday.

One for Tiger Woods (+225) – Of course, the 14-time major champion cannot be counted out. It should not be overlooked that he earned PGA Tour Player of the Year honors last season and won five times. Tiger may not have bagged one of the four big ones, but he finished fourth at the Masters and may have donned the green jacket without some spectacularly bad luck.

Zero for Phil Mickelson (-700) – Mickelson has not finished better than 19th in three completed events so far this season, and he missed the cut at Torrey Pines. His back is an issue, and being 43 years old will not help in that department. Mickelson thought about withdrawing from Phoenix a month ago, but the back at least held up enough for him to take the course.

One for Phil Mickelson (+375) – Lefty is a U.S. Open title away from completing the career grand slam. He triumphed at the British Open for the first time last summer with an absolutely unbelievable final-round 66. Mickelson is a three-time Masters winner, so he always has a decent chance of capturing at least one major in a season.

2014 Sprint Cup

Jimmie Johnson (+250) – Johnson is the defending Sprint Cup champion, and he has won the thing six times. Under the new points system, however, the late-season Chase will be a crapshoot, and it is almost guaranteed to go down to the final race. Did NASCAR Johnson-proof itself?

Matt Kenseth (+700) – The two-time Daytona 500 champion finished a respectable seventh last weekend, two spots behind Johnson. Kenseth won an outrageous seven times in 2013 and was in contention—albeit distant—going into the last race. He ultimately finished second behind Johnson.

Kyle Busch (+700) – Busch generally makes the most news with his mouth rather than his car, but he is no slouch of a driver. The No. 18 placed fourth in last year's Sprint Cup standings for its best-ever showing. Busch may be out for blood after a modest 19th-place performance at the Daytona 500.

Denny Hamlin (+800) – Hamlin tried to make a late run at Earnhardt in the Great American Race, but he had no answers and finished second behind the No. 88. Brad Keselowski, the 2012 champion, is also +800 to take home the trophy. Earnhardt, looking for his first Sprint Cup title, is +1000.

MLB regular-season home runs

Miguel Cabrera (+700) – Cabrera is always a good choice in part because of his durability. You just know the guy is going to play a full slate every season. His 148 games last year were his fewest since 2003. The undisputed best hitter in baseball, Cabrera has hit 44 homers in each of his last two campaigns with Detroit.

Chris Davis (+700) – Davis blew away the field with 53 home runs in 2013, good for a double-digit margin over Cabrera and at least 17 more than any other player. The Orioles' first baseman, however, must prove it was not a fluke. Previously he had never hit more than 33 dingers, and his third highest total is 21.

Giancarlo Stanton (+800) – Stanton went yard just 24 times last season, but he missed all of May and some of June and played in only 116 games. The right fielder's power is undeniable, but he has hit better than .262 only once in his four-year career, and his motivation level on a team as bad as Miami if often suspect at best.
Jose Bautista (+1200) – Bautista is 33 years old, but there is no reason to think he is slowing down. His .259 average last year is better than his career average and .018 points north of his 2012 mark. Bautista left the park 28 times in 118 games last season, and his two highest totals are 54 (2010) and 43 (2011).

Best Picture at the 86th Academy Awards

"Twelve Years a Slave" (-500) – Oscar-winning Best Pictures are rarely fun and games, and this one is certainly no exception. But it's hard-hitting, powerful, and a heavy favorite to prevail on Sunday night. Steve McQueen, however, is just +1000 to win Best Director.

"Gravity" (+400) – "Gravity" is at least in the discussion, and it seems to be gaining some steam. Alfonso Cuaron is an overwhelming -4000 favorite to win Best Director, so it looks like this could be a year in which picture and director awards go to different films.

"American Hustle" (+1500) – By the looks of it, there's "Twelve Years a Slave" and "Gravity" and then there's everything else. If nothing else, "American Hustle" has an epic cast. Included is Jennifer Lawrence (a +125 second choice to win Best Supporting Actress) and Amy Adams (a +2000 second choice to win Best Actress).

"The Dallas Buyers Club" (+2500) – This one is not going to take home Best Picture, but it will almost certainly be able to boast a Best Actor starting on Sunday night. Matthew McConaughey is a -500 favorite in that department, with Leonardo DiCaprio second at +350 for his performance in "The Wolf of Wall Street."

Read more articles by Ricky Dimon