Betting with The Prop Machine and Free Monday Pick
by Doc's Sports - 2/24/2014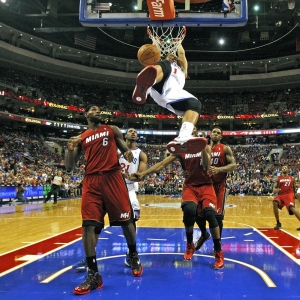 The key to successfully wagering on sports in terms of betting on a spread or a total is to gain an edge in the numbers. Unfortunately, the oddsmakers make their living by keeping their betting odds razor thin, especially when it comes to betting on NFL and NBA betting lines and totals.
What a good portion of the betting public does not know about is the value they can get from the odds the sportbooks release for any number of prop bets involving individual games for both of these sports. We have found that a good number of bettors tend to pass up these golden opportunities to make money betting on props, so Doc's Sports has partnered with The Prop Machine to get you on board with this fun and exciting way to build your bankroll.
The Prop Machine makes its living capitalizing on a multitude of bad lines that fall through the cracks when it comes to betting on individual game props. The oddsmakers base many of their odds for props on averages, while The Prop Machine focuses on current form and recent performance trends. Whenever a major discrepancy appears in the numbers (which happens on a regular basis), The Prop Machine jumps all over it.
Last Week's Results
This past week, The Prop Machine went 14-10 on all of the 24 individual NBA prop picks it released, and using Doc's Unit Betting System, it produced a return of +$1,220 on $100 wagers. It started the week with a 4-2 record on Tuesday's picks and followed that up with a stellar 4-1 mark to following day that would have provided an $1,140 return with a 4-unit play on each of the five picks.
Two of last week's winners were the correct calls on Indiana's Lance Stephenson staying "under" 14.5 points in Tuesday's 108-98 victory over Atlanta and coming right back with the under 13.5 points on Stephenson in the Pacers' 104-91 loss to Minnesota on Wednesday. He ended up scoring 13 points in the win over the Hawks, and he was held to just 10 points in the loss to the Timberwolves. This is a perfect example where recent form and individual matchups took advantage of a pair of lines that just mirrored Stephenson's 14.2 point scoring average this season.
Saturday was another big day for the Prop Machine with a 4-1 record on five released prop bet picks. One of those wins was a 4-unit play on the under 20.5 for Indiana's Roy Hibbert in terms of total points and rebounds in the Pacers' game against Milwaukee. Indiana came away with a 110-100 victory but failed to cover as a 12-point favorite on the road. Hibbert ended the night with just four points and six rebounds to easily stay under his projected total.
Future Trends
The inside scoop from The Prop Machine heading into this week's action is that Hibbert should continue to be overvalued in games at home against the Los Angeles Lakers on Tuesday and the back-end of a home-and-home series against the Bucks on Thursday night. The current trend has both Paul George and Lance Stephenson getting the majority of the touches, which has impacted Hibbert's overall numbers. Looking back at the month of February, he has only scored in double-figures in three of his last 10 games.
Monday's Free Pick
This Monday's free pick takes us to tonight's Milwaukee vs. Philadelphia game in which the Bucks have been listed as two-point road favorites in a matchup between two of the worst teams in the league. The Prop Machine is expecting a big night from 76ers point guard Michael Carter-Williams, with the "over" play on 11.5 rebounds and assists using odds provided by Bovada.
Be sure to check out The Prop Machine Insider's Page here on Doc's Sports website for a complete recap of their track record at picking props and making their clients profit.
For a free trial of The Prop Machine, simply email your Doc's username to service@docsports.com. If you do not have an existing account with Doc's Sports, you can set up a free one that comes with a $60 credit HERE.