Betting with The Prop Machine and Free Monday Pick
by Doc's Sports - 6/9/2014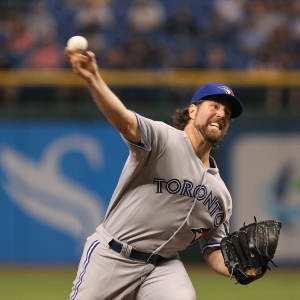 With the exception of the first two games in this year's NBA and NHL championship series, the only betting action this past week for anyone who focuses only on major American sports has been on MLB games. One of the daily opportunities that sportbooks provide when it comes to wagering on MLB are individual player props based on expected performance in any given matchup.
These player prop bets can provide a great return to your overall betting bankroll, but you better be willing to spend a substantial amount of time handicapping these type of bets. The easier way to cash in on player props is to let The Prop Machine do all the work for you. The Prop Machine has been tearing it up for years behind a proven system of uncovering bad lines that are based on overvaluing or undervaluing particular players in light of their most recent performances. The oddsmakers base their "over/under" numbers heavily on season averages, while The Prop Machine focuses in on a player's current form.
The proof is in the results, but you have to be willing to go along for the whole ride by betting every selection using Doc's Sports Unit Betting System as your guide. The $100 bettor that has done that over the past year has collected over $38,000 from The Prop Machine's winning picks. Last year's college football and NFL season provided a return of $27,000, and The Prop Machine made over $11,000 during the recent 2013-14 NBA season.
Last Week's Results
It was a light week in released selections for The Prop Machine last week, and while it finished with an even 3-3 record overall, the loss on the vig totaled $380. This followed a healthy return of $2,200 for $100 bettors the week before on a record of 7-3.
The big moneymaker in MLB games this season has been the play on "under 2" when it comes to a player's combined hits, runs and RBI in any particular game. The Prop Machine has released 14 selections this season using this prop, and the return for $100 bettor following the unit play has been +$4,680 on a sterling record of 13-1.
Future Trends
There is a certain level of predictability in MLB matchups between one team's top hitter and the opposing team's starting pitcher if you learn how to pay close attention to the numbers. This week The Prop Machine has zeroed in on Houston Astros' second baseman Jose Altuve.
Through 64 games, he leads the majors with a 1.688 OPS in plate appearances that have ended with a curveball. This Monday night he faces Arizona starter Bronson Arroyo, who is allowing a 1.114 OPS this season in plate appearances that end with one of his curveballs. It's this type of subtle stat in a matchup that can swing the prop bet odds for either player in your favor.
The Prop Machine Free Pick
The Prop Machine struck gold with last Tuesday's free pick by going with a 4-Unit play on the "over 5.5 strikeouts" (-115 Sportsbook.ag) on Tampa Bay starter Chris Archer in the Rays' 1-0 loss to Miami. Archer still got tagged with the loss, but in seven full innings of work he fanned eight batters to easily cover the number.
The correct pick raised the The Prop Machine's record to 7-3 in its last 10 free picks for this article. This equates to a $1,480 return for the $100 bettor following Doc's Unit Betting System. This week's free pick by The Prop Machine is the"under 5.5 strikeouts" (-115 Bovada.lv) for Toronto starter RA c in Monday night's series opener at home against Minnesota.
Be sure to check out The Prop Machine Insider's Page here on Doc's Sports website for a complete recap of their track record at picking props and making their clients profit.
For a free trial of The Prop Machine, simply email your Doc's username to service@docsports.com. If you do not have an existing account with Doc's Sports, you can set up a free one that comes with a $60 credit here. Also, be sure to follow The Prop Machine on Twitter @propmachine1 for updated free picks and breaking news.