Betting with The Prop Machine and Free Monday Pick
by Doc's Sports - 3/24/2014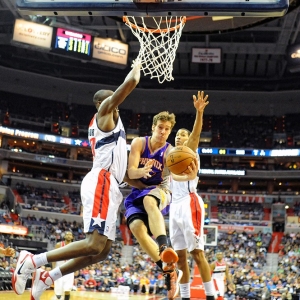 Anyone who has already been betting with The Prop Machine is well aware of the ebbs and tides that wagering on individual player props brings to the table. Sometimes a player gets incredible hot or cold, and you can make quite of bit of money riding that trend. Sometimes players snap out of funks with a couple of unexpected big nights, and sometimes they fall flat on their face with a couple dismal performances that are well below their expected season totals.
That is what makes player props so hard to bet on unless you have the proven success of The Prop Machine on your side. The once constant throughout this entire NBA season is a positive return on your investment when you are using Doc's Sports Services Unit Betting System in conjunction with The Prop Machine's weekly selections. The Prop Machine has hit on 60 percent of its NBA picks this season, and over the course of the past year in both the NFL and the NBA, the overall return has been over $41,000.
Last Week's Results
Two weeks ago The Prop Machine burned it up with an overall record of 14-4 and a return of $3,740 for $100 bettors. As was the case with a couple of favorites in this year's NCAA Tournament, the results did not live up to expectations with last week's picks. The Prop Machine went 8-9 with its NBA picks which cost bettors $1,260 on a $100 wager. The net effect is still a healthy $2,480 return in the bankroll over the two-week period.
Going back over the month of March, The Prop Machine's winning percentage has risen to 65 percent, so the confidence level for a big bounce-back this week remains high. As mentioned above, it can be quite a ride betting on player props, but as long has the highs stay high and the lows quickly come and go, the overall profit that The Prop Machine can provide will keep you far ahead of the curve.
After a slow start to the week on limited picks, The Prop Machine went all-in last Saturday with seven selections. The next result was a 3-4 record, including a split on a pair of bets on Paul George's performance in Indiana's unexpected 82-71 loss to Memphis. He ended the game with just eight points, six rebounds and one assist while going 2-for-10 from the field, 3-for-4 from the foul line and 1-for-2 from 3-point range. While it cashed in for $400 on the "under" on free throws at 5.5, it lost $640 on the "over" on made 3-point shots at 1.5. That just goes to show that sometimes one player's stats can have a huge impact on the overall day's return.
Future Trends
Staying with the Indiana Pacers for possible future trends, the player in this week's spotlight could be Lance Stephenson. The team's current form is probably the worst it has been all season long with one inconsistent performance after another. Through it all, Stephenson is the one player has been able to step up his game. He scored a team-high 15 points in Saturday's losing effort while adding eight rebounds and four assists.
The Pacers will play the back end of a home-and-home series against Chicago on Monday night before travelling to Miami on Wednesday night for a huge showdown against the Heat. Following that game, Indiana will stay on the road to play Washington on Friday night. Stephenson could be the key to turning things around for both the Pacers and The Prop Machine depending on his prop bet odds for all three of those games.
Free Monday Pick
The Prop Machine went with the "under 18.5 points" on Atlanta's Paul Millsap for last Monday's free pick, and he lit it up with 28 points in the Hawks' 97-83 victory over Charlotte. His average points per game are 17.9, so it is safe to say he had one of those unexpected big nights we already talked about.
This Monday's free prop bet pick from The Prop Machine is the "under 19.5" (-115, Sportsbook.ag) on Suns' guard Goran Dragic's total points in a game against Atlanta. He is averaging 20.3 PPG this season.
Be sure to check out The Prop Machine Insider's Page here on Doc's Sports website for a complete recap of their track record at picking props and making their clients profit.
For a free trial of The Prop Machine, simply email your Doc's username to service@docsports.com. If you do not have an existing account with Doc's Sports, you can set up a free one that comes with a $60 credit HERE.