Betting with The Prop Machine and Free Thursday Pick
by Doc's Sports - 8/14/2014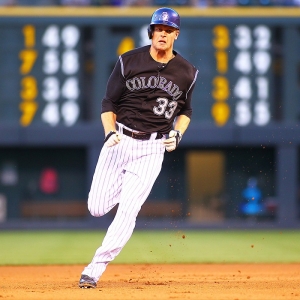 The MLB regular season is in the stretch run, and the NFL Preseason is on to Week 2. In just two weeks a new season of college football with get underway, making this one of the best times of the year expand your overall strategy for betting on these sports.
One way to enhance your return on investment is wagering on some of the individual player props that the sportsbooks release on a regular basis for all the major sports. While going it alone with these types of prop bets is a risky proposition to say the least, jumping onto The Prop Machine's bandwagon ensures a smooth ride to increased profits.
The proof is in the numbers. The Prop Machine has been releasing selection packages for player props for the past six years, and it has yet to post a losing season. Just this past football season in both the NFL and college games, the overall return on all the selections was over $27,000. This past NBA season The Prop Machine returned over $11,000 profit to its loyal customers. When you add in the $2,600 it is up this MLB season so far, the overall return is over an incredible $42,000.
Please keep in mind that this is not a get-rich-quick scheme as you have to be committed to following Doc's Sports Unit Betting System for each and every one of The Prop Machine's selections it releases to enjoy this kind of return.
The key to The Prop Machine's long-term success at picking player props is knowing who is being overvalued by the oddsmakers and which player's value is not nearly high enough. There are numerous gaps between past performance and current form that never get accounted for when these betting prop odds are released. The result is numerous bad lines that The Prop Machine has made a fortune cashing in on.
Last Week's Results
One of the biggest money-makers this MLB season has been the "under 2" play on a player's total hits, runs and RBI in any particular game. Through last weekend's games, The Prop Machine has gone 25-5 on these selections for a return of $7,460.
This past week it turned most of its attention to the over and under on a starter's total number of strikeouts. The end result was 5-2 record on seven selections. If a $100 bettor went with the recommended unit play on all seven of these picks they would have walked away with a profit of $960.
Recent Trends
Recent trends are often times a valuable gateway to future results. The Prop Machine has made an art and a science of studying tendencies, especially has they pertain to MLB starting pitchers and the types of pitches they throw. These tendencies can then be matched up against the batting lineup they will face in their next start to help handicap an actual outcome. This type of deep analysis can be extremely time consuming, but the return on investment is well worth the effort.
For example, Kansas City pitcher Jake Odorizzi has recorded strikes on 22.1 percent of swings taken against his fastball this season. This is the second-highest rate among pitchers who have thrown at least 1,000 fastballs.
A good example of a hitting trend is with Texas outfielder Shin-Soo Choo. He has missed on 20.4 percent of swings he's taken against fastballs this season, which is the 24th-highest among 153 qualified hitters.
The Prop Machine Free Pick
The Prop Machine has been releasing one free selection for Doc's Sports readers since this weekly piece started, and for anyone who has been taking full advantage of these picks with the recommended unit play has been cleaning up. Over the past 16 weeks the overall record on these free picks is 12-3-1 for a profitable return of $3,480 on a $100 wager using Doc's Unit Betting System.
Last Monday night The Prop Machine went with Cleveland starter Corey Kluber -3 in total strikeouts in a head-to-head matchup against Cincinnati starter Alfredo Simon. This one was not even close with Kluber fanning seven in the Indians' 7-1 victory. Simon ended his night with just one strikeout in five innings of work.
This week, The Prop Machine has turned its attention to Thursday's MLB player props with a 4-Unit selection on the most hits, runs and RBIs for Colorado's Justin Morneau in a head-to-head matchup against Cincinnati's Jay Bruce (-150 Bovada).
Be sure to check out The Prop Machine Insider's Page here on Doc's Sports website for a complete recap of their track record at picking props and making their clients profit.
For a free trial of The Prop Machine, simply email your Doc's username to service@docsports.com. If you do not have an existing account with Doc's Sports, you can set up a free one that comes with a $60 credit here. Also, be sure to follow The Prop Machine on Twitter @propmachine1 for updated free picks and breaking news.