Brazil Odds to Win 2014 World Cup with Picks and Predictions
by Strike Point Sports - 3/10/2014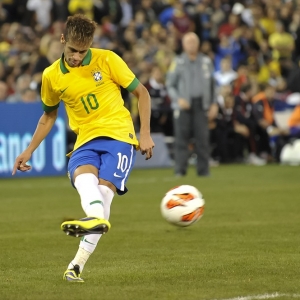 2014 Brazil Odds to Win the World Cup
Brazil are +300 to win the World Cup. They are consensus favorites at -400 to win Group A and -1900 to qualify for the knockout round.
Brazil World Cup Group Play Schedule
Brazil vs. Croatia - Thursday, June 12 (4 p.m. EST in Sao Paulo)
Brazil vs. Mexico - Tuesday, June 17 (3 p.m. EST in Fortaleza)
Brazil vs. Cameroon - Monday, June 23 (4 p.m. EST in Brasilia)
Brazil World Cup 2014 Team Analysis
Youth will carry them. Manager Luiz Felipe Scolari has done an impressive job shaping his unit over the past few years, with this summer's World Cup as the end result. This is his second stint as the Brazilian manager, the first being a hit success in the form of winning the 2002 World Cup. Scolari has guided Brazil to a 20-4-2 record heading into his squad's final two friendly matches in early June prior to the start of the tournament.
Of the current 22-man roster, 10 players are 26 years or younger. Neymar is the star that shines brightest. But if you ask which is the most important part of this unit, I say it's the midfield. The Chelsea trio of Oscar, Ramires and William has soared both on the national stage and in London at the club level for Jose Mourinho. These three are imperative to building Brazil's attack and creating opportunities going forward from the middle of the pitch, not just for Neymar but more especially strikers like Jo, Fred and Hulk, three skilled finishers who require more service to finish in the final third.
Defensively, Brazil always employs a back four that pushes forward with its wingbacks to compliment the central attackers. Marcelo and Dante look to play those roles out wide. However, veteran Dani Alves has been doing the same for club team Barcelona for years, and his experience will be important just as much as providing cover and depth for the defensive group. Captain Thiago Silva is as strong a central defender as there is currently in the world. Silva will likely partner with David Luiz to form the middle of back line, and he is the backbone of this team and an unparalleled leader of the group.
Brazil World Cup 2014 Tournament Picks and Predictions
As hosts, Brazil had to be thrilled with their initial group draw. Group A appears routine with the likes of Mexico, Cameroon and Croatia, and they'll do well to seemingly leave the rest fighting for second place. However if you want to forecast to the Round of 16, Brazil could potentially draw either Spain or Netherlands, which would be just the opposite and a pain in the rear considering who other group winners could hypothetically face in the first elimination round. Nonetheless, with their home country on their back supporting and a host of confident youngsters ready for the big stage, Brazil would undoubtedly be seen as a favorite against either. As a whole it would be a disappointment for the host country to not appear in the Final in Rio de Janeiro on July 13. Oddsmakers have agreed by labeling Brazil the consensus tournament favorite, and I would personally consider it an upset for this talented and boisterous core of footballers not to be playing to lift the gold towards the latter stages of this world football event.
Strike Point Sports has established themselves as one of the top soccer handicappers with their success on the big tournament stage. From the 2006 World Cup, Euro 2008, 2010 World Cup and Euro 2012, SPS earned $100 clients over $8,200 in profit from these four major events. This summer's World Cup is going to be another moneymaking opportunity, and they are looking forward to their soccer selections and another winning tournament.
Visit Doc's Sports for coverage of the 2014 World Cup and more articles leading up to this summer's major soccer tournament.