Case of the Mondays: Duke Down to No. 3, SMU Down and Out
by Ricky Dimon - 3/17/2014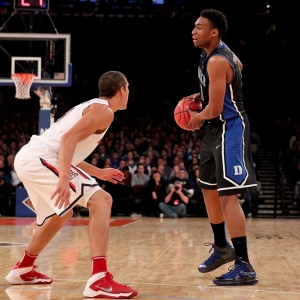 Selection Sunday has come and gone, leaving a field of 68 teams for the 2014 NCAA Tournament. Bubbles burst for an unlucky bunch that includes Southern Methodist, while other squads were either dealt bad draws (Wichita State) or unexpected seeds (Louisville).

Odds provided by Sportsbook.ag unless otherwise indicated.

Duke. The ACC Tournament was Duke's personal playground from 1999 through 2011. The Blue Devils won it 10 times in that 13-year span. Now, however, they have gone three straight seasons without lifting the conference trophy. Virginia, which also captured the regular-season crown, beat Duke 72-63 on Sunday afternoon. The Devils had been in remote contention for a No. 1 seed in the NCAA Tournament but instead they settled for a No. 3. It was UVA that snagged the fourth and final top seed. Duke is a -13.5 favorite over Mercer on Friday, and it is +1800 to win the National Championship.

SMU. Head coach Larry Brown and his resurgent SMU program will not be a part of this year's Big Dance. The Mustangs compiled a 25-9 record, but they stumbled down the stretch and are in the midst of a three-game losing streak. Brown's squad is the No. 1 overall seed in the NIT for its first appearance in that event since 2000. N.C. State, perhaps the last team to get in the field at SMU's expense, is a +1.5 underdog against Xavier in a "first"-round game on Tuesday.

Arizona Diamondbacks. Dr. James Andrews and Tommy John are two names that have been in the news way too often during Major League Baseball's Spring Training. Arizona is not immune. Starting pitcher Patrick Corbin has a partially torn ulnar collateral ligament and will likely require Tommy John surgery that would sideline him for the entire season. The 24-year-old southpaw went 14-8 with a 3.41 E.R.A last year. The Diamondbacks are +1200 to win the NL West title; the Dodgers are -280 favorites.

Philadelphia 76ers. Twenty and counting. That's where the current streak of futility stands for Philadelphia. The Sixers (15-51) lost their 20th game in a row over the weekend as they got blown out at home 103-77 by Memphis. It ties the franchise record, which was previously set in January and February of 1973. The NBA's all-time record for consecutive losses is 26, set by the 2010-11 Cleveland Cavaliers. Despite having not won a game since Jan. 29, Philly is actually not the worst team in the league. That distinction belongs to Milwaukee, which is 13-54. The 76ers are +20 road underdogs against Indiana on Monday.
Rafael Nadal. Nadal reached the final in his first three events of this season and won two of those three titles, but the hot stretch came to end last week at the BNP Paribas Open. The Spaniard lost in the third round to Alexandr Dolgopolov in a third-set tiebreaker. Nadal still sits comfortably atop the rankings, but he lost plenty of points as the defending champion. No. 2 Novak Djokovic made a push by eventually winning the tournament over Roger Federer on Sunday. Nadal is a -135 favorite to win the French Open later this spring, per Bovada Sportsbook.

Dale Earnhardt Jr. Earnhardt Jr. won the Daytona 500 and finished second in his next two races. On Sunday in Bristol, however, the No. 88 car dealt with engine trouble and crossed the line in 24th. But it was an even worse day at the office for whoever was in control of the caution lights. With two laps remaining, someone leaned on a button that triggered a caution. The race may have had time to conclude without the inadvertent delay, but rain came moments with the race still in progress and thus it had to finish under another caution. Carl Edwards captured the checkered flag. Edwards is +1500 to win the Sprint Cup title; Jimmie Johnson is a +250 favorite.

John Daly. You know it's a high number when Daly shoots a career-worst round. That's what happened at the Valspar Championship last Friday. He endured four holes with a double-bogey or worse, including a 12 on the par-4 16th. With nothing better than par in his 18 holes, the end result was a 19-over 90 and a total of 22-over 164 for two days. Needless to say, Daly finished in last place among players who missed the cut (not counting two who withdrew). Luke Donald finished T-4 and is +6000 to win next month's Masters.

Manchester United. Man U's English Premier League struggles continued on Sunday with a 3-0 loss to Liverpool at Old Trafford. Liverpool's first two goals came via Steven Gerrard penalty kicks, and the margin could have been 4-0 but Gerrard missed his third PK chance in the 78th minute. The Red Devils, who also lost 2-0 in the first leg of their Champions League round-of-16 matchup with Olympiakos on Feb. 25, are a whopping 18 points behind Chelsea on the Premier League table. Manchester United is a -149 favorite over West Ham on Saturday.
Read more articles by Ricky Dimon