Case of the Mondays: Dark Day for Top College Teams, Darker Day for Detroit
by Ricky Dimon - 10/6/2014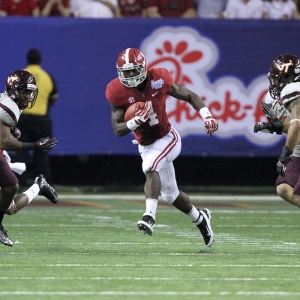 Oregon. Alabama. Oklahoma. Texas A&M. All four teams were in the Top 6 of the AP poll heading into last week's games. None of the four teams is currently in the Top 6. That's because all four went down during what was a historically wild week of action on the college gridiron. Speaking of wild, the wild-card Royals swept the Angels and are joined in the ALCS by the Orioles—who contributed to a wretched Sunday of sports in Detroit.

Odds provided by Sportsbook.ag unless otherwise indicated.

Top six teams . Week 6 was a brutal one for the Top 6. So brutal, in fact, that nothing so bad had happened to so many good teams since 1990. That was the last time four teams in the Top 6 of the AP poll lost in the same week. It all started this time around when Oregon fell 31-24 at home to Arizona last Thursday night. Texas A&M continued the trend early Saturday afternoon by getting blown out 48-31 at Mississippi State. Then Alabama and Oklahoma lost within minutes of each other; the Tide 23-17 at Ole Miss and the Sooners 37-33 at TCU. Oregon and Texas A&M dropped completely out of the Top 10 in both the AP and USA Today polls. Mississippi State and Ole Miss surged into the Top 6 in both polls. Alabama is down to the fifth choice at +900 to win the National Championship; Florida State is a +550 favorite.

Brady Hoke . Just when you thought it couldn't get any worse for Michigan and its head coach…. Well, it didn't. In late September, Michigan lost 30-14 at home to Minnesota and embroiled itself in controversy by briefly leaving quarterback Shane Morris in the game despite obvious signs of concussion-like symptoms. Saturday featured nothing more than another loss, something to which the Wolverines are far too accustomed. Their 26-24 setback at Rutgers was their third in a row and fourth in the last five games. At least Michigan (2-4) was competitive, and it may have won the game if not for a controversial call during a potential game-winning drive late in the fourth quarter. That's just how things are going for Hoke and company these days.UM is a -1 home favorite over Penn State this week, per BookMaker.

Geno Smith . More than a few folks thought it was only a matter of time for Smith to get benched in favor of Michael Vick. For them, the question was not if but when. The answer was the second half of Sunday's game between the Jets and Chargers. The change had no impact on the outcome, however, because visiting New York scored zero points before halftime and zero more points after halftime in a 31-0 loss to San Diego. Smith was 4-for-12 with 27 yards and an interception before getting the boot. Head coach Rex Ryan said afterward that the second-year quarterback would retain his starting job heading into Week 6. Of course, being the starter on that team may or may not be a good thing. The Jets are +9 home underdogs coming up against Denver.

Detroit . The Tigers' ouster from the playoffs had an air of inevitably to it after a pair of tough series-opening losses at Baltimore. Still, Detroit sports fans at least had reason to hope they would do no worse than a split of the Tigers and Lions games on Sunday. Instead, the Lions blew a 14-0 lead at home against Buffalo to lose 17-14. In that contest, Alex Henery of Detroit missed his third field goal of the game with 26 seconds remaining, and the Bills' Dan Carpenter nailed his game-winning attempt less than 20 seconds later. As for the Tigers, they completed a disastrous day in the Motor City by getting swept by the Orioles following a 2-1 loss. Baltimore is a -145 favorite to win the ALCS.

Arsenel Wenger . Sunday's Premier League showdown between Arsenal and Chelsea was a critical swing game. Trailing Chelsea by six points on the table, Arsenal had a chance to cut the deficit in half—or see it extend to nine. The latter is what happened as the Gunners went down 2-0 at Stamford Bridge. Wenger, the Arsenal manager, also had a heated exchange with longtime rival Jose Mourinho, the Chelsea boss. According to Wegner, he gave Mourinho "a little push." That's exactly what the Gunners need, because they are tied for seventh in the EPL with 10 points. Chelsea's 19 points have it in first place, five points clear of Manchester City. Chelsea is a -200 favorite to win the EPL; Arsenal is +1800.

Dale Earnhardt, Jr. Four more drivers will be eliminated from the reformatted Chase for the Sprint Cup after the current pod of three races, the first of which took place on Sunday in Kansas City. Earnhardt was enjoying his best performance of the Chase—by far—before a tire problem crept up and ruined his day while he was leading. The No. 88 car promptly wrecked and finished 39th. Other notable drivers who took a hit in their bids to reach the next round were Jimmie Johnson (wreck, 40th), Brad Keselowski (tire problem, 36th), and Kasey Kahne (tire problem, 22nd). Earnhardt and the rest of that group will need to rebound in at least one of the next two races to advance. Joey Logano, meanwhile, triumphed in Kansas City and is automatically through to the next stage. Logano and Jeff Gordon are +300 co-favorites to win the Sprint Cup.

Nick Young . Bad news during the offseason—especially so close to the regular campaign—is not what the Los Angeles Lakers need as they hope to bounce back from their disastrous fortunes in 2013-14. Without injured star Kobe Bryant most of the year, the Lakers stumbled to a 27-55 record. Now they have learned that they will likely be without Young for the start of this season. The seventh-year man out of Southern California suffered a complete tear of the radial collateral ligament in his right thumb while guarding Kobe during practice last Thursday. Young's agent says the small forward will be sidelined for six to eight weeks. Young averaged a career-high 17.9 points per game last season. The Lakers' "over/under" win total is 31.5 games.
Read more articles by Ricky Dimon