Case of the Mondays: NFC South, Where Byes Vault you Up the Standings
by Ricky Dimon - 10/20/2014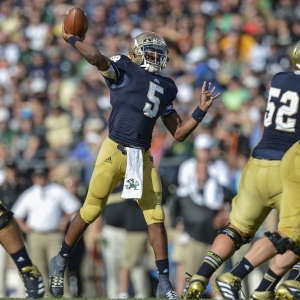 Some teams suffered heartbreakers on the gridiron over the weekend. Among them were the Notre Dame Fighting Irish and New Orleans Saints. Others just got plain blown out, like the Atlanta Falcons and Carolina Panthers. Yes, the lowly Tampa Bay Bucs gained ground in their division on three of the aforementioned squads simply by not playing. Meanwhile, two teams on opposite ends of the country and in different sports are dealing with a plethora of injury problems.

Odds provided by Sportsbook.ag unless otherwise indicated .

Notre Dame . It's hard to say whose idea it was for Notre Dame receivers C.J. Prosise and Will Fuller to act like they were partaking in WWE's Monday Night Raw instead of in an NCAA football game while the Fighting Irish went in for an apparent go-ahead score against Florida State on Saturday night. Whoever's it was, it wasn't a good one. The result was an offensive pass interference call that took away the touchdown and pushed Notre Dame back from FSU's two-yard line to the 18. Everett Golson and company never had a chance of converting the ensuing fourth-down attempt, and the Seminoles held on for a 31-27 victory. It was a brutal loss for the Golden Domers, but they are still a respectable seventh in the AP poll. Florida State is +750 to win the National Championship.

NFC South . Just how pathetic is the NFC South? As if the eye test is not enough (and anyone who has watched much of the Panthers, Saints, Falcons, and Bucs-especially on Sunday-knows the eye test is bad), the numbers confirm it. It's pathetic. The four teams are a combined 4-13-1 against non-division opponents. Carolina got blown out 38-17 at Green Bay (38-3 going into the fourth quarter), New Orleans gave up two touchdowns in the last four minutes in a 24-23 loss at Green Bay, and Atlanta was anemic in a 29-7 humiliation at Baltimore. The Panthers are 3-3-1 and winning the division. The Falcons are +4 underdogs in London against Detroit in Week 8.

C.J. Spiller . The Buffalo Bills posted one of Sunday's most dramatic wins as they overcame Minnesota 17-16 after Kyle Orton threw a touchdown pass to Sammy Watkins with five seconds left. So what's the matter? Well, a lot actually-for both Spiller and the Bills. The former Clemson star suffered a broken collarbone at the end of a 53-yard run and is expected to miss the rest of the season. Fellow running Fred Jackson injured his groin and could miss up to four weeks. Open backfield tryouts in Buffalo, anyone? The Bills are +1000 to win the AFC East; New England is -900.

St. Louis Cardinals . Normally the loss of a series in just five games is not particularly heartbreaking, but St. Louis could not have had more chances in the NLCS against San Francisco. The Cards lost Game 3 on a 10th-inning error, blew a 4-1 lead in Game 4, and led 3-2 going into the bottom of the eighth in Game 5 before giving up tying and walk-off homers. On the bright side for St. Louis sports fans, their NFL team pulled off an absolute epic win on Sunday. They did not just upset the defending Super Bowl champions; they stunned the Seahawks 28-26 thanks mostly to two special-teams plays that had to be seen to be believed. The Giants and Royals are both -105 to win the World Series.

L.A. Lakers . Death, taxes, and the Lakers struggling with injury problems…. Fortunately, their current issues do not involve Kobe Bryant. Steve Nash is still dealing with a bad back, Nick Young has an injured thumb, Xavier Henry is getting a second opinion on his knee, Ryan Kelly's hamstring is acting up, and Jeremy Lin missed Sunday's preseason game against Utah due to a sprained ankle. Only Young, however, is guaranteed to miss time during the regular season. Kobe is +6000 to win NBA MVP; LeBron James is a +110 favorite.

Queens Park Rangers . Generally a loss to Liverpool is not particularly bad given that the Reds finished a close second behind Manchester City in last season's English Premier League standings and are currently a respectable fifth through eight matches. Sunday's 3-2 setback, however, is not one that QPR will easily get over. Tied for last on the EPL table with Burnley and in obvious danger of relegation, the Rangers had a golden chance to earn three surprising points with an upset of Liverpool. The ball found the back of the nets five times during the match, four times thanks to Queens Park players. But two of those were own goals-including the game-winner for Liverpool in the fifth minute of stoppage time. The score was tied 0-0 after 66 minutes and was 1-0 Liverpool after 86 minutes before absolute pandemonium ensued over the final 10 minutes. Chelsea is -200 at Bovada Sportsbook to win the Premier League title.

Kyle Busch . Nobody could have been too pleased with Sunday's result at Talladega because the man everyone loves to hate right now took home the checkered flag. Brad Keselowski, who was at the epicenter of a major dustup the previous week in Charlotte, not only won but also earned himself a spot in the eliminator round of the Chase for the Sprint Cup. Count Busch among those who did not advance. His championship hopes were dashed along with those of Jimmie Johnson and Dale Earnhardt Jr. Busch had been in good shape heading into the Geico 500, but he wrecked early after being hit from behind by Austin Dillon and finished 40th. ""We are destroyed," Busch said. "We are absolutely killed. We are done."



Read more articles by Ricky Dimon