Case of the Mondays: Bubba Blitzes the Field
by Ricky Dimon - 4/14/2014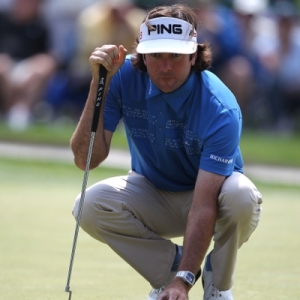 Bubba Watson did not exactly run away with the Masters, but that was as close to a dominant performance you were going to get without Tiger Woods in the field. In comparison with Bubba's previous win at Augusta National in 2012, this was a royal butt-kicking. While the former University of Georgia standout put on a second green jacket, the rest of the best golfers in the world were stewing on what could have been in a tournament that was without both Tiger and Phil Mickelson during the weekend.

All odds provided by Sportsbook.ag

Matt Kuchar . It was Jordan Spieth who came the closest at Augusta National without winning, but it was Kuchar who may be feeling the worst. The Georgia Tech alum has to be right up there in discussion of best players never to win a major. Kuchar has six top-10 finishes, all since the start of the 2010 season. He has top-8 finishes at each of the last three Masters. He also had chances to win the two weeks leading up to this Masters, a stretch that included a blown four-shot lead on Sunday in Houston. He was briefly tied for the lead in the final round in Augusta, but a four-putt on the fourth hole began a downward spiral. Kuchar is still in his prime, but he better get going soon at 35. Spieth, by comparison, is 20. Kuchar will likely be favored at this week's RBC Heritage at Harbour Town, but odds have not yet been revealed.

New York Knicks . You have to be pretty bad to miss the playoffs in the Eastern Conference. Well, the Knicks are pretty bad. They are 35-45 and were eliminated from postseason contention when Atlanta hammered Miami 98-85 on Saturday. New York has at least won two games in a row, but the Hawks' three-game winning streak booked their spot in the eight-team East field despite a modest 37-43 record. This is a considerable step back for the Knicks, who advanced one round in last year's playoffs and have now missed the postseason for the first time since 2010. Miami is -180 to win the Eastern Conference and +190 to win a third straight NBA Championship.

Instant replay . It was a bad series in the Bronx for the Red Sox, who lost three of four games to their arch rivals. But it was a positively disastrous series for instant replay. On Saturday, New York's Dean Anna was called safe at second but appeared to come off the base while Xander Bogaerts was still applying the tag. The call stood, but Major League Baseball later announced that it should have been overturned. In Sunday's contest, Francisco Cervelli of the Yankees grounded into an inning-ending double play, but manager Joe Girardi challenged and Cervelli was called safe at first. A run scored from third on the overturned play, and New York eventually won 3-2. Boston's John Farrell promptly became the first manager to be ejected for arguing a replay. The Red Sox are +700 to win the American League Pennant; the Yankees are +800. Detroit is a +250 favorite.

Ryan Zimmerman . If the Red Sox thought they had it bad last weekend, they need to look no further than the Nationals to feel just a little bit better about themselves. Washington got swept in Atlanta and fell to 1-5 against the Braves this season and 7-22 in their last 29 games against its biggest rival. Adding insult to injury, or vice versa, during Saturday's contest Ryan Zimmerman suffered a broken thumb while being picked off a second base with two outs and a man also on third. The Nationals' third baseman is expected to be sidelined 4-6 weeks. Washington is a -150 favorite to win the NL East; Atlanta is +140.
Aldon Smith . Smith has had his fair share of off-the-field issues, but he took it to a whole 'nother level on Sunday. San Francisco's stud defensive end was arrested at Los Angeles International Airport after indicating he had a bomb. Smith was going through Terminal 1 screening and had been randomly selected for secondary screening when he reportedly became uncooperative with a TSA agent. In the relatively hallowed lore of airport incidents, this may even surpass Michael Vick's marijuana-hiding water bottle and Onterrio Smith's "Whizzinator." The 49ers are +800 to win the Super Bowl; Seattle and Denver are +600 co-favorites.

Phoenix Coyotes . Phoenix finally won a game on Sunday, but it was too little, too late. The Coyotes had previously lost seven in a row, six of which came while they were still in playoff contention. Prior to that, they had won five of seven games, positioning themselves for the final postseason spot in the Western Conference ahead of Dallas. The Stars clinched with a win on Friday before Phoenix lost one more game for good measure on Saturday to cap off its season-crushing slide. Chicago, Colorado, and St. Louis are +350 co-favorites to win the West.


Manchester City . Man City has been favored from just about start to finish this season to capture the English Premier League title. That is no longer the case. Rival Manchester United (seventh place at 17-10-6) has certainly been doing its best to hand the trophy to its rival, but the Sky Blues have not helped themselves. They lost 3-2 to first-place Liverpool on Sunday and are now seven points back on the EPL table. Second-place Chelsea has 75 points, two back of Liverpool and five clear of Manchester City. Liverpool is a -125 favorite to bag the title; City is +220 and Chelsea is +450.
Read more articles by Ricky Dimon