Cristiano Ronaldo Odds for Golden Boot Top Goal Scorer at 2014 World Cup
by Trevor Whenham - 3/13/2014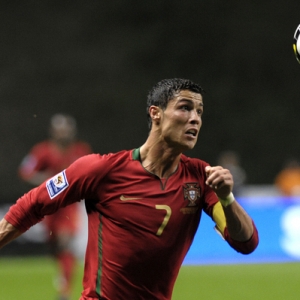 What stands out the most when you look at the career of Portuguese superstar Cristiano Ronaldo is the time he has spent at the top of the game. He has won the Ballon d'Or, awarded to the top player in the world, twice. That's not unprecedented by itself - Lionel Messi has won four in a row. What's striking, though, is that he won in 2008 and again in 2013. He was also the runner-up in both 2011 and 2012. That's a long time for a player to have been playing at such a high level. To put it succinctly, the guy is very good at soccer - and he is playing at a very high level this year as well. But, is he playing well enough to top the World Cup in scoring and win the coveted Golden Boot award?
Cristiano Ronaldo 2014 FIFA World Cup Golden Boot Top Goal Scorer Storylines
You certainly can't accuse Ronaldo of not being clutch. In fact, he is pretty much the only reason that his team is in this tournament. They finished second in their qualifying group behind Russia, so they were forced to play a two-game total points playoff against Sweden. Portugal won that playoff 4-2. Ronaldo scored all four goals. He wasn't consistently strong in qualifying, though. He only had four goals in the 10 qualifying games leading up to that playoff, and three came in one game against Northern Ireland.
Ronaldo has no shortage of major international experience. He has more than 100 caps, and he is the all-time leading scorer for the country. His first major tournament came when he was 19 in 2004. He scored twice. He scored seven times in qualifying for the 2006 World Cup, but he had just one goal in the tournament. Maintaining a pattern, he scored once at Euro 2008 and once at the 2010 World Cup. He doubled that total at Euro 2012, but the fact remains that he does not have a breakout goal scoring performance at a major international event. If he were to lead scoring here it would be contrary to a pretty well-established trend.
To become the leading scorer, a player needs to play a lot of games. It's far from certain that that will be the case for Portugal. They play in a brutal group, having to vie with Germany, the United States and Ghana for a berth in the second round. They are my pick to advance in the second spot out of that group, but I would be far from shocked if they failed to advance. They are also going to struggle to score goals against Germany. If they were to finish second then they could run into a tough Belgium team in the round of 16 and then Argentina in the quarterfinals. Brutal, brutal games. The path is only slightly easier if they won the group - they would face two brutal games before running into Brazil in the semifinals. Add it all up, and it seems very unlikely that Portugal has a deep run in them. That will limit the chances Ronaldo has to score.
Cristiano Ronaldo 2014 World Cup Golden Boot Top Goal Scorer Betting Odds and Key Stats
Cristiano Ronaldo is the third choice to be the top goal scorer at +1200, according to Bovada. He trails only Lionel Messi of Argentina - the other player along with Ronaldo in the discussion for top player of his generation - and Brazil's Neymar.
While his international goal scoring hasn't been stellar at major tournaments, Ronaldo is still playing at an exceptionally high level in club play. In 35 appearances for Real Madrid this year he has 38 goals. That's an impressive rate of 1.09 goals per game - tied with the 2011-12 record for the best of his career.
Cristiano Ronaldo 2014 FIFA World Cup Golden Boot Top Goal Scorer Picks and Predictions
This is a clear example of where the public perception of a superstar drives the odds, even when they aren't warranted by the facts. Cristiano Ronaldo is a truly exceptional player, and he will be key to Portugal's success. The team is in a very tough spot, though, and he has not been at his best in major international tournaments - at least in terms of goal production. At this price there is absolutely no value. This is far from an attractive bet. I would be very surprised if Cristiano Ronaldo were to lead the tournament in goal scoring. Shocked.
Doc's Sports has established ourselves as the best in the business for well over 40 years. We want you to see why! That is why new clients can get $60 worth of member's picks free by clicking this link for a no-hassle signup.
Read more articles by Trevor Whenham