Football Odds Weekly Report on Most Significant Line Moves
by Aaron Smith - 12/11/2014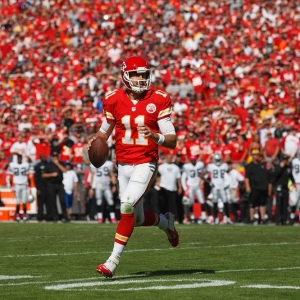 The college football regular season is completely over, and there is plenty of controversy surrounding the College Football Playoff Rankings for year one. Both TCU and Baylor were left empty handed as Ohio State slid into the fourth spot of the rankings. The bowl games don't get underway until next weekend, so the Army vs. Navy classic gets center stage in college football this weekend.
The NFL regular season has three weeks remaining. There's a lot left to be decided in a lot of different divisions. Only the Patriots appear to have a firm lock on their division with three weeks left. It seems like the more things change, the more they stay the same in the AFC East. Every year a lot of the experts spend a considerable amount of time trying to figure out who could dethrone the Patriots, and in the end the Patriots end up on top of the division once again.
Here are some of the most notable line moves of the week:
Rotation number with current line and matchup - Original line before move in Parentheses
College Football:
#303 Army vs. Navy Posted Total 57.5 (60.5) Saturday, Dec. 13, 3 p.m. ET
While these two teams aren't two of the best teams in the country, I think it's great that they have a weekend to themselves. The Army and Navy both make a ton of sacrifices for the country, and they put on a tremendous show in this annual rivalry game. This is one game where I can feel certain saying that there won't be anything left on the field. The 'under' is 8-0 in the last eight meetings between these two teams, so it makes sense that the under is getting a lot of steam in this matchup.
NFL:
#317 Tampa Bay Bucs +3 vs. Carolina Panthers (Bucs +5.5) Sunday, Dec. 14, 1 p.m. ET
This is the highest-profile line move of the week in the NFL. By now you have almost certainly heard that Cam Newton was involved in an auto accident earlier this week and will miss this game. Tampa Bay was as big as a six-point underdog at some books before that news broke, but the Bucs are now a field goal underdog in this one. Derek Anderson has quite a bit of experience starting in the NFL, but both the oddsmakers and influential bettors seem to be pretty low on his ability to get the job done. I understand the line move, but I certainly wouldn't be excited to back Tampa Bay, either.
#305 Oakland Raiders +10 vs. Kansas City Chiefs (Raiders +12) Sunday, Dec. 14, 1 p.m. ET
The Oakland Raiders are coming off a nice win over their rivals from San Francisco. Oakland has been more competitive than their record would indicate all year long. The first time these two teams met, Oakland got their first outright win of the year. Kansas City is clearly the better team, and they are in a revenge spot, so the oddsmakers set this number a little bit high. Sharp bettors have decided to back the Raiders at that price though, and the line has adjusted down by a couple points.
#314 Cleveland Browns -1.5 vs. Cincinnati Bengals (Browns +2.5) Sunday, Dec. 14, 1 p.m. ET
This is the single most interesting line move of the week to me. There are so many different factors involved in this one. Unless you live under a rock, you have heard that Johnny Manziel will make his first career start this week. Manziel has a ton of talent, but he has almost no experience at the NFL level. Marvin Lewis stuck his foot in his mouth this week with some silly comments about Manziel, and that certainly could be bulletin board material for the Browns. Cleveland won 24-3 in dominating fashion at Cincinnati earlier this year. The Bengals lead the AFC North, but everyone in the division still has a chance to win it. These two teams don't care for each other to start with, and this game should be must-see television.
#330 Seattle Seahawks -10 vs. San Francisco 49ers (Seahawks -8.5) Sunday, Dec.14, 4:25 p.m. ET
The Seattle Seahawks have answered a lot of questions in recent weeks. Their dominating win at San Francisco on Thanksgiving night was the first big step. Last week's win at Philadelphia was another impressive one. Now, Seattle goes back home where they are almost unbeatable. San Francisco has all sorts of locker room problems, and the dreadful play of Colin Kaepernick continues to crush this team. Can the 49ers get off the mat for this one? I wouldn't want to bet on them. This one has all the makings of a side that is backed by both sharp bettors as well as the public.
#323 Minnesota Vikings vs. Detroit Lions Posted Total 42.5 (44) Sunday, Dec. 14, 4:25 p.m. ET
The Minnesota Vikings defense is much-improved this year thanks to the hire of Mike Zimmer. Zimmer is an amazing defensive mind, and I think he gives Vikings fans a good reason to be excited about the future. Jim Caldwell has done a great job with the Lions in his first year as well. The Lions defense has been great both against the run and the pass. Both teams are in a better place now than they were a year ago. The offenses have been a bit shaky, though, and with two strong defenses a move toward the under seems very justifiable.
Read more articles by Aaron Smith