France Odds to Win 2014 World Cup with Picks and Predictions
by Strike Point Sports - 3/17/2014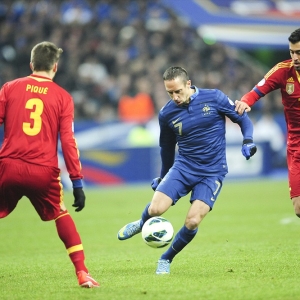 2014 France Odds to win the World Cup
France are +2200 to win the World Cup. They are listed at -110 to win Group E and -450 to progress to the elimination stages of the tournament.
France 2014 World Cup Group Play Schedule
France vs. Honduras – Sunday, June 15 (3 p.m. EST in Porto Alegre)
France vs. Switzerland – Friday, June 20 (3 p.m. EST in Salvador)
France vs. Ecuador – Wednesday, June 25 (4 p.m. EST in Rio de Janeiro)
France World Cup 2014 Team Analysis
French stars such as Juventus' Paul Pogba, Bayern Munich's Franck Ribery and Paris Saint-Germain's Blaise Matuidi are all set to shine in Brazil. This trio has struck a rich vein of form for their respective club teams during the current campaign, and their places for the national team will be looked at as crucial for any big time success at this summer's World Cup.
Combine the aforementioned trio's footballing exploits with strikers Karim Benzema and Oliver Giroud, and France certainly poses a dangerous threat with its balanced lineup. Furthermore, France is a team under the radar that can play up the underdog card for this tournament. Doing so would be in their favor as they set forward on a mission to reclaim a title as one of the world's elite.
France may not have any of the best units on the pitch, that being a striking partnership, attacking midfield or defense, but they hold their own quite well and will benefit simply because the bulk of attention glosses over so many other countries vying towards their own public expectations.
Also keep an eye on the likes on youthful duo of Raphael Varane, 20, and Mamadou Sakho, 24, as a sub-story and component to France finding its winning way in South America. The dual two central defenders are supremely gifted for such a young age and will be looking to make their first impression at an international tournament for France. Varane at 6'3'' and Sakho at 6'2'' are both physically imposing and will be counted on in the defensive third of the pitch to thwart many an opposition's chance, especially set pieces and scoring opportunities in the box.
France 2014 World Cup Tournament Picks and Predictions
The 2010 World Cup in South Africa was an absolute dud of a result for France. Even if the French are outsiders as far as top favorites are concerned, I think the morale and confidence within the team is at an all-time high compared to results in recent years.
France has a very favorable initial draw that should see them finish Group E in first place. That would create a very winnable fixture in the Round of 16 against a potential opponent such as Bosnia or Nigeria. And with a strong group showing and a knockout victory under their belts, I wouldn't want to face this team with momentum on their side as well as them sticking with the underdog card.
Look for a quarterfinal berth to be a minimum achievement for the French this summer, and anything after that certainly obtainable but also considered house money of sorts.
Strike Point Sports has established themselves as one of the top soccer handicappers with their success on the big tournament stage. From the 2006 World Cup, Euro 2008, 2010 World Cup and Euro 2012, SPS earned $100 clients over $8,200 in profit from these four major events. This summer's World Cup is going to be another moneymaking opportunity, and they are looking forward to their soccer selections and another winning tournament.
Visit Doc's Sports for coverage of the 2014 World Cup and more articles leading up to this summer's major soccer tournament.